Kellys Village Variety Wednesdays Pt3 with Rodd Hogg, Fiddler Adam & Big Al
Kellys Village have assembled a stage full of talented artists guaranteed to fill your Summer nights with total entertainment
About this event
Kellys Village Variety Wednesdays
Kellys Village have assembled a stage full of artists guaranteed to fill your Summer nights with total entertainment. World class magician and mind bender Rodd Hogg who has amazed audiences from Magherafelt to Monte Carlo will leave you in a state of wonder and bewilderment.
Joining Rodd on the village stage is the human musical hurricane, Fiddler Adam. If you haven't witnessed a Fiddler Adam performance before, prepare yourself for Total entertainment in a huge hat .
The entire show will be sewn together by the one man band of banter and smiling singalongs ... Big Al.
Kellys Village Variety Wednesdays are totally undercover, with seating available in our custom built cabanas or on the village green table seating area . Kellys Village Variety Wednesdays ... That's Entertainment.
July 7th, 14th and 28th. Tickets priced £12.50 +BF are out this Saturday for all July dates.
VENUE RULES
• Tickets are sold to groups/social bubbles of 6 (Tables) and 10 (Cabanas) only, in line with government rules at time of event. Should guidelines suggest otherwise we will act within 7 days of the event where possible.
• The venue is an outdoor venue but fully covered from any rain etc. Please dress appropriately as you would for any outdoor event in NI.
• NOT EVERY SEAT IN THE CABANAS HAVE A FULL STAGE VIEW. If you prefer a constant stage view, please consider a table instead of a Cabana. Some cabanas have a restricted view when seated, but the entrance gives a fully open view. Stage visuals are streamed to TV screens inside the cabanas also.
• Attendees must adhere to the current COVID restrictions that are in place at the time of the event. This could mean activities such as dancing and singing/shouting could be prohibited (mad, but we must follow the guidance), so please be aware.
This is all in place to keep our customers, staff and performers as safe as possible. Failure to comply could result in removal from the event. Please be patient as this is new to us all.
• Should the event not take place due to restrictions/adverse weather or any other event, all buyers will be refunded in full. Refunds will not be given for non attendance or unavailability.
• Due to the nature of our outdoor venue, should winds exceed 50 mph, we will be forced to cancel/postpone the event to ensure the safety of our customers and staff.
• These events will be fully risk assessed at least 48 hours prior to opening times.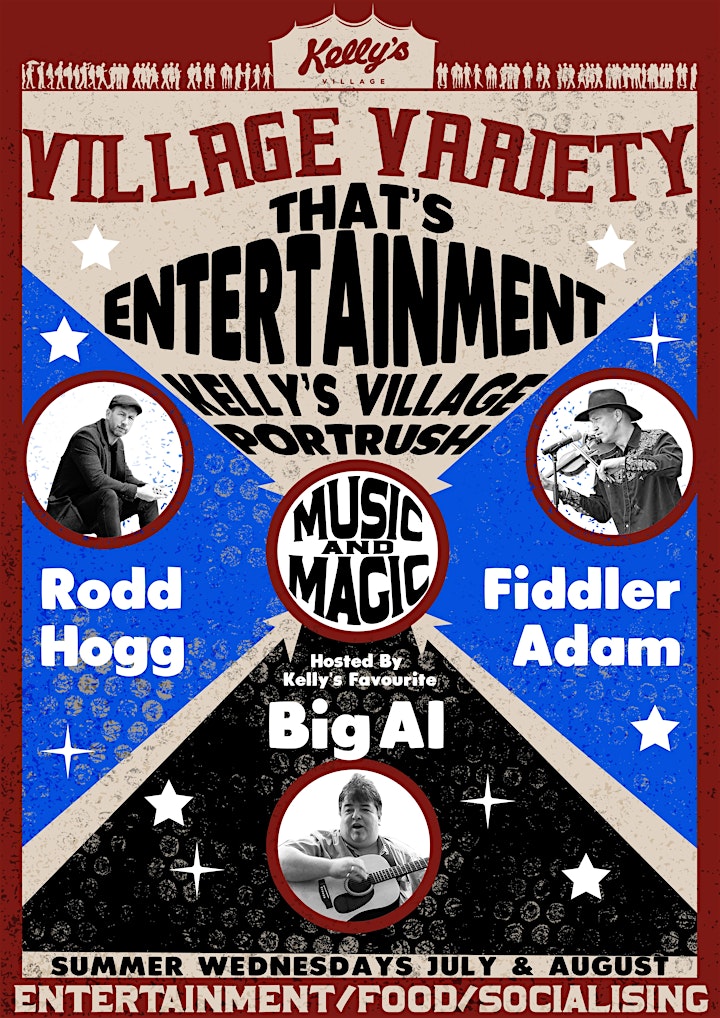 Organiser of Kellys Village Variety Wednesdays Pt3 with Rodd Hogg, Fiddler Adam & Big Al