Join us and a distinguished panel of contributors to remember Ken Iverson and discuss the future of his revolutionary notation.
About this event
EVENT EXPANDED: more tickets now available!
At Harvard, Kenneth E. Iverson devised a mathematical notation for his work with economist Wassily Leontieff. Leontieff's work won him the Nobel Prize. Iverson's notation won him the Turing Award. It is the foundation of the programming languages APL, A+, J, k, and q.
On the centenary of Iverson's birth, we join a group of distinguished contributors to remember Ken and consider the future of "the notation".
Roger Hui, implementor of the J programming language
Leslie Goldsmith, Kx Systems, former Director of Software Development at I.P. Sharp Associates
Morten Kromberg, CXO of Dyalog Ltd
Aaron Hsu, designer, Co-dfns compiler
Dave "Eclipse" Thomas
Devon McCormick, NYC J User Group
Gilgamesh Athoraya, host of SwedAPL
Nick Psaris, author of Fun Q and Q Tips
三枝協亮, APL Japan
Rebecca Kelly, Kx Systems, NYC Tech Evangelist of the Year 2020
Kdbcn Workshop, authors of kdb+中文教程
Host: Stephen Taylor, Kx Librarian
This list continues to change…
Before APL was called APL, it was called "Iverson notation". Ken mused that it should be called simply "the notation". After all, we don't say "God's grass", just "the grass". — Paul Berry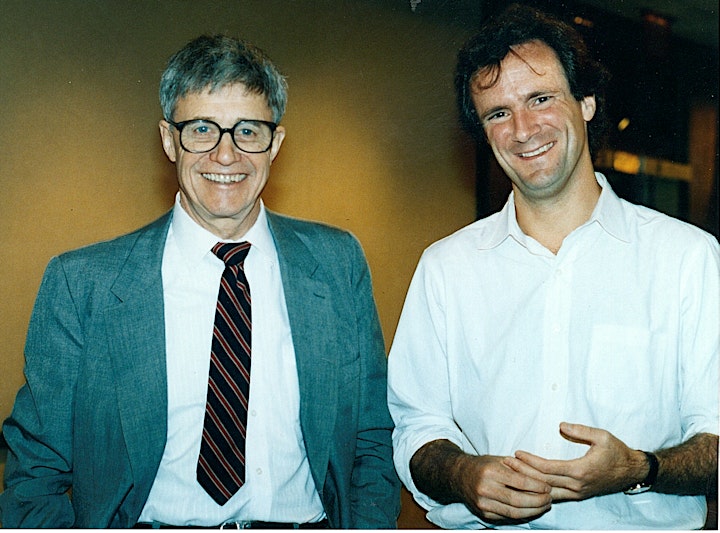 Ken Iverson and Arthur Whitney , New York City, 1989
Thanks to the British APL Association for hosting this event. The event will be recorded; by ordering a ticket you agree to this.