Location
The Bomb Factory Art Foundation
Unit 2
Boothby Road
London
N19 4AJ
United Kingdom
The Bomb Factory presents 'Journey Mercies', a solo exhibition by Nigerian artist Ken Nwadiogbu.
About this event
The exhibition features an installation made of stacked cardboard boxes. For Nwadiogbu the boxes have a utilitarian aspect, but they also act as a metaphor for global trade and evoke the migrant experience.  Each box is painted with a personal identifier – the faces of people the artist has met on his travels - but the stacking nods at the collective. He says, 'Our individual lives replete with our experiences may be self-contained but, essentially, we stand on each other's shoulders journeying to a different continent and bringing with us values that shape the culture and ideas of these spaces.'
Journey Mercies is a three-dimensional visual metaphor for these migratory souls. Painted in vibrant colours, the boxes combine in a way that references traditional African woven fabrics, commenting on the richness and the strength of this culture on the move. The title of the exhibition references the Nigerian custom of prayers said on behalf of someone who is about to undertake a long journey. The expression has its origins in the late 19th century when it referred to the prayers for missionaries who were travelling to remote parts of the world. For the artist, the phrase is something that sums up his experience of traveling, something that comes with a sense of trepidation but that is also tinged with hope and excitement.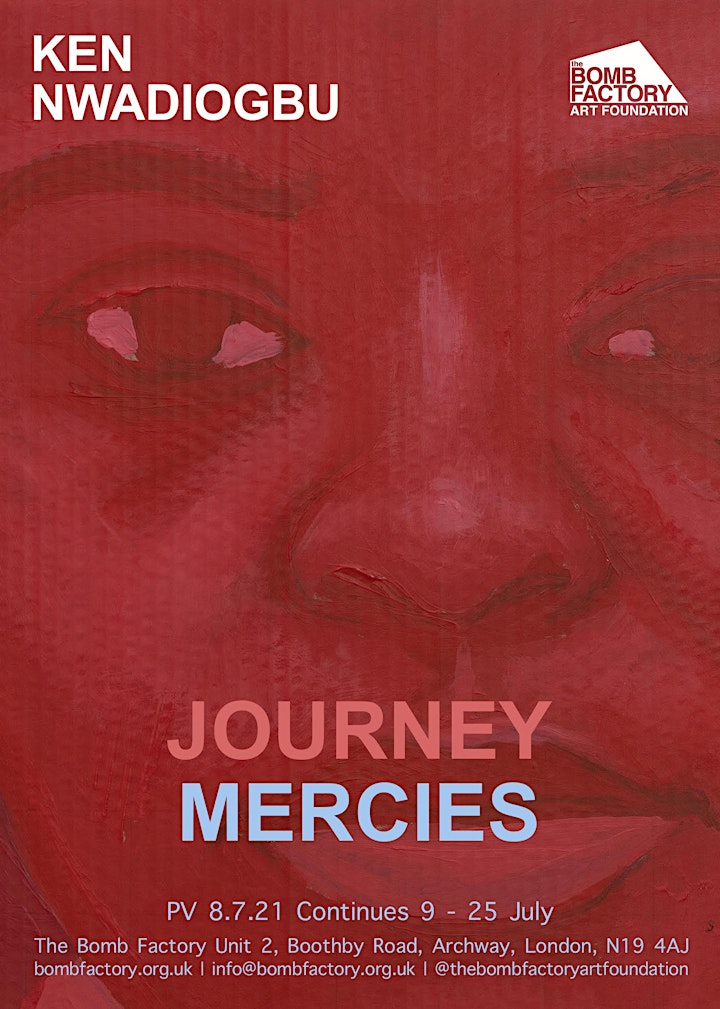 Nwadiogbu says of the exhibition, 'Journey Mercies is an exhibition that expresses my experience of traveling to London, it highlights the struggles and joys, gains and losses of migration. This is particularly applicable to those of us with dreams, values and hope who flee our countries due to the insecurity, lack of infrastructure, and scarcity -- all familiar struggles to Africans and other people of colour. But the stacked structures we build are intact. The communities are rich with diversity and beauty.'
The works in the exhibition were created during Nwadiogbu's time as a resident artist at The Bomb Factory Art Foundation. Evolving out of a painting show, the installation is a collective monument to the artist's encounters with his fellow travelers.