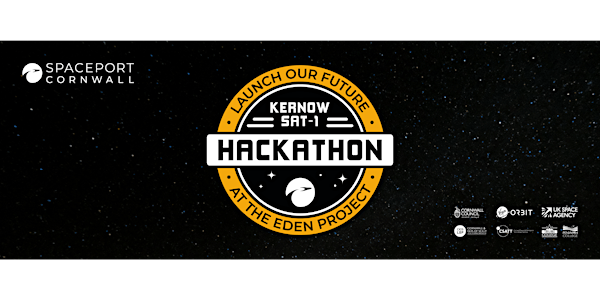 Location
Eden Project
Eden Project
Bodelva
PL24 2SG
United Kingdom
In 2022 we will be launching Kernow Sat-1, a first-of-its-kind community satellite to monitor ocean health and we need your help.
About this event
Calling all space, science and environment enthusiasts...
Are you a student age 16+? Do you want to help make UK history?
In 2022 Spaceport Cornwall will be home to the first ever rocket and satellite launch into space from UK soil.
This launch will include - a community satellite designed to help Cornwall develop sustainably and monitor the oceans around the county called Kernow Sat-1.
Kernow Sat-1 will be launched to support environmental causes that affect Cornwall, but can also be scaled to other part of the UK and the world. It is called Kernow Sat-1 as there are plans for a Kernow Sat 2, 3, 4 and so on.
This first satellite will be launched to support Cornwall's marine environment and will directly communicate with buoys that will be strategically placed around the coast to help local organisations monitor and collect data to inform challenges they have.
We're looking for maverick coders, creative thinkers, engineers, space data scientists and general space and science enthusiasts to help create a solution for businesses and showcase how these buoys can be used.
Through this event, which is sponsored by Truro and Penwith College - home to Cornwall Space and Aerospace Technology Training (CSATT) courses, we're setting the challenge for students to plan, design and build the buoys that will be relevant to the environmental marine organisations that wish to use them.
Students will present their ideas to the end-users at the end of the day and some of these ideas will hopefully be developed and used for the Kernow Sat-1 project.
You'll be set tasks by businesses who will directly benefit from the Kernow Sat project - such as Ocean Conservation Trust and Falmouth Harbour and be given guidance and instruction from industry professionals.
The competition will be open to students aged 16+ . The day will run from 9am-5pm and students will be split into groups on the day to work on a specific project.
The event is free to attend, lunch and refreshments will be provided on the day as well as Spaceport Cornwall merchandise. This competition is an excellent opportunity to network with Spaceport Cornwall staff and other staff from the space sector.
If you're looking for something special for your CV, this is it!