A comic art drawing class suitable for children age 7+
About this event
Kev F Sutherland writes and draws for Beano, Doctor Who and Marvel comics, and makes graphic novels adapted from Shakespeare, and now he'll teach children age 7+ how easy it is. Barnet Libraries are inviting you to join him in making a comic in a morning.
After the end of a Comic Art Masterclass, everyone goes away with a comic containing a strip by everyone in the class plus an individual caricature by Kev F.
Learn everything he knows, so you can steal his job when you leave school!
Booking is essential, numbers are limited.
PLEASE NOTE:
This event may be subject to change and will run in line with government guidelines for events in libraries. The event may take place online depending on the government restrictions in place on 19th August . All ticket holders will be notified of any changes.
If it is permissable for the event to take place at Colindale library, please note that it will be 'drop off only' as we will still need to limit numbers. A member of Barnet Libraries staff will supervise, and all other spaces will be allotted to children only. Adults may wait in the main library in accordance with visitor numbers.
For more information or queries, email us at libraryevents@barnet.gov.uk with the subject heading 'Comic Masterclass'.
Find our more about Kev F -
https://www.kevfcomicartist.com/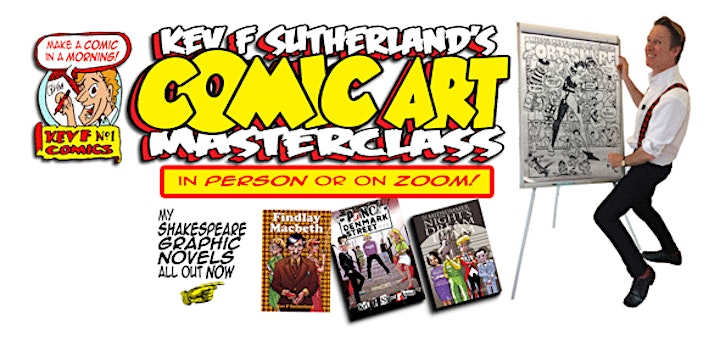 Organiser of Kev F's Comic Masterclass