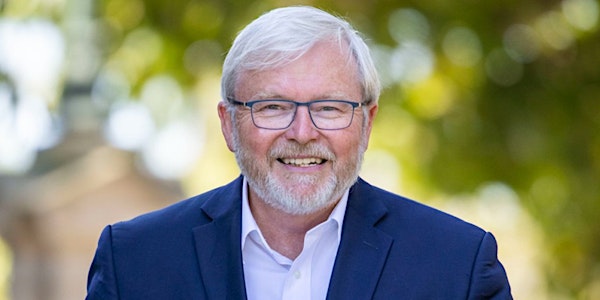 Kevin Rudd: Understanding How China Sees the World
Location
Credit Suisse Forum St. Peter
19 Sankt Peterstrasse
8001 Zürich
Switzerland
Refund policy
Refunds up to 1 day before event
A Conversation with Asia Society's President
About this event
While it's clear that China is well on its way to becoming a global superpower, the question of what kind of world order it seeks to establish remains largely unanswered. The war in Ukraine has put China in a difficult position – in a time when it is still fighting a pandemic and preparing to decide on its political leadership for the coming years. China's relationship with both the U.S. and Europe is at its lowest point in decades, increasing the risks of conflict and escalation and making the current decade a dangerous one
Managing these risks requires us to understand how China sees the world and its role in it: What is the country's long-term vision for its relationship with Europe, the U.S., and regional powers like Japan? Does its alliance with Russia really know no boundaries? And how are the domestic developments, from "common prosperity" to an ever-greater focus on the leadership of President Xi Jinping, affecting the way China acts in the world?
Join us for a wide-ranging conversation with The Hon. Kevin Rudd, President of Asia Society, Former Prime Minister of Australia and "the most respected China watcher in the West" (Ian Bremmer, Eurasia Group), moderated by Asia Society Switzerland's Nico Luchsinger. Most recently, Kevin Rudd published the book "The Avoidable War: The Dangers of Catastrophic Conflict between the U.S. and Xi Jinping's China".
The event will be followed by a reception. 
This event is organized in collaboration with Credit Suisse.
About the speaker
The Hon. Kevin Rudd AC is President and CEO of the Asia Society, and inaugural President of the Asia Society Policy Institute. He served as 26th Prime Minister of Australia (2007 to 2010, 2013) and as Foreign Minister (2010 to 2012). He is Chair of the Board of the International Peace Institute in New York, and Chair of Sanitation and Water for All – a global partnership of government and non-governmental organizations dedicated to the implementation of Sustainable Development Goal 6. He is a Distinguished Fellow at Chatham House and the Paulson Institute, and a Distinguished Statesman with the Center for Strategic and International Studies. He is also a member of the Comprehensive Nuclear Test Ban Treaty Organization's Group of Eminent Persons.