Discussing Key Findings Of A Pioneering Poll of Muslim Employees
About this event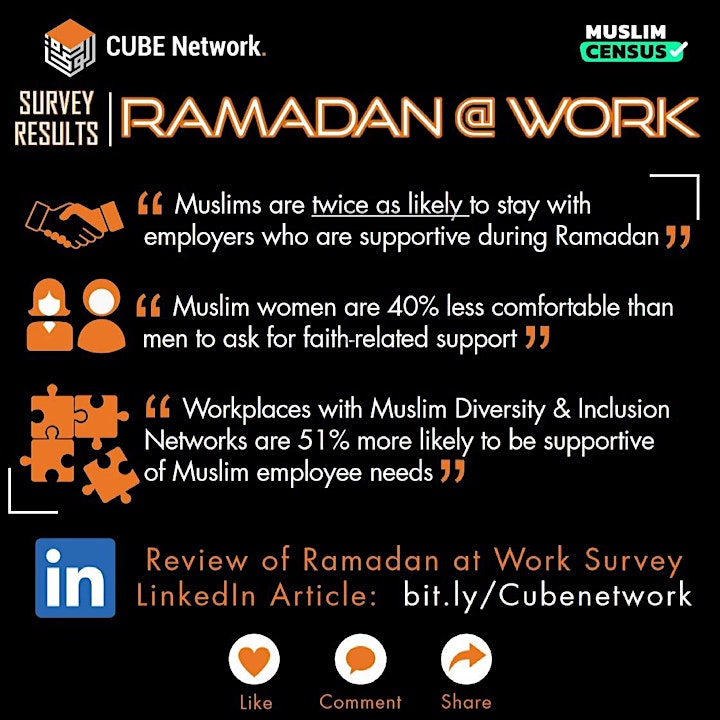 CUBE Network and Muslim Census are delighted to invite you to our 'Key Findings: Ramadan At Work' panel discussion to participate and share views on the Key findings on how employers treat Ramadan from a D&I perspective and the impact of such on Muslim employees.
Join us online for a discussion on some key-findings of a pioneering poll of Muslim Employees upon the support they get at work during Ramadan.
A Q&A session will follow, as an opportunity for you to ask your own questions.
Panel Includes:
• Omar Saeed - CUBE Network & UBS
• Syed Rahim - CUBE Network & KPMG
• Sadiq Dorasat - Muslim Census & HSBC
• Sarah Chowdhury - Lloyds Banking Group
Please submit any questions you have for the panel to: events@cubenetwork.org
We look forward to welcoming you to this event.
Limited FREE Places - Register Now!
Admin:
1. FREE admission to the event via Zoom.
2. Zoom access details will be sent via a follow up email once you have registered.
3. Event will promptly start at 6:00 PM.
FAQs.
How will my personal data be processed?
CUBE Network as registration facilitator, will process your personal data for the purpose of organising this event and to inform you of future events.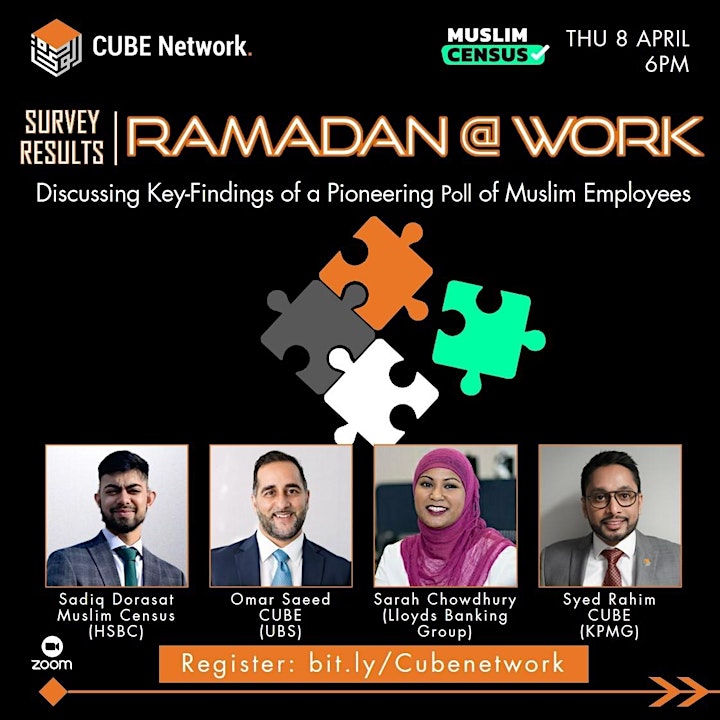 Organiser of Key Findings: Ramadan At Work Survey
Connecting Professional Networks
CUBE Network is an umbrella initiative that connects professional networks, groups and organisations with an interest in Islam to deliver a cohesive, united impact to charitable campaigns, corporate diversity considerations and communities through the utilisation of professional skillsets and networks . Our purpose is to provide support to existing and new ideas whilst enhancing our presence within the City and beyond.      
CLICK to subscribe to our mailing list