Description
Event Details
Me as an HRBP
This event is for HR professionals who want to develop themselves as an effective HR Business Partner. It will focus on self development as an HR Business Partner in a complex and uncertain environment and aims to develop the confidence of participants within this role. The event will not be a typical conference, and will focus more on participant involvement and collaboration, giving attendees a supportive place to explore new ideas and approaches.
By the end of the event participants will have:
Learnt about the practical and personal tools you can use as an HRBP to build confidence and credibility
Develop a deeper understanding of strategic HR areas such as diversity and inclusion and organisational development
Learn techniques in holding strategic and effective conversations with directors/stakeholders
Following they key note speaker, attendees will be able to choose the workshops they would most like to attend. The workshops will have fewer number of attendees and include presentations of a more personalised nature. There will be time for questions and discussion throughout the event.
---
Timings:
09:30 - 10:00 - Registration and refreshment
10:00 - 10:10 - Welcome Remarks (Charlotte Brownlee, Central London Branch Chair)
10:10 - 10:40 - Opening Key-note (Siobhan Sheridan, HR Director, Ministry of Defence)
10:40 - 11:40 - The New Profession Map (Ciprian Arhire, CIPD)
11:40 - 11:50 - Break
11:50 - 12:50 - Diversity & Inclusion (Andrea Taylor-Cummings, Director & Co-founder, Soulmates Academy)
12:50 - 13:40 - Lunch
13:40 - 13:50 - Intro into Breakout sessions
13:50 - 14:00 - Room change
14:00 - 16:00 - Breakout sessions (with coffee break)
HRBP Experience (Sheetal Gill, HR Manager, City of London School)
Confidence in Conversations (Chris Stagg, Chris Stagg Associates)
Use of Self as an Instrument as an HRBP (Martin Savill, Director of Mayvin, OD Consultancy)
16:00 - 16:10 - Room change
16:10 - 16:30 - Overview and Close
---
Speakers & Facilitators:
The speakers and facilitators at the workshop have been selected as experienced experts, researchers, consultants and or practitioners in their field.

KEYNOTE SPEAKER
Siobhan Sheridan - HR Director at Ministry of Defence
Siobhán Sheridan joined the Ministry of Defence in July 2017 as Director, Civilian Human Resources. She is responsible for the workforce of 57000 civil servants doing vital work in the Ministry of Defence, alongside their military colleagues. Siobhán joined the MOD from the NSPCC, where she was People Director and had the great opportunity to work with all of the staff and volunteers that help the NSPCC and Childline to play their vital role in protecting children and young people, preventing abuse and enabling societal change. Prior to this, Siobhan had a career in the both the private and the public sector, including roles in Defra, DWP and in the Financial Services Industry. She worked in a variety of operational leadership and HR roles in the UK, US, and partnering to developing businesses in Europe. Siobhán is a Chartered Fellow of the FCIPD and a member of the Guild of HR Professionals. A life long student she holds a Masters Degree in Coaching and is currently studying for a Masters in Organisational Change. In addition to her role in the MOD, Siobhán is Trustee of a Charity supporting homeless people in South London and a committed volunteer with Crisis at Christmas.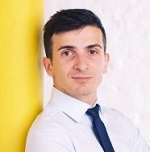 Ciprian Arhire Assoc CIPD - Projects and Programmes & Chair of LGBT+ Network at CIPD
Cip has been working in HR and business operations for over 10 years driving organisational change and transformation across both the private and third sector. Currently, he's managing a portfolio of interventions focused on CIPD London as well as designing and delivering a series of projects and programmes supporting CIPD's branch network to create local communities of practice and thought for people working in HR, L&D and OD across the UK. Cip was one of the founders of the LGBT+ Network at CIPD, the first ever employee network group as well as co-chairing it at the moment and raising awareness, engaging stakeholders and driving change in this area. Cip sits on CIPD's D&I steering group overseeing the organisational strategy and governance structure on the area.

Dr. Andrea Taylor-Cummings - Director and Co-founder, Soulmates Academy
Andrea has over 30 yrs experience as an organisation design and development consultant, coach and mentor. She has worked internationally (UK, Japan, Korea & Jamaica) in both the public and private sector, as a consultant with "big four" and niche consultancies, and as an entrepreneur. With a passion for "people change", she offers extensive experience in designing and delivering leadership development programmes for diverse, global audiences through live workshops / seminars and online webinars, and over ten years' experience in the assessment and recruitment of senior-level management consultants.
Andrea is co-founder and Director of Soulmates Academy, specialists in equipping leaders and teams to build strong relationships and marriages at home so they can perform better at work, improve wellbeing and achieve better work/life balance.
Andrea also works independently as a leadership development consultant, primarily in the City, through her work as an Associate Director for The Centre for Inclusive Leadership. Andrea is a Rhodes Scholar, a TEDx speaker and co-author of "The Four Habits for Great Relationships" which is due out later this year.

Sheetal Gill - HR Manager, City of London School
Sheetal Gill has been working in HR since 2000 and a Chartered Member of the CIPD since 2005. She has over 10 years HR Business Partnering experience, mainly in the Education field (schools) and SME's.
As an HR Business Partner some of her successes have included managing and retaining annual HR Service Level Agreements (SLA's) of approximately £375k, contributing to HR budgets and income generation. Coached an Executive team through a 9 month transformational change programme leading to an increase in Ofsted teaching standards from requires improvement to good. Redesigned talent acquisition and succession planning process for senior leadership positions, leading to a 50% improvement in time to hire with delivering a more diverse candidate selection for critical and hard to fill hires. Currently she has taken on the challenge of setting up a new HR service, successfully leading a small team to implement HR processes fairly and ensuring the school is legally compliant.

Chris Stagg - Chris Stagg Associates
Chris Stagg is a theatre-based organisational learning expert with over twenty years' experience. His work draws on insights from a wide variety of practitioners, including: Bertolt Brecht, Augusto Boal and the British Theatre-In-Education movement.
Chris – through his company Chris Stagg Associates – has worked as a director, facilitator, script-writer and actor with numerous business organisations in the private, public and charitable sectors. Chris is the recipient of two Arts & Business awards for innovation in organisational learning and development.

Martin Saville - Director of Mayvin, OD Consultancy
People trust Martin, they feel better about themselves and the world after spending time with him. The thing that enables this is the strong relationships he develops, with such integrity, care and trust, that last well beyond the confines of any piece of work. Martin's particular expertise is in helping organisations to lead and navigate complex change. A former Director of Strategic Planning and Operations at London Business School, his experience ranges from leadership development, Organisation Development (OD), and values and culture to team dynamics, change and personal effectiveness. As a consultant, he seeks simultaneously to help people be more human at work, and to support organisations to be more effective, impactful and successful. He has consulted to organisations in the public, private and third sectors, as well as to family owned businesses. He is passionate about making a demonstrable difference and leaving his client organisations stronger. Current and recent clients include the UK Civil Service, Guy's and St Thomas' NHS Foundation Trust, NHS England, Napp Pharmaceuticals, Sodexo, a global investment bank and NSPCC. Martin is also on the faculty of the NHS Leadership Academy. Martin is a regular conference speaker on OD and is the co-editor of A Field Guide to Organisation Development, published in April 2014 by Gower. He has a degree in Classics from Oxford University and an MBA from London Business School, as well as a Foundation Certificate in Psychotherapy and Counselling from Regent's College. He is certified as a Somatic Coach. Martin is also an Honorary Visiting Professor at the business school of London Metropolitan University and serves on the Board of OD Network Europe. Martin's early career was spent in opera management. He maintains his connection to that world as Deputy Chairman of British Youth Opera and lives in Brighton with his wife and son.
---
Cancellations and Refunds Policy
If you are unable to attend an event please give at least 1 working day notice and we will be happy to refund 100% of your booking fee or book you on to a subsequent event to the same value. Cancellations received after this time will be non transferable and non refundable.
---
Professional photography and video production may be taking place at the event, and these images may be used on future promotional materials for CIPD. Please note that by attending the event, you are giving your consent for your image to be used on any CIPD promotional materials.