Key Technology Trends: Opportunities, Challenges and Leadership Imperatives...
Description
Technology has fundamentally changed the lives of consumers, enterprises and societies. For consumers, it has enabled broader and more convenient access to information, commerce and connectedness. For enterprises, it has lowered the cost of production, facilitated entry to new markets, deepened customer engagement and created new product/service opportunities. For societies, technology has enabled potentially transformative solutions in challenging areas such as healthcare, transportation and environment. But with many of these potential areas of opportunity comes notable new risks - and challenges - for enterprises: a challenging, changing competitive landscape where increasingly players who "own data" may obtain unique advantage and for societies who face the risk of growing job loss and income disparity.
This discussion will look at the dynamic and iterative nature of technology--the disruption, innovation and bold moves taken to create new services and competitive advantage and methods to deal with new risks and challenges. Areas of discussion will include artificial intelligence, cloud computing, Internet of Things and mobile communications.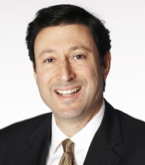 A graduate of UCLA (B.A., '82) and Harvard Business School, Terry Kramer has extensive technology and leadership expertise in the domestic and international telecommunications industry. Since beginning his career at Harris Corporation and Booz Allen Hamilton, Kramer has held executive roles in AirTouch, PacTel and Vodafone globally. At Vodafone, he was the group strategy officer, group HR officer and chief of staff. He was also regional president of Vodafone Americas, with responsibilities for oversight of Vodafone's 45% interest in Verizon Wireless and Vodafone's venture capital activities. He also served on the Executive Committee at Vodafone Group Plc.
While serving as an entrepreneur in residence at the Harvard Business School between 2011 and 2013, Kramer was appointed by President Obama to serve as Ambassador, Head of U.S. Delegation for the World Conference on International Telecommunications in June 2012. This delegation formulated and communicated the U.S. policy regarding the criticality of a free and open internet as well as an inclusive, multistakeholder governance, the need to proactively address cybersecurity threats and the need for liberalized, open markets that encourage global accelerated broadband access. The conference was covered by CNBC, New York Times and Wall Street Journal.