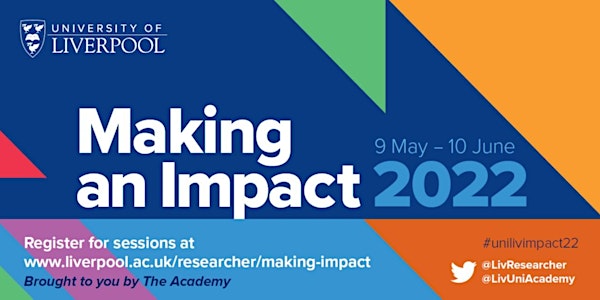 Keynote: The Road from COP26. How Innovation is Leading the Way
How research and innovation is supporting the transition to a sustainable, zero-carbo future in Liverpool City Region and beyond
About this event
In this critical moment of climate action, this event will showcase how innovation is leading the way in moving to a more sustainable, resilient and zero-carbon future. Featuring keynote presentations from the Metro Mayor of Liverpool City Region, Steve Rotheram, and the Chief Executive of RenewableUK, Dan McGrail, together with a panel discussion from members of the Climate Futures Research Theme, this session will explore how the City Region is transitioning to a net zero carbon economy and how research at the University is leading the way on innovation in sustainability at a local, national and global scale.
By the end of this session, participants will be able to:
Understand how Liverpool City Region is transitioning to net zero
Find out perspectives from the Renewables Industry
Explore how research at the University is leading the way on sustainable innovation at a local, national and global scale.
Consider how their own research might support these goals.
Learn more about the Climate Futures Research Theme and its ambitions
Presenters:
Mayor Steve Rotheram
Steve Rotheram was elected as the first Metro Mayor of the Liverpool City Region in 2017. His vision for the City Region is a region that is ambitious, fair, green, connected and together. In 2019, the six Local Authorities in the city region declared a Climate Emergency and set an ambitious target to reach net zero carbon by 2040 or sooner. A pathway document has been developed and the Mayor's ambitions are to work with partners and stakeholders across the city region to co-create a comprehensive action plan against which short term and long term progress can be measured.
Dan McGrail, Chief Executive of RenewableUK
RenewableUK is the UK's leading not for profit renewable energy trade association. Dan McGrail took up his post of Chief Executive at RenewableUK in May 2021. Previously he was the CEO of Siemens Engines. He joined Siemens UK in 2004 and has worked in a variety of roles across the energy industry. As Managing Director of Siemens Power Generation from 2014-2017, he expanded Siemens UK's activities in the thermal power market. He became CEO of Siemens Engines in November 2017, leading the rebranding of the company and helping to secure significant growth. He served as Chair of the Association of Decentralised Energy from 2016 to 2019 and was Vice Chair until February 2021. He set up the Heat Network Industry Council to engage politicians and drive policy reform to build zero carbon heat networks.
Climate Futures Research Theme
Climate Futures was developed as a research theme at the University in 2020, in recognition of the role that research at the University can play in tackling the climate emergency and as a way to bring together the varied inter-disciplinary research being undertaken in multiple departments under the strands of climate science, impacts on society and mitigation solutions.
The Researcher Development Framework (RDF) attributes developed during this session are relevant to the following sub-domains:
Domain A: Knowledge and Intellectual Abilities
A1: Knowledge base       
Domain D: Engagement, Influence and Impact
D1: Working with Others            
D2: Communication and Dissemination
D3: Engagement and Impact
Accessibility Adjustments and Alternative Format requests
If you require any accessibility reasonable adjustments or have any questions about this session, please contact the RSA at ResearchStaffAssociation@liverpool.ac.uk at least 7 days before the session date so that your requirements can be referred to the facilitator(s) who will make every effort to address them where possible.
Academy Researcher Development Inclusivity Statement
The Academy is committed to providing an environment which recognises and values people's differences, capitalises on the strengths that those differences bring to the institution and supports all staff and students in maximising their potential to succeed. In line with the Academy's firm commitment to equity, diversity and inclusion, we offer all postdoctoral and research-related opportunities to develop and network irrespective of a researcher's gender, ethnicity, age, self-identification, disability, religious affiliation, or any other criteria used to separate and define.
Academy Code of Conduct
All events organised or facilitated by The Academy follow a Conduct of Conduct irrespective of the number of participants or session format. The Academy thanks all participants in advance for your cooperation to help ensure a safe and constructive environment for everybody. The Code of Conduct is available here.
Important: We take your privacy very seriously and will only use your email address to send you information about this session and evaluating this session (unless you opt out during registration). After that, you can opt-out at any time of receiving our communication by simply sending an email to researcher@liverpool.ac.uk
Stay in Touch: For the latest news and information about research staff development opportunities and resources follow @LivResearcher & @LivUniAcademy on Twitter. Further details about the University of Liverpool's Researcher Development activities can be found here.