KICC ROYALS YOUNG ADULT CONFERENCE 2021 - PURITY & POWER - FRI 23 - SUN 25 JULY
About this event
There is a coming revival that will shake the earth with God's power.
But before true POWER comes PURITY.
Can we be made holy, useful to the Master and prepared to do any good work? The answer is a roaring YES! (2 Timothy 2:20-21)
The KICC Royals Conference is back - to equip YOU!
Join us for PURITY & POWER 2021
Don't miss 3 SPIRIT-FILLED days that will challenge you to:
WALK in God's grace and power;
PURSUE sanctification;
GROW in holiness; and
OBEY God's word.
Register today to receive:
40% OFF when you purchase video and audio recordings from the conference!
PLUS
A FREE audio recording of the Finance Seminar 48 hours after the conference ends, so you can listen back and be blessed!
What are you waiting for? Don't delay!
Leader of the Royals Young Adult Ministry and conference host MIN. TOBI ASHIMOLOWO will be joined by an exciting line-up of special guest speakers and gospel artists including:
Leader of the HugryGen Movement PASTOR VLADIMIR SAVCHUK
Change Agent and advocate for Youth, Women & Leaders REV. MARISSA FARROW
Psalmist EMMANUEL SMITH
Premier Gospel and AGMMA Award winning artist BECCA FOLKES
Singer / Songwriter & Worship Leader UCHENNA
Plus DON'T MISS a special FINANCE SEMINAR on Saturday afternoon featuring a panel of leading Finance Coaches and Entrepreneurs. Remember: it is God who gives us the POWER to get wealth and to be successful (Deuteronomy 8:18).
CONFERENCE SCHEDULE:
Friday 23 July - 7:00pm
Saturday 24 July 2:00pm FINANCE SEMINAR
Saturday 24 July - 6:00pm
Sunday 25 July - 11:00 AM
PLEASE NOTE:
Virtual attendees: Live stream links for each session will be sent to the email address you provide upon registration by the first day of the conference. Please keep an eye on your inbox.
In person attendees: please note the venues for the separate days
FRIDAY & SATURDAY
KICC Land of Wonders
468-474 Hoe Street, Walthamstow
London, E17 9AH
SUNDAY
KICC Prayer City
Buckmore Park, Maidstone Road,
Chatham, ME5 9QG.
TRANSPORT
Free return shuttle buses are available on Sunday only. Look out for details of the pick up times and location on our website: kiccroyals.com/conference
We trust God to bless you wherever you'll be joining us from!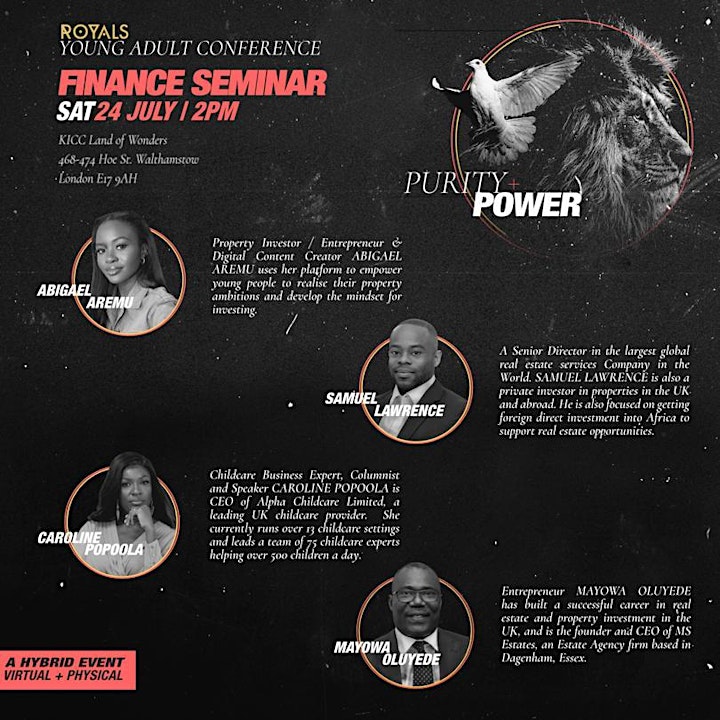 Organiser of KICC ROYALS CONFERENCE PURITY & POWER 23 - 25 JULY 2021
KICC is one of the largest growing churches in Western Europe. Our phenomenal growth and success is built on strong leadership, our investment in the socio-economic and spiritual needs of multi-cultural communities and our overall desire and commitment to live our lives based on the teachings of Jesus Christ.