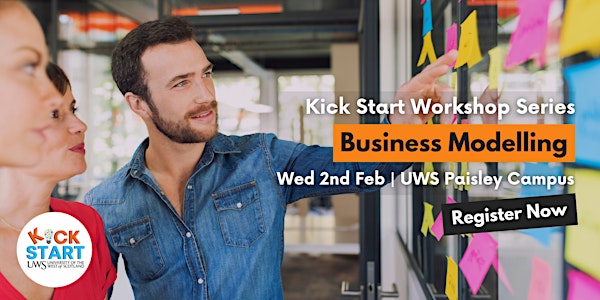 Kick Start Workshop Series (Workshop 3) - Business Modelling (Online Only)
Join our Business Modelling workshop and learn about the various stages of business modelling and business planning!
About this event
A business model is a document or strategy which outlines how a business or organisation delivers value to its customers. It provides information about an organisation's target market, that market's need, and the role that the business's products or services will play in meeting those needs.
This workshop defines and describes the various stages in the process of business modelling and business planning. In this very practical session, the Business Model Canvas is used to build a viable business model around your idea.
A hybrid approach will be in place this year with all of our workshops being held face-to-face (UWS Paisley Campus), but also being streamed online for those who cannot attend in person. Our workshops will be open to all students, graduates and staff at the University of the West of Scotland.
PLEASE NOTE: This Eventbrite registration link is to attend this workshop face-to-face at our UWS Paisley Campus only. If you wish to attend online via zoom, then please register through the CPD webpage at: https://cpd.uws.ac.uk/w/courses/191-kick-start-workshop-series-business-modelling
All workshops will be free to attend.
Workshop Outcomes
- Expand and develop your knowledge and skills through a series of interactive workshops
- Learn from experienced business experts
- Network with other like-minded individuals and local entrepreneurs
- Build up your own creative confidence and innovative ideas
Hosts/Speakers:
UWS Student Innovation and The School of Business and Creative Industries team.