About this Event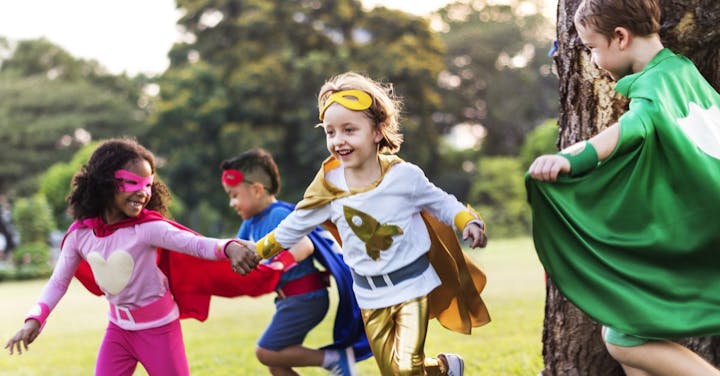 Mindfulness is great for improving concentration and focus, managing stress and anxiety and improving happiness, resilience and well-being.
Drop your kids off and enjoy some downtime knowing they are learning life-enhancing skills for improved well-being. If you prefer you can also sty with your child. This will be a day packed with activities, lovely arts and crafts to take home and Superhero action.
We are all Superheroes:
What are my Super Strengths - Introduction using strengths cards
What makes me unique – discussion and craft activity
What Superhero powers would I like to develop?
My Superhero Space – guided meditation
Exploring our Superhero senses:
Mindful Smelling - exploring smell (candles, fresh herbs, flowers, fruit, vanilla, cinnamon etc.)
Listen to the sound - exploring hearing
Outdoor safari - exploring our 'Spidey' senses outdoors
Spider-Man Meditation
Superhero Movements:
Superhero Pose for improved confidence
Cat-woman Yoga Poses
Mindful movement
Body Scan – tuning into our bodies
Eating like a Superhero
Mindful eating exercise as Superhero's from another planet who just landed on Earth!
Exploring the benefits of healthy eating for our moods and improved well-being
Guess what food this is - exploring taste (cheese, raisin, cornflakes, apple etc.)
Bouncing back like a Batman
What is resilience?
How Superhero's show resilience
Guess which Superhero am I – mask game
My Magical Super-stone
Developing positive self-affirming statements
Writing our statements on our own Super-stones – craft activity
Stone meditation – how to relax quickly
Each child will take home small gifts and craft that they will be making on the day. They will also be taking home a poster with a simple technique to help in implementing mindfulness at home. £20 per child. Booking is necessary to secure a place as spaces are limited. The price through Eventbrite is £22.15 and includes booking fee.
During the day we will have two short breaks and a longer break for some food. Children will need to bring their own snack and a water bottle. No nuts please. Part of the activities will be outdoors please ensure appropriate clothing on the day. Superhero costume is most welcome and entirely optional.
NOTE that the event will take place in the Russel Howard Pavilion building which is outside of the main building in the green. The Pavilion building is easily accessible from St Andrews Road car park. We recommend that you park at the St Andrews Road car park.
DBS check, First Aid training and safeguarding certificates are available upon request to guarantee your peace of mind.