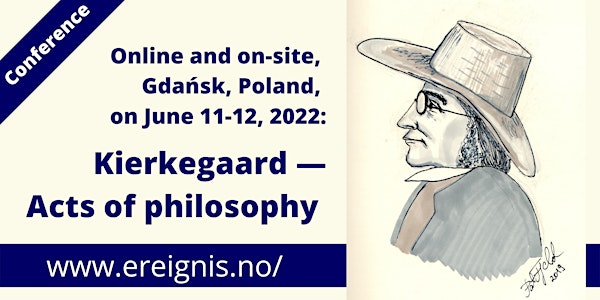 Kierkegaard: Acts of philosophy -- the 2nd Ereignis Conference
Location
Hotel Antares
59 Komandorska
81-232 Gdynia
Poland
A conference on the literary and artistic character of Kierkegaard's work and on philosophy, literature and art that connect with his work.
About this event
How can we enlist the literary image to move readers to act in the world, and how may a philosophical life serve as a theatre in which ideas are enacted? These are key questions for our second Ereignis conference, to be held on-site in Gdynia, Poland, on Saturday, June 11, and on-line on June 12, 2022.
Hosted by Ereignis Center for Philosophy and the Arts, and headlined by internationally acclaimed speakers on literary and political philosophy, this conference seeks to show a wide array of philosophical, literary, and social junctures where Kierkegaard's philosophy meet with contemporary concerns.
The conference will be held on-site, at Hotel Antares in Gdynia, Poland, and on-line, on the Zoom videoconferencing platform, on June 11 and 12, 2022. Registration will be required through eventbrite.co.uk/.
Keynotes
Dr. Kresten Lundsgaard-Leth, International People's College, Denmark: "For the Love of God? On Hägglund's misunderstanding of Fear and Trembling";
Prof. Gisle Selnes, University of Bergen, Norway: "Job's Modernity; or Ereignis & Repetition: a Lacanian re-view, with discontinual reference to the Assange case";
Prof. Dr. Jørgen Veisland, University of Gdańsk, Poland: "What's in a name. A Kierkegaardian approach to Herman Melville's Billy Budd, Albert Camus' The Myth of Sisyphus and Paul Auster's City of Glass".
Sessions
Papers are timed to 20 minutes and followed by a Q&A with the audience. Each session is moderated. See the conference programme for details.
Conference fee
General attendance: €80 (standard fee);
Reduced fee: €40 (students and the unwaged).
Organisers
This event is hosted by Inscriptions — a journal for contemporary thinking on art, philosophy and psycho-analysis, and Ereignis Center for Philosophy and the Arts.
Scholastic committee
Prof James Bahoh, University of Memphis;
Dr Mehdi Parsa, Ereignis Center for Philosophy and the Arts;
Dr Simon Smith, British Personalist Forum;
Dr Torgeir Fjeld, Ereignis Center for Philosophy and the Arts.
Sponsor
The 2022 Ereignis Conference is generously sponsored by Adrianex.
More information