King Kurt | Pussycat and the Dirty Johnsons | Knocksville | The Go Go Cult + Go Undercover @ Suburbs The Holroyd Guildford
About this event
Gig update - 5.30pm 8th October 2021
Knocksville are unable to play the gig tomorrow and this later in the day it is not possible to find a suitable replacement, so that means a slightly longer set for Pussycat and the Dirty Johnson and a slightly longer set and later start time for The Go Go Cult.
Please note: that Knocksville are not available for acceptable reasons (not Covid) and we as promoters have no issue with Knocksville and fully understand the reasons for a late withdrawal.
Revamped stage times:
Doors: 6.30pm
7.45pm: The Go Go Cult
8.45pm:Pussycat and the Dirty Johnsons
10pm: KING KURT
- - - - - - - - -
... THIS IS A RESCHEDULED GIG TO SATURDAY 9TH OCTOBER 2021
King Kurt and Guests Go Undercover
For something that bit different and that bit extra for ya at the Suburbs The Holroys Goes Undercover gigs
King Kurt
Pussycat and the Dirty Johnsons
Knocksville
The Go Go Cult
DJ - Rocking Trev B
Watch this space for further details
All this for just £18 in advance or £20 on the door.
This IS A mess free gig...
STAGE TIMES
7:10pm: The Go Go Cult
7:55pm: Knocksville
8:55pm: Pussycat and the Dirty Johnsons
10pm: KING KURT
KING KURT
Unless you really don't know or have been sleeping under a rock for decades King Kurt are a psychobilly rock band from the UK. They formed in 1981 and although psychobilly pranksters King Kurt are best remembered for "Destination Zululand," the rambunctious smash with which they stormed the U.K. chart in 1984, to recall them purely as one-hit wonders is to decry years of achievement -- But even that only begins to tell the band's story, for it wasn't on cold, impersonal wax that King Kurt were at their blistering, mystifying best. It was in concert, where gigs became tribal gatherings, songs became rockabilly psycho chants, and haircuts were -- well, let's just say they were mighty peculiar, and leave it at that.
King Kurt's reputation has never flagged and, if anything, has grown even wilder over the years – gonna be fun in Guildford. . . .
Wanna know more this is a pretty good catch up of the band https://www.allmusic.com/artist/king-kurt-mn0000091645/biography
PUSSYCAT AND THE DIRTY JOHNSONS
Undercover regulars back at one of our gigs and rightly so.
The formidable Pussycat is renowned for prowling the audience while the adrenaline fuelled Dirty Johnson boys pound out their infectious brand of dirty rock and roll. Like cats they are hard to pin down and have been described as one of the most incendiary live bands in the UK.
Pussycat and the Dirty Johnsons bring high impact raw power to the stage, and have managed to capture that unadulterated trash punk assault to the senses on their first three albums; exercise your demons, dirty rock'n'roll and ain't no pussy - all of which received glowing reviews.
KNOCKSVILLE
New to an Undercover stage and persistent they are in their belief in their art (they nagged Mick a lot), that Mick eventually gave in and listened to some of their tracks asked about and booked them for this gig without any hesitation.
High Octane Blues Infested Punkabilly! From the South Coast.
Described as a "50's style "punks" Knocksville, with a heavy train-like sound featuring great slap bass, banging drums, as well as a punk/rockabilly guitar player. Although fairly simplistic, as many three-piece acts are, they also had a direct powerful sound that gave their show an undeniably rocking edge".
THE GO GO CULT
"From a heavily armed farmhouse in the swamplands of Reading crawl the Go Go Cult hell bent on spreading their unique brand of sleazy fifties psycho-delic voodoo surf punk sci-fi gospel. With the aid of their trusty Cult-O-Phonic Hypnoray The Go Go Cult have begun warping minds wherever they appear, leaving audiences helpless to refuse their Go Go will. Walk into the light" their words not ours…
ALSO
Usual thingy in the unlikely event that Covid is still lurking we will move the gig to a more suitable time of the year etc.
LINE UP SUBJECT TO CHANGE
These are uncertain times, in some circumstances cancellations are inevitable and we hope you can bear with us.
Each gig we put on we aim to make it an event with bands playing.
Given the climate we are in all gigs line ups are subject to change more so than in normal circumstances.
If there are any band cancellations A replacement will be found, who that will be will depend on availability but at Undercover we always aim to have the best possible line up given budgets etc.
Like all other promoters except if an event is cancelled we are not able to offer refunds if a band has to be replaced.
We do our best to keep quality alternative live music going, your support and understanding in these most difficult, unusual and uncertain of times is appreciated.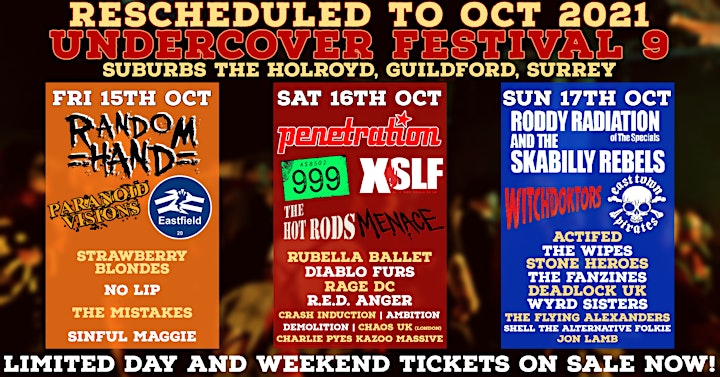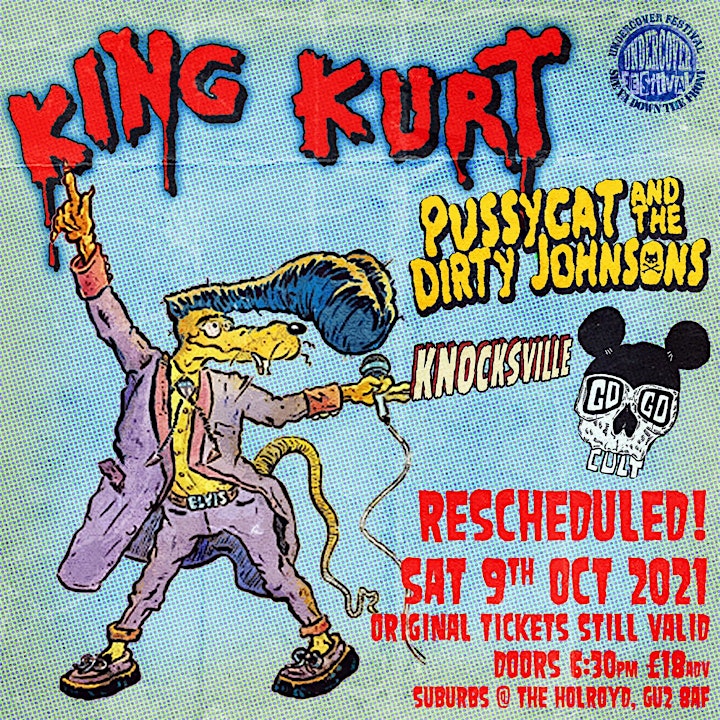 Organiser of KING KURT & Very Special Guests Go Undercover in Guildford (9th Oct)