Description
The Kingdom Code hackathon is back for its third year! Over the course of a weekend what digital product or tool could you build and launch that brings your Christian faith and technology together? We've seen teams work come together to teach Amazon Echo to answer questions about the Bible, help people isolated by panic attacks and depression, challenge people to pray intentionally for 40 days, and more. What's your project?

Join developers, designers and entrepreneurs from across the UK in Farringdon, London as we join with over 25 cities around the world seeking to advance God's kingdom through technology.
"I've never been in a setting where technology, missions, and faith are directly linked. This is the perfect space to see that come to life for me" - #HACK 2016 attendee.
Friday night will start with food and an opportunity to get to know everyone in the room. Everyone will be given an opportunity to give a two minute pitch about the project that they want to work on over the weekend and then teams form around the ideas.
Get involved, make new friends, get inspired and build something that matters.
---
Challenges
Each year BUILD partners with Christian charities, organisations, even church denominations, to provide challenges for us to work towards. This year we're going to be joined by Christians Against Poverty and Home fro Good who have set us these challenge:
How can digital tools enable churches to serve the poor and save the lost in their local communities?
How could Home for Good better use digital tools to inspire people, support them in their fostering and adoption journey and enable them to be part of a growing movement?

Weekend schedule (draft)
Friday 20th October
18:30 | Doors open and registration
19:00 | Dinner & networking
19:45 | Welcome, prayer and pitches
21:00 | Team formation & projects begin
Saturday 21st October
08:30 | Breakfast and team bible study
09:30 | Teams check in
12:30 | Lunch
15:30 | Global prayer
18:30 | Dinner
Sunday 22nd October
08:30 | Breakfast and team bible study
09:30 | Team check in
12:30 | Submission deadline
12:45 | Lunch
13:30 | Afternoon celebration and presentation
14:30 | Awards
15:00 | Pack down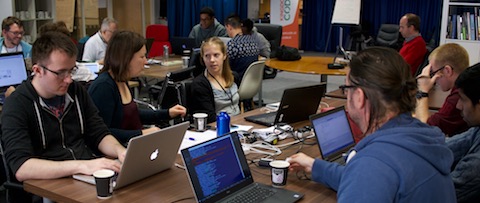 FAQS
Why are we charging for this event?
Ticket sales will cover less than half the cost. The hackathon in London is hosted by Kingdom Code, a not-for-profit group, with a passion to help Christians in technology find encouragement and collaborate. Over half the budget will be met by the generosity of sponsors.
Are you going to feed me?
Yes! You'll be well fed over the course of the weekend. We'll eat together Friday dinner through to Sunday lunchtime. There will be plenty of snacks and caffeine on tap.
Is there a student discount?
Maybe... if you ask nicely! Snap a photo of your student ID / NUS card and send us a tweet (@kcodeuk) and we'll see what we can do for you.
Where can I contact the organiser with any questions?
Kingdom Code is on Facebook and Twitter, send us a message there and we'll get back to you ASAP.
Can I update my registration information?
Yes! Just log into Eventbrite and update your information.
I heard rumours of a cat...
Yes! Princess, the Innovation Warehouse cat, lives in our venue. If you have allergies you may want to bring antihistamines.
Are there refunds?
Sorry, we can't do refunds, however the tickets are transferable, so feel free to pass your ticket on to someone else (just remember to update the name on the ticket).
Is there an age limit for the event?
There is no age limit for the event, however under 18's must be accompanied by a legal guardian.
48 hours? What about sleep?
While some people will be working for the full 48 hours (caffeine provided in the ticket cost) it is certainly not expected! Don't worry you can go to sleep. The venue doesn't have a specific room to sleep in, however you are most welcome to bring a sleeping bag and air bed and find a quiet corner, alternatively make arrangements for yourself off site.
Showers?
We're working on that... There are none on site.
I have food allergies or requirements... can you cater for me?
Yes! We'll do our best to accomodate your needs, just included them in the form when you register.
What can you do right now?
Sign up now - get an early-bird discount, it won't be there forever!
Get some friends together - bring a team - or just come as you are.
Begin to think of a product you would like to build.