Kings & Queens Book Tour Day 2: Meet the Authors @ Hackney Central Library
Description
Black History Month is an opportunity to understand how our past has affected the way we relate to each other today. I have invited two authors from the USA to join me for the Kings and Queens Book Tour, (1-8 Oct), and they will be at Hackney Central Library on Monday 2nd October from 5-7.30pm!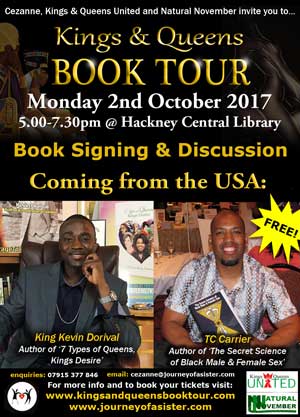 King Kevin Dorival is author of '7 Types of Queens, Kings Desire', (I wrote the Foreword). This insightful book looks at historical model queens and their qualities, and will help you identify what type of queen you are; It answers many of the questions women often ask about what quality men desire in a woman.
King Kevin's first book is 'Courage to Believe' is an inspirational memoir that explains how he escaped a life of crime, street life and jail to become a Marketing Executive for a top construction firm. It is a must read for young men, which promises to help them tap into their own inner power and be victorious.
TC Carrier is author of 'The Secret Science of Black Male and Female Sex', a book which will help you understand the proper use of sexual energy. In today's society, we are taught to dissipate our energy, which affects us on many other levels. His book covers topics such as finding the right man or woman, secrets of the orgasm, sexual healing, interracial dating, and much more! It will help us learn how to operate properly in your masculine and feminine energies, so that the Black man and woman can heal, and fully appreciate each other. TC is author of a number of books including 'Black Son Rising: Awakening the Warrior DNA in the Black Man', which will also be on sale on the day.
This is a FREE event, but you can purchase your signed copies on the day!
Schedule:
5-6pm - Meet the Authors/Networking
6-6.45pm Book Discussion: 'Courage to Believe'
6.45-7.30pm Book Discussion: 'Black Son Rising: Re-Awakening the Warrior DNA in Black Men'
7.30-8.00pm Book Signings
See you there!
Cezanne
Author|Poetess|Artist|Events Host|Workshop Facilitator