Kings & Queens Book Tour Launch: Meet the Authors
Event Information
Refund Policy
Refunds up to 7 days before event
Description
You are invited to the Launch of the Kings and Queens Book Tour, where we will hold a two-hour interactive workshop to identify 'What Does it mean to be a King or a Queen?' (in terms of our spirituality)
Many of us were taught that our history began with slavery! We do not know that we had a rich history before slavery, and that buried in our DNA, holds the key to our greatness. To kick start Black History Month, we are holding this event to discuss how we can repair the damage caused by slavery and colonialism. In seeking to rebuild our relationships, we aim to rebuild our commUNITY. Two authors are coming from the USA to run workshops, beginning with King Kevin Dorival, who will motivate and inspire you to re-connect with your greatness that lies within. Kevin defied the streets of America, jail and death to become a leading Marketing Executive for a top Construction firm. He is best known for his first book 'Courage to Believe', which enabled him to set up a chess foundation for youth, which he now mentors. His new book '7 Types of Queens, Kings Desire' will help you tap into your own greatness and help you identify what type of Queen or King you are, to help you create lasting relationships, stronger marriages, and better communities.
His workshop is designed to raise your level of confidence and self-esteem, and to know what quality men desire in a woman.
TC Carrier's book 'Black Son Rising; Re-awakening the Warrior DNA in Black Men' will also address this issue. Come and join in this discussion! (Books will be on sale)
​
​Donation: £5.00 + booking fee (all monies collected will go towards the authors travel in the UK, accommodation, and expenses for the tour).
Straight after this event (in the same venue) both King Kevin and TC Carrier will be on the Kings and Queens United Panel Discussion between 4-7pm, (dinner included in ticket price). For details go HERE.


See you there!
Cezanne
More dates for the Kings & Queens Book Tour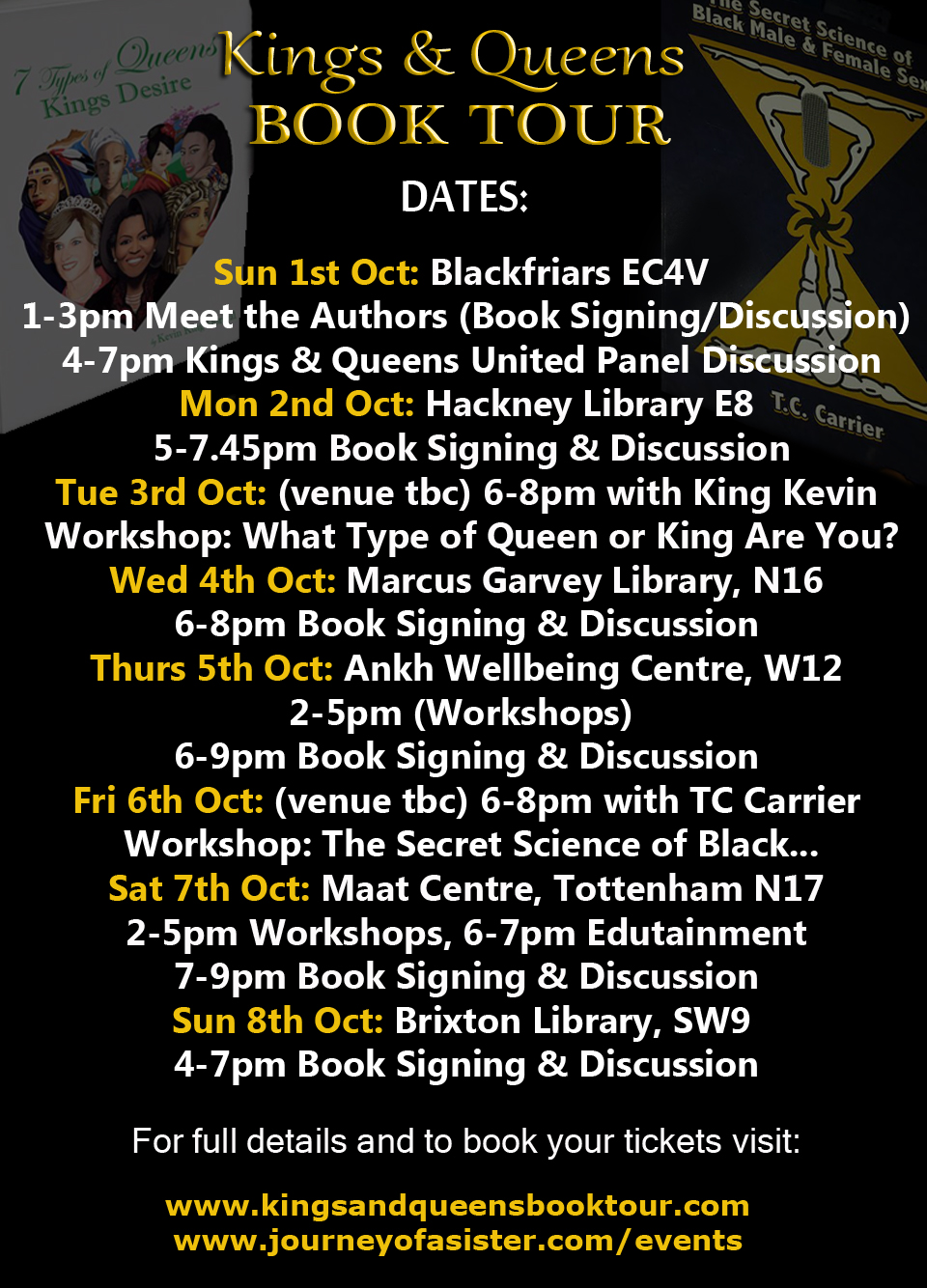 Date and Time
Location
Refund Policy
Refunds up to 7 days before event