Metal Fingerprints in Normal Cell States and Disease - Virtual Symposium hosted by the London Metallomics Facility, King's College London
About this event

King's Together Strategic Award Virtual Symposium - Metal Fingerprints in Normal Cell States and Disease
This day long Symposium summarises the results from a King's Together Strategic Award supporting the London Metallomics Facility. It will be of interest to students, early career researchers and the wider research and medical community. The Symposium focuses on the imaging of metal ions in biological tissues and has two parts. In the morning, principal investigators will report on progress in specific areas. In the afternoon, keynote lectures address the wider impact of the field, with the closing lecture given by Nobel Laureate Professor Sir Peter Ratcliffe FRS.
Hosted by the London Metallomics Facility at King's College London
09:40 - 10:00 Virtual Doors Open
10:00 – 10:25 Prof Wolfgang Maret, Coordinator King's Together Strategic Award, School of Life Course Sciences, King's College London
'Metallomic profiling: an integral role for zinc in human health and disease'
10:25 – 10.50 Dr Theodora Stewart, London Metallomics Facility, King's College London
'An emerging analytical platform for multidimensional metallomics'
10.50 – 11:15 Prof Giovanni E. Mann, School of Cardiovascular Medicine & Sciences, King's College London
'Redox signalling and metal fingerprints in vascular cells under physiological normoxia'
11:15 – 11:30 Break
11:30 - 11:55 Dr Rocio Sancho, Centre for Stem Cells & Regenerative Medicine, King's College London
'Phenotypic plasticity in the pancreas: application of metallomics'
11:55 – 12:20 Dr Cynthia Andoniadou, Centre Craniofacial & Regenerative Biology, King's College London
'Endocrine stem cell function and regulation: insights from metallomics'
12:30 – 13:30 Sponsor Lunch Breakout Sessions
Teledyne CETAC Technologies – 'The power of laser ablation for bio-analysis: What can it show you?'
Thermo Fisher Scientific – 'An overview on Inductively Coupled Plasma Mass Spectrometry (ICP-MS) as a tool in Metallomics'
13:40 – 14:20 Keynote Lecture 1: Prof Frank Vanhaeke, Department of Analytical Chemistry, Gent University, Belgium
'High precision isotopic analysis of essential mineral elements: a novel tool in biomedical sciences'
14.20 – 15.00 Keynote Lecture 2: Prof Wolfgang Mueller, Institut Geowissenschaften, Goethe-Universitat Frankfurt, Germany
'On the biomineralization of human teeth from spatially-resolved laser mass spectrometry (LAICPMS) with emphasis on Zn, Sr & Pb'
15:00 – 15:40 Keynote Lecture 3: Prof Philip Blower, School of Biomedical Engineering & Imaging Sciences, King's College London
'PET metallomics: insights into trace metal metabolism in health and disease'
15:40 – 16.00 Break
16.00 – 16:45 Keynote Lecture 4: Prof Fiona Watt, FRS - Centre for Stem Cells & Regenerative Medicine, King's College London
'Role of Notch signalling in epidermal stem cell patterning and differentiation'
16:45 – 17.30 Keynote Lecture 5: Prof Sir Peter Ratcliffe, FRS - Clinical Director Francis Crick Institute, London, UK
'New horizons in hypoxia signalling pathways'
17:30 – 17:45 Concluding Remarks: Prof Reza Razavi, Vice President & Vice Principal (Research) King's College London
Symposium Partner: Ageing Research at King's (ARK)
Event sponsors: Teledyne Technologies, ThermoFisher Scientific, TOFWERK, Nu Instruments, Unilever, BMG Labtech, Baker-Ruskinn, Heart Research UK, Wellcome Trust, British Heart Foundation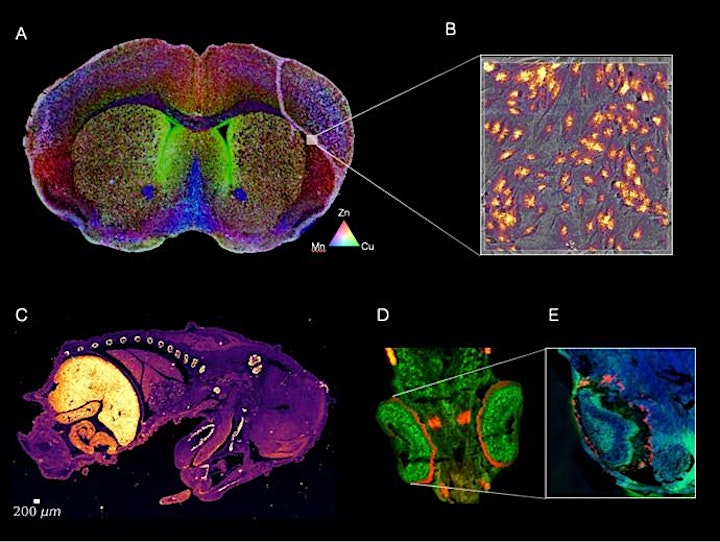 Generation of 2D elemental maps using Laser Ablation - Inductively Coupled Plasma - Mass Spectrometry (LA-ICP-MS) is possible across a range of sample types and spatial scales. Elements can be visualised both individually and in combination. A) Distribution of Cu, Mn, Zn (15 μm) in WT mouse brain and B) cellular Zn distribution (2 μm) in mouse brain endothelial cells (G. Mann, R. Siow, K. Farrell-Dillon, M. Smith | Cardiovascular | KCL). C) Zn distribution (19 μm) in developing (E16 stage) mouse embryo (R. Sancho | CSCRM | KCL). D) Distribution of P (green) and Pb (red) (3 μm) in Pb exposed zebrafish embryos (5-8 dpf) (C. Hogstrand, A. Vas | Nutrition | KCL) and E) corresponding differentially distributed metabolites (488 nm/pixel) shown in false colour overlay obtained by ToF-SIMS (S. Fearn| LCN | Imperial). LA-ICP-MS and corresponding image analysis was performed at the London Metallomics Facility (A. Morrell, A. Griffiths, M. Amrahli, C. Beales).