Kinofilm 17th Edition: British Shorts Festival - FULL FESTIVAL PASSES
Sales Have Ended
Ticket sales have ended
Advance Tickets sales now ended. Tickets available at the venue.
Sales Have Ended
Ticket sales have ended
Advance Tickets sales now ended. Tickets available at the venue.
Kinofilm presents a special 17th Edition: the British Short Film Festival in Manchestser.
About this event
Kinofilm presents the British Short Film Festival MCR. Over 25 yeas since our first Festival launching the very first Festival of short films in 1995 in the City of Manchester and the North West region. Yes, we are still here, proud to be at the four front of short film exhibition in the city and where many have since followed. There are many imitations but only one Kino!!
ADVANCE EARLY BIRD FESTIVAL PASSES ARE NOW ON SALE HERE FOR A LIMTED PERIOD OF 1 WEEK. JUST £30 FOR THE 8 DAYS OF THE FESTIVAL, THAT'S JUST LESS THAN £5 A DAY. PASSES WILL GO UP AFTER 1 WEEK FROM SALE TO £40 SO BUY NOW WHILST SUPER VALUE.
This 17th edition of Kinofilm Festival will run from Tuesday 19th – Tuesday 26th October screening in super-cool new indie cinema Chapeltown Picture House, Red Bank - 5 mins from the Green Quarter.
You can read all about the
CHAPELTOWN PICTURE HOUSE which is housed in the Grub street food venue at their Facebook page here https://www.facebook.com/CPHMCR/ or on their web site here
https://www.cphmcr.com
The festival will show around 200 short films, in 20 programme with British Shorts from around the UK - not forgetting our own Greater Manchester and North West filmmakers with specially curated programmes of of locally made films.
We'll be opening the festival on the 19th and 20th October with a chance to see two Spanish and Italian short film programmes in collaboration with our long term cultural partners, the Instituto Cervantes and Dante Alighieri. Both these screenings will take place at the fabulous Instituto Cervantes on Deansgate (near the Hilton Hotel).
We'll then be moving to the Chapeltown Picture House on Thursday 21st running through until the 26th October, when we are proud to present a our closing film, the latest feature from North West's top filmmaking partnership of Chris Green and Michael Knowles who will be joining us for a Q&A directly after the film.
For those in the know, this is the re-edition and newly curated Part 2 of our 2020 16th Edition that was postponed in March 2020 due to Covid. Part 1 was the international section presented online in May this year (and Live in Withington in August). This second part of the festival has been specially curated as our 17th Edition British Shorts Festival.
FOR FULL DETAILS OF ALL PROGRAMMES CLICK ON THE EVENTS BUTTON to the left of our page or for all tickets CLICK ON EVENT BRITE LINK BELOW: https://www.eventbrite.co.uk/.../kinofilm-manchester...
Filmmakers / Media and Press passes. If you are a filmmaker with a film in the festival you will receive a festival pass. Likewise, Media and industry passes are also available. Contact us at info@kinofilm.org.uk to apply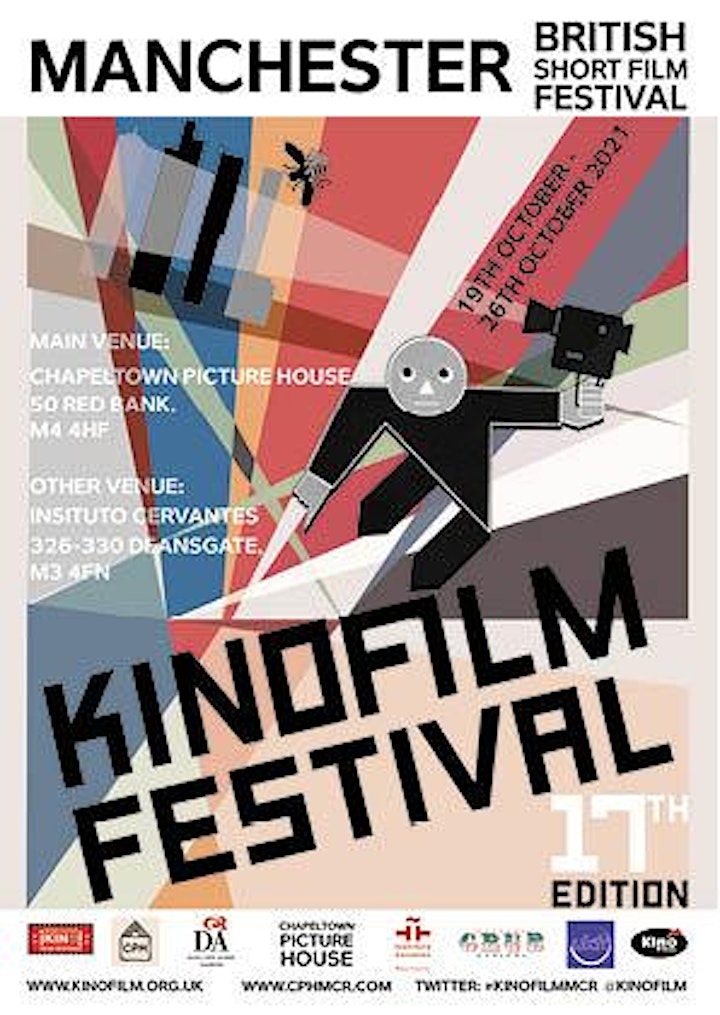 Organiser of Kinofilm 17th Edition: British Shorts Festival - FULL FESTIVAL PASSES
TICKETS AVAILABLE ON LINE FROM 6th October
Check the web site or our Social Media for news.
Kinofilm™ has a unique reputation for showcasing the best short films and debut features from around the world and is  renowned for seeking out diverse, challenging and groundbreaking new films. The festival maintains a high standard with many European & International award-winning shorts featured in the Festival. It includes special programmes in low/no budget shorts, North West Shorts, British Shorts, European Shorts, International Panorama, Kino Exposed (student and youth shorts), and Kino Animation, giving new and emerging filmmakers the opportunity to have their work screened alongside that of critically acclaimed, established short filmmakers. The festival screens new debut features by filmmakers that have made the transition from short film to feature or have entered the feature industry from other creative platforms, such as music video, commercials, TV drama or Theatre.
We continue to produce regular events throughout the year and following Part 1 of the Covid postponed 2020 festival which was presented online in May and in our pop-up live festival in August, we are now proud to present our next event, part 2 of the the 2020 Covid postponed event freshly curated as the Kino British Shorts Festival taking place 19th - 26th October 2021 - celebrating 25 years of Kinofilm Manchester. 
Programme and ticket sales to be announced shortly - watch this space. Check back for full details on 1st OCTOBER. when tickets will be released.
Kinofilm Festival is organised and produced by Manchester International Film Festival©