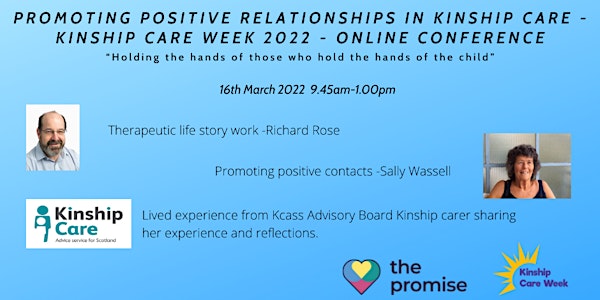 Kinship Care Conference - Promoting Positive Relationships in Kinship care
Join speakers Richard Rose and Sally Wassell as well as hearing the lived experience of a Kinship Carer at our free online conference.
About this event
This free conference is aimed at Kinship Carers at any stage in their journey as well as those practitioners working with kinship carers.
At KCASS we are committed to keeping the promise and are aware of how important positive relationships can be in a child's life. We are delighted to bring to you a free online half day event with specialist guest speakers that will share lived experience and will focus on promoting positive relationships in Kinship care through contact and life story work.
Speaker one- Lived experience -Kinship Carer.KCASS aspire to incorporate lived experience in everything we do, you will hear directly from a kinship carer who will share her experience and reflections on her important role.
Speaker two- promoting positive contacts -Sally Wassell .Sally is an author, independent trainer and consultant and will focus on the importance of maintaining positive contacts in kinship considering the need for appropriate assessment, and ongoing support for kinship families.
Speaker three- Therapeutic life story work -Richard Rose.Richard Rose is an Author, trainer and consultant and will focus on the importance of children understanding their life story and give an introduction to therapeutic life story work
Following this there will be a Q and A with the guest speakers for your chance to have your say and have any questions answered