Description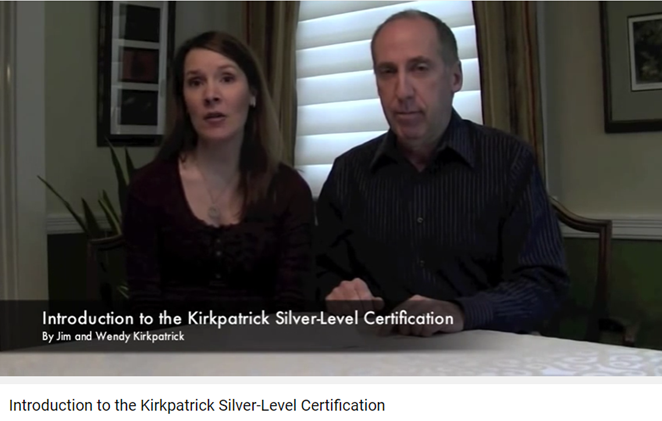 Watch this short video by Jim & Wendy Kirkpatrick explaining the Kirkpatrick Silver Level Certification programme and the benefits you get by attending this programme.

(Click here to view video now)

NOTE - You must have already completed the Bronze Level Certification to attend this Silver Programme. There is a Bronze Programme running on 5th & 6th December 2016 in London. Find out more about Bronze
Kirkpatrick silver level certification provides the structure and support you need to successfully execute a complete programme evaluation plan. Its blend of cutting-edge skills and ongoing support begins with a full-day session during which participants share a formal progress report and obtain expert and peer feedback in a conversational environment.

During this program and through formal, ongoing support, you will learn the key questions to ask during data collection and analysis, as well as how to use that information to ensure maximum on-the-job application and subsequent results. You will also learn how to identify and leverage success factors for future initiatives. Common challenges and their solutions will be discussed in large and small group discussions.

The program concludes with the creation of individual action plans for program execution and final reports. Kirkpatrick silver level certification is obtained after you make a final presentation of the program's outcome and results to Kirkpatrick Partners via a conference call scheduled within 12 months of your attendance.
What's in it for me?
If you already have achieved your Kirpatrick Bronze Certification then you can join other L&D Professionals serious about their professional development and learning directly about the New World Kirkpatrick Four Levels Evaluation and how to apply it back in your organisation to demonstrate the effectiveness of your learning interventions.
DPG and Kirkpatrick Partners have successfully helped 100's of L&D professionals to gain the Internationally Recognised Kirkpatrick Silver Level Certification. You too can join this very elite group of professionals by securing your place on this programme today.
Kirkpatrick Silver Certification takes evaluation to a new level, helping you understand how to effectively bridge the gap between learning and organisational development.
Why Get Kirkpatrick Certified?
93% of participants recommend this programme

Source: course evaluation forms collected from March 2010 to December 2014; ratings of 8 or higher on a 10-point scale, as tabulated in the TEMPO system

96% of graduates use or apply the information and tools obtained from the programme
Source: 90-day post-program evaluation forms collected from January to August 2014; rating of "agree" and "strongly agree"

A unique feature of this programme is the focus on how any learning is transferred through changing behaviours leading to sustained business change. You will learn why training alone is not enough, and receive guidance to make sure that your approaches are collaborative and your solutions transfer in to action and desired change.
You will also receive detailed feedback on your presentation that you discuss at the event as a means for you to become successfully certified.
Your Facilitator:
Phil Willcox - Senior Consultant with DPG. As the only UK practitioner accredited by the Kirkpatrick Partners to deliver the bronze certificate, Phil brings a wealth of experience to the programme as he facilitates workshops and consults on a range topics including building a business partnership model, Organisational & Training Design, coaching and management & leaderships programmes for top organisations all over the world. Phil is known and recognised for his open and friendly facilitation style. His programmes offer an opportunity for all participants to share their experiences and learn from each other in a relaxed but professional environment.
Programme Contents
When you join this programme you receive:
Pre-programme exercises

Lifetime access to the DPG Community

A blended approach and high quality learning experience

Support materials, templates, tools, and case studies

Grading and personalised feedback on your individual evaluation plan

Kirkpatrick Practitioners accreditation and certificate

Post workshop assignments

52 weeks of follow-up support via email

Informal consulting via phone/email for one year from date of certification

Access to DPG Community for life
For more information view our brochure here
YourSchedule:
8.30 a.m. Registration and Coffee
9:00 a.m. Session begins
1:00 p.m. Lunch (provided)
2:00 p.m. Session resumes
5.30 p.m. End of day
Travel Information
Payment Options
Credit card payments: PayPal is accepted on line or call 0330 660 0220 to book by credit card Cheque: request an invoice at the bottom right corner of the next registration page Electronic funds transfer: request an invoice at the bottom right corner of the next registration page Bank account and PayPal balance: PayPal
Cheque and electronic funds transfer options allow you to register now and pay later. All payments are due within 14 days of invoice date or by 4 days before the program, whichever is shorter.
Answers and Information
For questions and payments call our Head of Corporate Learning - SallyAnn Coleman
on (+44) 0161 975 7130
Cancellation Policy
Cancellations
Once a completed and signed registration form is received by DPG plc you have a cooling off period of 7 working days during which you have the right to cancel your place with no costs incurred. You must provide notice of cancellation in writing and it must be dated and posted to DPG plc, 93 Walkden Road, Walkden, Manchester, M28 7BQ, faxed to 0161 975 7575 or emailed to management@dpgplc.co.uk, and you must ensure this is done no later than 7 working days after receiving the confirmation of your place email from DPG. It is the participants responsibility to ensure the cancellation request has been received and noted by DPG plc. Once past the 7 day cooling off period you are committed to your place and for payment of it. No refunds will be given.
Deferrals
If you defer to a later programme an administrative charge of £295 plus VAT per person is to be paid at the time of deferral. If you withdraw from the programme and are paying in installments the full amount is due immediately.
Non-attendance
If a participant fails to attend the programme, the full programme fees are still payable.