Description
e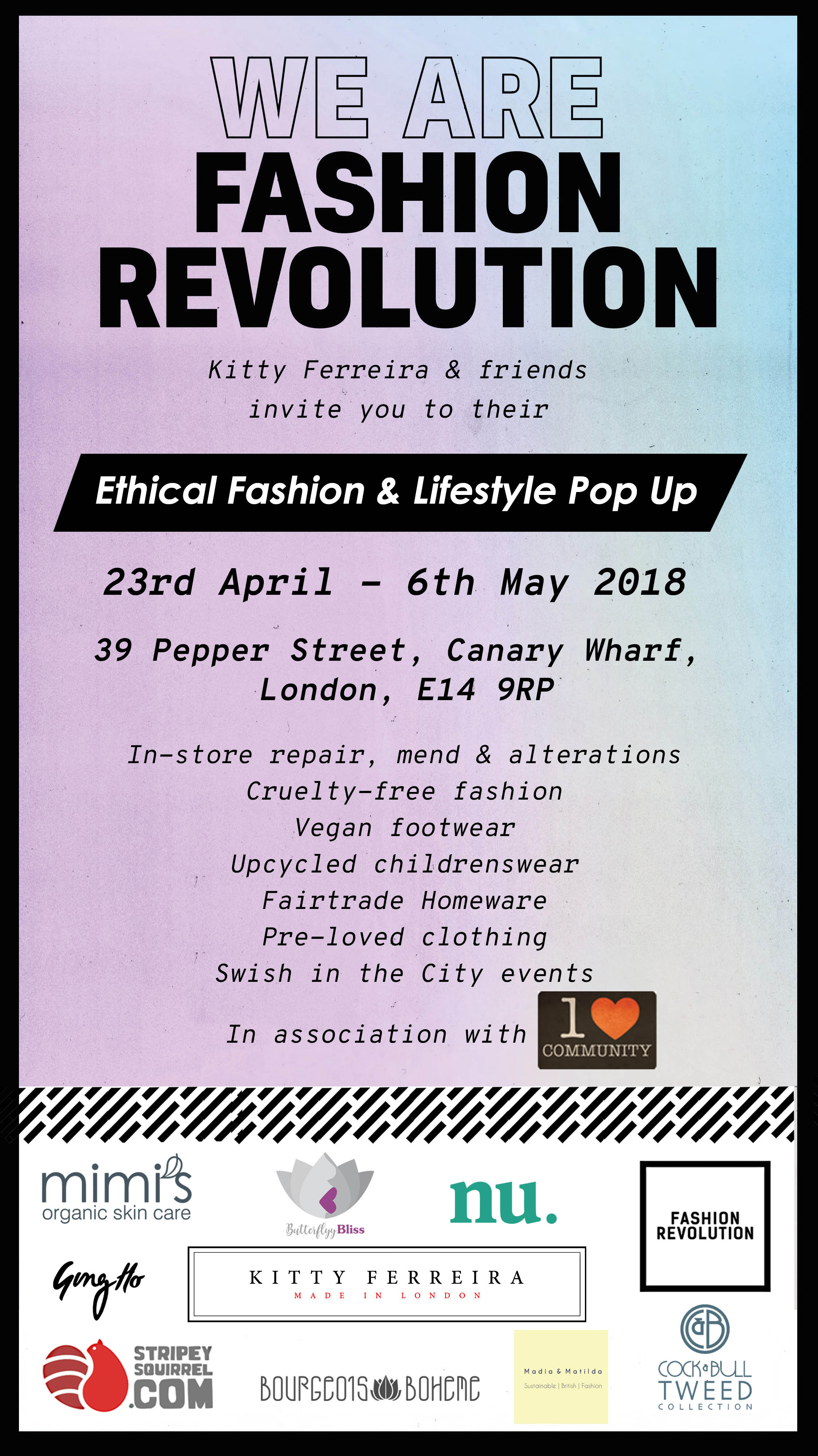 Kitty Ferreira & Friends is presenting a carefully curated Ethical Fashion & Lifestyle Pop Up consisting of independant Responsible Fashion brands in apparel, footwear, accessories, jewellery, homeware, hair and beauty, in honour of the 5 Year anniversary of the Rana Plaza factory collapse in Bangladesh, where over 1000 people perished making garments for some of the biggest names on our high street. #whomademyclothes
Our ethical fashion & lifestyle brands whose ethos include Organic, Fairtrade, Vegan, Cruelty-Free, Toxic-Free, Upcycled, Hand- made, Artisanal, Zero-waste, Swishing & Pre-loved, promise to take you on a journey of understanding from seed to shop floor, from aftercare to alterations, offering stylish alternatives to fast fashion retailers and opportunities to Extend the Lifecycle of Clothing.
---
Events to look out for in store:
Join us for our Launch Night 24/04, 7pm- 9pm: hosted by The Nu Wardrobe, Q&A panel discussions, vegan nibbles & more. Click on the link for free registration.
In-store seamstress ready to repair & mend, offering alterations to that dress that no longer fits.
SWISHING PARTIES
1. The Nu Wardobe will host the first swishing event: 28th April 12pm-5pm. Click here to book your tickets.
2. Swap In The City UK will host the second swishing event: Friday 4th May 6pm-8.30pm. Visit here to book your tickets; http://sitcukparty.eventbrite.co.uk
WORKSHOPS
The Art of Fashion Wrapping by Fee Uhssi Ethical Luxury 3rd May 6pm-8pm. Click here to learn more & book your tickets!
Register for free today to be kept up to date with any additional events.
Details of each brand can be seen here and on instagram
---
Support these designers and interact with our organisations who work tirelessly against the status quo and keep the bottom line in mind- People, Planet, Profit.
In association with 1 Love Community Registered C.I.C - 09176855
Look forward to seeing you there!