KLUB KIDS PRESENTS DRAG FEST IBIZA 18th & 19th May 2022
About this event
DRAGFESTIBIZA.NET
KLUB KIDS presents DRAG FEST IBIZA
- IBIZA ROCKS HOTEL (ages 18+)
NEW DATES:
Wednesday 18th & Thursday 19th May 2022
Klub Kids are super thrilled to bring Drag Fest to the stunning island of Ibiza , summer 2022, for this 2 mega days of drag. We needed to postpone from summer 2021 due to the uncertainty about us travellers coming into Europe.
2 days of ultimate drag at the amazing Ibiza Rock hotel & Pool arena.
3 night stay at the Ibiza Rocks Hotel. Arriving on Tuesday 17th May and departing 20th May.
You have 2 options, You can either book your own accommodation and just book your event tickets. Or you can book your package with Klub Kids which will get your 3 nights accommodation and drag fest 2 day festival pass, arriving on the 17th May. Whichever option you choose you must book your own flights for this event.
** KLUB KIDS DEPOSIT SCHEME **
Pay £100 each now and pay the final balance on the 1st March 2022. (Klub Kids will email you 7 days before payment date to arrange payment, If payment is not made by the 1st March deposit will be lost and ticket cancelled.
____________________________________________________________________________
WEDNESDAY FESTIVAL LINE UP - Event starts at 2pm
WILLAM * INTI * SAGITTARIA * CHORIZA MAY * RAVEN MANDELLA
JUJUBEE * KITTY SCOTT CLAUS (More acts to be added)
THURSDAY FESTIVAL LINE UP - Event starts at 2pm
CARMEN FARALA * DETOX * ROXXXY ANDREWS * RAVEN MANDELLA
CRYSTAL METHYD * ENVY PERU (More acts to be added)
__________________________________________________________________________________
What to expect:
- 9 hours each day of the best drag entertainment and music from all around the world, live performances, dj sets and more
- Artist merchandise
- Drag Market
- Meet and greets with the drag performers
- Food and drink available all day
** KLUB KIDS DEPOSIT SCHEME - Please check our ticket descriptions for more information about our rooms and deposit information.
THIS EVENT IS FOR AGES 18+
Please note: Everybody is super confident that life will be back to normal by May regarding Covid-19, but we will only be selling the events at 30% capacity so we can social distance the event if needed.
IF ANY REASON THIS EVENT CANNOT GO AHEAD ALL TICKETS ARE PROTECTED AND WILL BE FULLY REFUND.
Please note: If you purchase the hotel package or deposit scheme, please expect an email from Klub Kids with everything you need to know.
Please note: This is strictly an LGBTQI+ and friends, this event is a safe space for our community within Ibiza, we will have KLUB KIDS reps greeting all guests on their arrival to the hotel/event.
Any question please email Tomlee@klubkids.co.uk
AFTER PARTY INFO WILL BE ANNOUNCED SOON.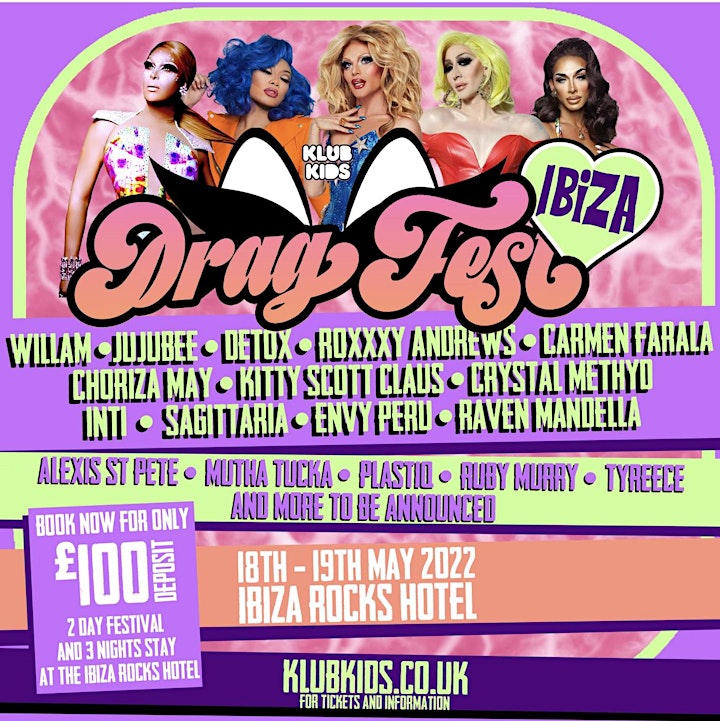 Organizer of Klub Kids presents DRAG FEST IBIZA WEEKENDER (ages 18+)