Event Information
Refund Policy
Contact the organiser to request a refund.
Eventbrite's fee is nonrefundable.
Know Yourself Series is back! A self awareness deep dive - Natalia-Nana guides us through the existential questions that concern us all.
About this Event
Part of the journey of self-actualisation…
an engaging, interactive series to meet and connect deeper with our truest selves
using this newfound self-knowledge to grow self-acceptance, self-love, and more
becoming ever closer, to the version of ourselves we truly aspire to be
Three sessions, every Saturday morning starting on January 23rd, 30th and February 6th at 11:00am (BST).
We suggest you attend all three, to build on the growth journey one week to the next, but you can also just attend the ones you can/want to.
What to expect
Natalia-Nana will be sharing from her experience and learning on self-knowledge, habits and social systems and norms, and will lead us through activities for self-reflection and growth. There'll be a mix of verbal shared learning, presentation, individual activities and group sharing.
The themes for the three sessions are:
Who am I? (23/01/21)
A session full of helpful learning, tools and activities to develop how we know, understand and accept our real self.
In the session there will be space for self-reflection & connection and you will be given take home activities for ongoing support and growth.
Who do I want to be? (30/01/21)
A session linking our awareness of our current selves to looking at the persons we want to be.
There'll be some sharing of teaching & activities to help us make positive pathways to grow habits to fit who we truly are & help us become who we want to be.
Who am I in the world? (06/02/21)
A learning & reflective session looking at how we exist in linked social system, and how issues and systems of ethnicity, gender, sexuality, ableism etc. affect us.
We will discuss how we can apply this knowledge of our coaction with wider social systems, to help us take meaningful steps on our journey towards becoming our best selves.
Practicalities
~ Bring a journal/paper/tablet/phone to capture ideas & do the activities (the presentation can be shared after the sessions, but you may want a phone to take pics of activities /content)
~ JOIN FROM ANYWHERE IN THE WORLD, just be aware of any time difference!
~ You will get a reminder and link to the zoom call 24hrs before the workshop.
~ Tickets: you can buy a one time purchase full course access ticket before the first session or a single session ticket. After the first session, you can still buy tickets for single sessions. There is both a full rate and concessions rate.
~ If you are able, you can sponsor a ticket for someone with low or no income to join. Mandorla actively seeks out people who depend on our sponsorship to be able to attend our events.
~ We take online security seriously. There is a space holder to monitor the space, if anything is discovered the call will be closed immediately. This class will not be recorded and will be locked after participants have arrived.
~ Further Questions? Email mandorla.london@gmail.com
~ Aim to arrive at least 5 minutes before the start time on zoom, this is a safe space, if you are more than 10 minutes late you will not be able to join the group as the call will be locked.
Facilitator
Natalia-Nana (she/her) is a facilitator & teacher focussing on inclusion & identity, often speaking at events with community & faith groups, schools and charities. She has a deepening personal practice in self-knowledge, acceptance and in improving relationships with herself and others and helping others to grow beyond social, & personal limitations.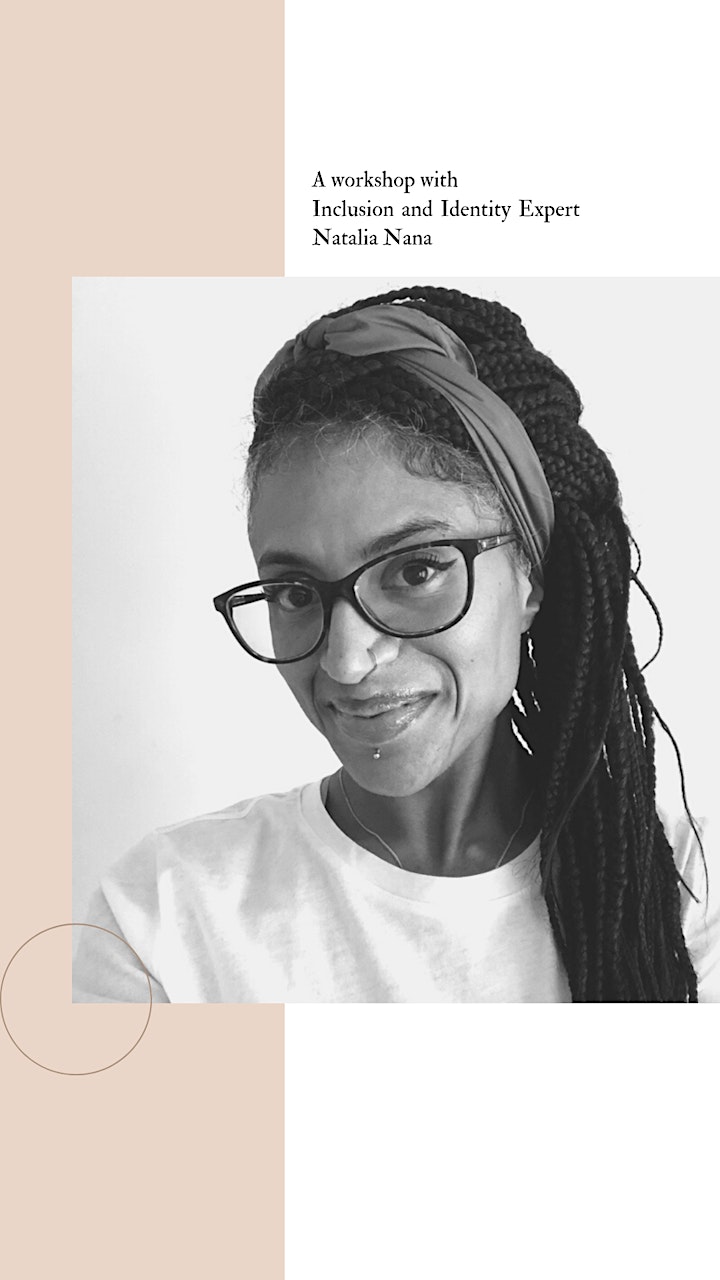 Testimonials
"Natalia's warmth radiated throughout the workshops, creating a welcoming environment and fostering a culture of openness and trust. Natalia encouraged us to deep dive into some powerful topics, exploring our thoughts and feelings without judgement. I really appreciated the safe space that Natalia held for the group to reflect personally and collectively, and the generous spirit of sharing with others. Through the sessions, Natalia helped me to feel grounded and be more present, and I have gained so much from taking part. Thank you for your generous leadership Natalia."
Laura, London
"Natalia is an incredibly gifted facilitator and coach - she loves, values and is grateful for each person that she interacts with and is skilled at both encouraging and gently challenging each individual to dive deep beyond the surface level to meet their genuine self. As individuals accept Natalia's invitation to explore their inner selves through engaging with the helpful exercises she has planned, Natalia encourages us not to judge if what we find is good or bad, its about questioning if its helpful and healthy. Natalia has a genuine desire for each individual she interacts with to be their healthiest and most genuine self.
I personally found the workshop incredibly helpful for building back my self esteem in the midst of a personal crisis by being led by Natalia to think through who I am and what I value. I particularly enjoyed Natalia's invitation to reflect on the values that I hold and to think through where they come from and if I want those values. I realised that responsibility and serving are high values that I hold but that creativity, fun, laughter and wellbeing are also values that I have but i don't make enough time for. I realised that I want creativity, fun, laughter and wellbeing to be of equal importance to responsibility and serving others.
If I needed to sum up Natalia and her facilitation style in a few words they would be: genuine, patient, deep, loving, joyful and grateful."
Anna, London
"The Know Thyself sessions broke down so many layers of reflecting, re-evaluating, and comprehending of myself, which brought about many understandings of myself to surface. The space that was held was open and always felt safe to share, express, listen in and connect. The resources shared are very insightful and encouraging for my own personal journey, and will be of help as I continue my inner work. Natalia led these session through open conversation and writing which I feel was great for me to empathise and learn from others, as well as finding solitude in the togetherness of my shared experience with other women."
Melissa, London
Date and Time
Location
Refund Policy
Contact the organiser to request a refund.
Eventbrite's fee is nonrefundable.