Description
ACCOUNTING – is possibly the most boring subject in the world. And it is also one of the most confusing. But if you want to be rich, long-term, it could be the most important…." WARNING: This is NOT an accounting lecture!
Many people think that numbers are difficult, like a foreign language, because the mechanics of accounting is poorly understood by business owners. Yet numbers are a key part of the essential management information that you need to effectively run your business.
This seminar identifies the key challenges for business owners AND their teams around business numbers and finance. You will leave with:
An understanding of the basics of finance, from the very start

A better understanding of how to ask the right questions of your accountant

Knowing whether you've got the right type of accountant on board

How make sure that no one can ever pull the wool over your eyes in terms of how your numbers work

An understanding the difference between your profit and your cash and how that can help you make decisions about spending and funding

Not Yawning!! (And a book on how to better understand your numbers)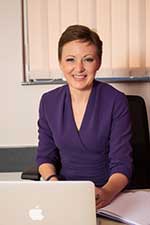 About Christina Nicholson
Christine is an author, speaker and Accredited Member of the Association of Business Mentors who helps business founders significantly change business outcomes and with it their quality of life.
Returning to the UK in 2010, after a few years accidentally running a zoo, she brings 25 years of wisdom, know-how and experience of working with SME's, freeing business owner from the tyranny of long hours to working smarter not harder.
She has started several of her own successful businesses (0 - £4.5m in 15 months), as well as business ventures for others (bankruptcy to 8-figure exit in18 months). Christine's engagement consistently gets her clients increasing their turnover with improved profitability and fewer working hours. She saves them thousands and increases the value of their businesses by millions. Since 2000 she has generated over £100m of crystallised value in business exits.
Find Christine at: www.theprofitfixer.co.uk