Description
Knowledge Bites Workshops (lunch provided on both days)
Day 1: Hair and Make-up for Film & TV (26/10/2017)
A masterclass for anyone interested in seeing up-close what it is like to work as a professional make-up and hair artist in film and television. Using a live model, the tutor will demonstrate the creative decision-making, and techniques, involved in transforming an actor into a period character – from hair styles of the time to period make-up considerations - as well as outlining the particular demands of close-up filming, lighting and HD. The session will also demo basic SFX techniques used by make-up artists such as cuts and bruising, and discuss career paths and the realities of working in the industry.
The workshop is an ideal taster for novices and recent beauty graduates potentially interested in taking the first steps into the industry, as well as existing hair and make-up professionals who are looking to transfer their skills to film and TV. The masterclass will be taught by an established film and TV hair and make-up practitioner from the Iver Academy.
Day 2: Freelancer Toolkit - setting up as a sole trader & getting organised (27/10/2017)
Learn how to take control of your time and your life to build a successful career as a freelancer within the industry. This one day workshop, taught by highly experienced broadcaster and trainer David Thomas, is aimed at anyone – freelancer to small business owner – who struggles with the pressures of time and stress management and developing & maintaining a longer term career. The workshop will cover key elements of coping and thriving as a freelancer, dealing with uncertainty, time management techniques, planning your career and your skills, managing work relationships in pressured situations, planning for meetings, retaining a work/ life balance and recognising and dealing with stress, as well as crucial business skills.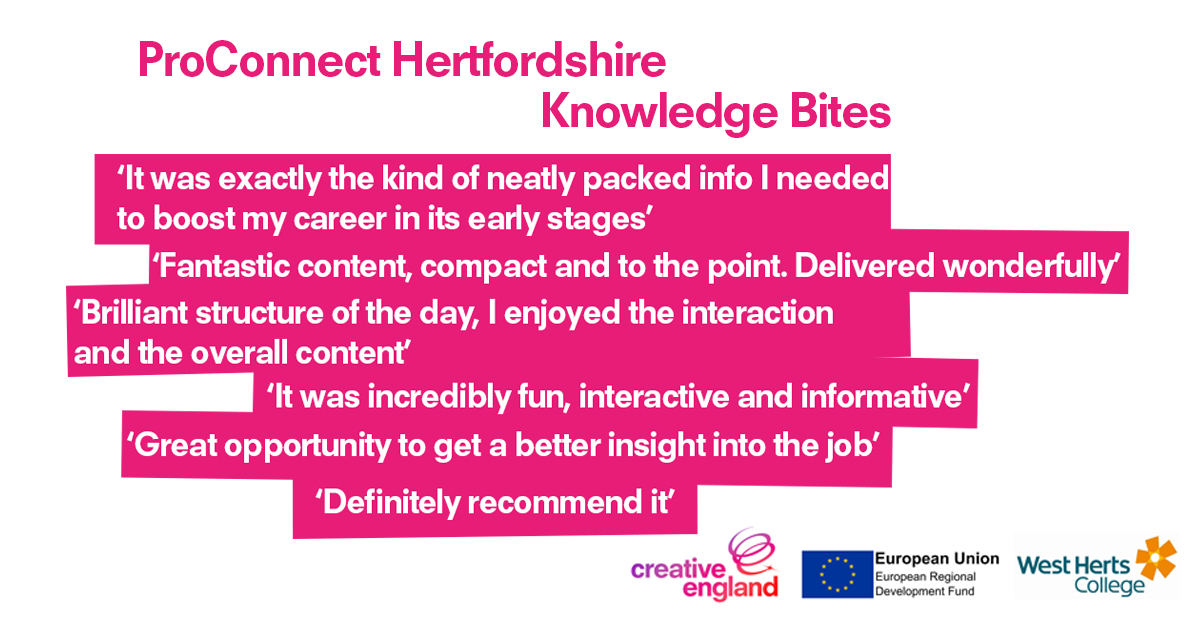 ---
Knowledge Bites is part of Hertfordshire ProConnect programme which is funded by European Regional Development Fund.
For directions to West Herts College please click here: https://www.westherts.ac.uk/student-life/getting-to-college/