Knowledge Machines: The Potential of the Digital. A symposium on alternativ...
Location
University of Kent
Grimond Lecture Theatre 3
Grimond Building
Canterbury
CT2 7NZ
United Kingdom
Description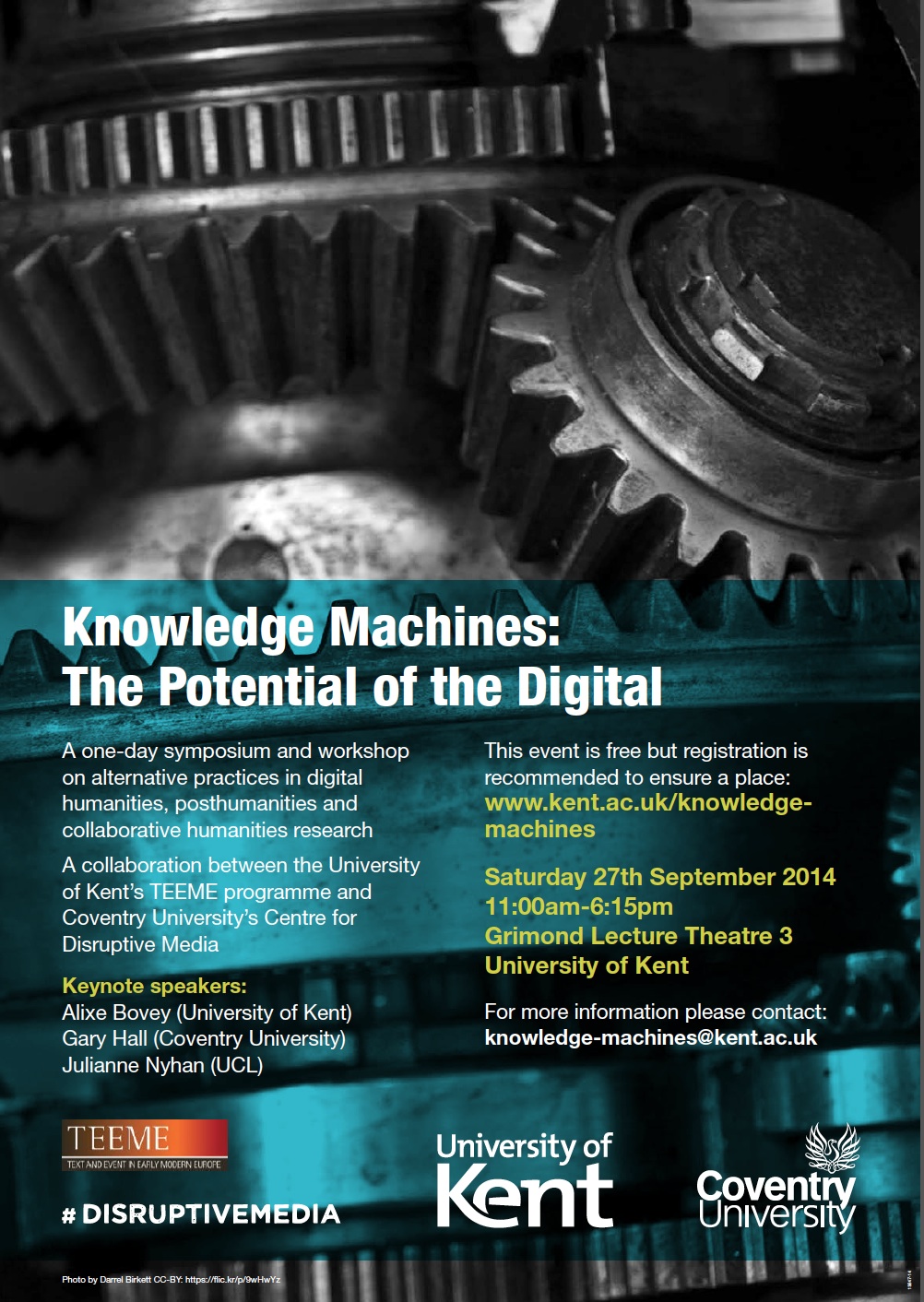 Even in today's market-driven education system where a commonplace (self-)diagnosis for the humanities is that its condition is critical, the knowledge machines are far from broken. Socially relevant knowledge is produced, disseminated and consumed in a variety of creative ways, in which digital tools and methodologies increasingly play an important role. While acknowledging the crisis, we wish to move away from the discourse of negativity that is currently encompassing the humanities. We will showcase examples of affirmative engagement with the digital humanities, and trans-disciplinary critical and practical approaches to the oft-perceived stability of knowledge, the shelf life of ideas, and the contingency of meanings.
Knowledge Machines is a free one-day symposium which will showcase different approaches to using digital methodologies for the humanities. Videos, discussion points, and related materials will also be made available before and after the day on this website's blog, in order to move the discussion about the future of the humanities out of the usual confines of the conference hall, and into the digital sphere.
---
Keynote Speakers

[Collaborative Humanities] Alixe Bovey: Senior Lecturer at the University of Kent who specialises in the visual culture of the later Middle Ages. Alixe has been the director of the University's Centre for Medieval and Early Modern Studies, and runs a PhD skills training programme Material Witness
[Posthumanities] Gary Hall: Professor of Media and Performing Arts in the School of Art and Design at Coventry University and Director of the Centre for Disruptive Media
[Digital Humanities] Julianne Nyhan: Lecturer in Digital Information Studies at UCL Centre for Digital Humanities, specialising in oral history and digital humanities
---
For more information please visit the conference website:
http://www.kent.ac.uk/knowledge-machines
and our wiki discussion and resource platform:
https://blogs.kent.ac.uk/knowledge-machines/
---
Directions
Interactive Map for directions to campus, includes directions by foot, bus etc:

Grimond map- parking indicated next door to it: free on Saturdays:
Programme


11:00-11:30 Introduction to: digital humanities
---

Many experiments with alternative forms of scholarly communication have arisen from what has become known as the digital humanities, which has been defined as 'not a unified field but an array of convergent practices' (Presner and Schnapp, 2009). Digital humanists use digital tools, technologies and media as well as computational methods to supplement current research methods, whilst discussing how digital media and technology changes the way we do research.

Speaker: Julianne Nyhan

11:30-12:00 Introduction to: posthumanities
---

This strand of thinking focuses on the need to explore how as theorists, scholars and practitioners we can perform our work, roles, institutions and practices differently. This to examine more thoroughly, instead of taking for granted, the way that we produce, disseminate and consume scholarly knowledge. But also to analyse the potential implications of the digital for our ideas of the text, the book, authorship, originality and fixity, as well as for the humanist legacy still underlying most of our (digital) humanities work.

Speaker: Gary Hall

12:00-12:30 Introduction to: collaborative humanities
---

Digital tools, technologies and media can be seen to stimulate interdisciplinary collaborative work, including collaborations with non-academic partners such as cultural institutions (i.e. publishers, libraries and archives, museums, theaters, etc.) in an endeavour to disseminate research to a wider audience, to produce knowledge in a collaborative cultural and scholarly setting, as well as to closely align scholarly aims to societal and cultural needs.

Speaker: Alixe Bovey

12:30-13:00 Discussion
---

13:00-14:00 Lunch
---

14:00-15:15 Workshop 1 – digital humanities

Colm MacCrossan (Exeter University): EEBO-TCP project
Cressida Williams (Canterbury Cathedral): Doc Explore
---
15:15-16:30 Workshop 2 – posthumanities

Janneke Adema (Coventry University): Living Books about Life
Jan Loop (University of Kent): MEMS Working Papers


---

16:30-17:00 Break
---

17:00-18:15 Workshop 3 – collaborative humanities

David Bennett (Coventry University): Siobhan Davies Replay
Kate De Rycker, Martina Pranic (University of Kent, Charles University Prague):
18:15-20:00 Wine Reception
---
Photo by DarrelBirkett