An introduction to the Japanese art of "Kogin" hand embroidery
About this event
Kogin embroidery is a type of Sashiko, originating in the Northern part of Japan, in Aomori prefecture and is a type of counted thread work. It is stitched on a open weave fabric traditionally with white stitches against a dark background (meant to resemble snow on the ground). It works beautifully in colour too! It is stitched from side to side typically over an uneven number of threads with stitch sizes of one, three or five in length to make up geometric, symmetrical patterns.
The name "Kogin" derives from the Japanese word "koginu", "ko" being "small" and ginu meaning "wear", the name of a long Japanese jacket, which was often decorated with this technique.
In this class you will learn:
• How to form the three basic length stitches and count threads
• Where to start and how to neatly tidy your starting and ending threads on the back of your piece
• The rights and wrongs turning corners, crossing lines and intersections
• Starting with a number of small patterns to get used to the stitching you will then work on a larger, more involved pattern using a template provided
• Information will be provided about how to make your own designs
The tutor will bring examples of their work as well as a number of reference books should anyone wish to continue their practice at home.
Rob Jones is a textiles designer who takes his inspiration from Japanese textiles disciplines including sashiko, boro, shibori and katagami stenciling. Rob works with indigo and a selection of natural plant dyes and works out of a studio under an old railway arch in Hackney. He regularly teaches Japanese textile techniques at Fabrications.
Class Size: 8 students
Class Includes: All materials needed are provided.
Please Note: The workshop will take place in the Fabrications studio (which is downstairs from the shop via 12 steps)
To find out more about Fabrications, please visit our Website
Booking Terms & Conditions
Covid-19 Safety Measures we have implemented.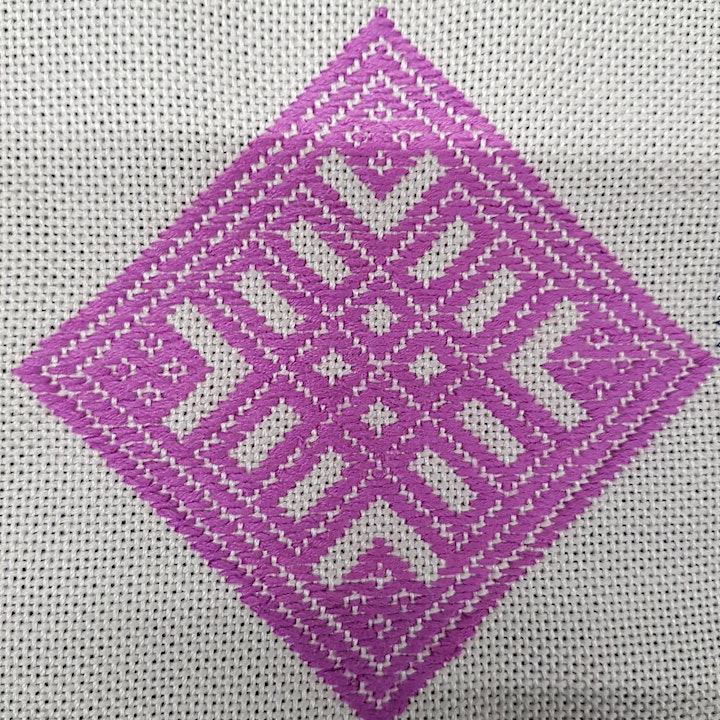 Organiser of Kogin hand embroidery workshop
Created in 2000 by textile designer maker Barley Massey in a derelict shop, Fabrications shop and studio has grown into a renowned, buzzing hub of creativity located on Broadway Market, East London.
offering stylish handmade goods and gifts either made in house or by other local designers and artists. A haberdashery section with knitting and sewing supplies, books and kits. Fabrications is also an authorised dealer of domestic Brother sewing machines and accessories.
A commissioning service is also available, including Barley's sensitive 'Remember Me' service, which enables you to bring along old garments and textiles holding sentimental value to be transformed into comforting home furnishings and gifts for loved ones.
Wonder through the back of the shop into 'The Imaginerium', a welcoming eco friendly classroom built on the back of the shop  where classes in a variety of textile techniques take place facilitated by Barley or one of her team of experienced makers in: Knitting, Crochet, Sewing (hand + machine), Alterations + Repair, Embroidery, Feltmaking, Upcycling, Weaving and more!
'The Imaginerium' and our team of teachers are also available to hire for your special occasion including hen parties, team building, community events, educational programmes....Please get in touch with your ideas and dates!
We spacialise in traditional textile techniques with a modern approach, upcycling, sustainable thinking, co design, making a difference and having fun!