About this Event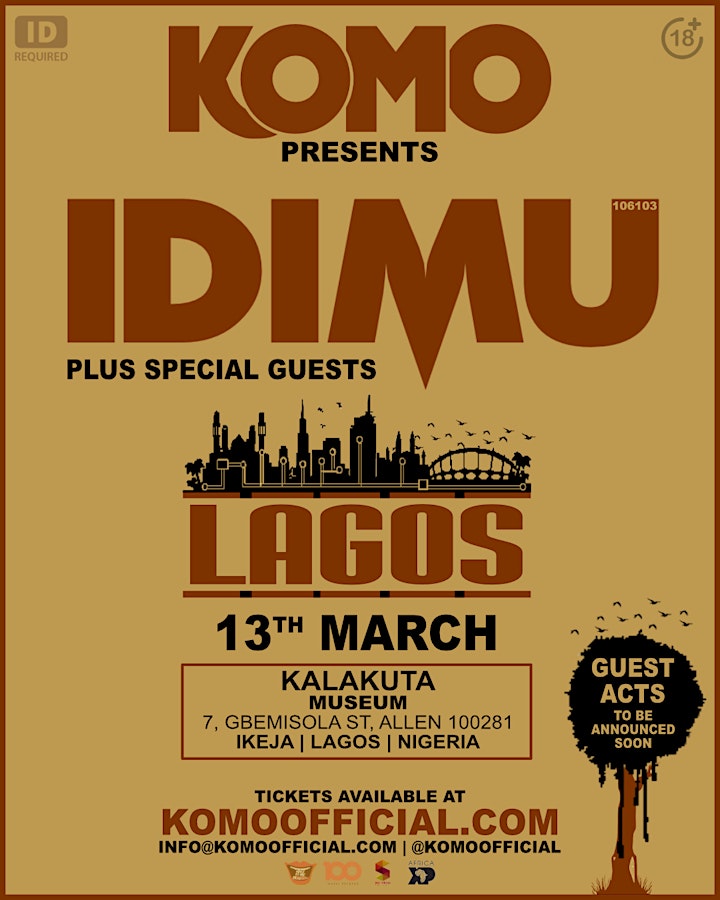 Claim your limited free invite tickets for the showcase event that is set to be a roadblock. 
Komo kicks off the first leg of his upcoming music project launch titled OMO IDIMU (Son of Idimu) in Lagos, Nigeria. Set to be hosted at Kalakuta Republic (Museum), which is the most iconic venue known to every Afrobeat music lovers, also was home and the final resting place of the founder of Afrobeats, Fela Kuti. 
Komo (aka Komo-Lomo) is a London-based Afrobeats singer-songwriter & rapper originating from Idimu, Lagos. The fast-rising vibrant & energetic performer Komo is on a mission to introduce the world to his Afrobeats sound, inspired by his experience & love for his birthplace IDIMU. Komo accomplished some astonishing highlights in 2019, with a sync of his latest single taken off the upcoming project 'Do The Most' on an advert by the renowned brand Puma , including a live performance at the first-ever Felabration UK event held at London's Indigo at The O2 receiving raving reviews, as well as several worldwide performances in Germany, Switzerland & multiple UK venues to say the least. 

The IDIMU advocate has been on a personal journey to reconnect with his homeland Nigeria, especially his hometown IDIMU after being away for years. Komo states, 'The next phase of my music will be extremely innovative and exciting. My recent visit to my home country Nigeria has inspired & ushered in a new sound that I cannot wait to unveil - IDIMU To The World'. Expect nothing but a masterclass performance by Komo with a live band, supported by some special guests.
Connect With Komo: FACEBOOK | INSTAGRAM | TWITTER

Powered By: Make Some Noizzzz & 100 Music Records.
Supported By: AllDrinks2U, SOL TV & African XP.