Kongres Mahasiswa Selangor 2017 (KGMS 2017)
Description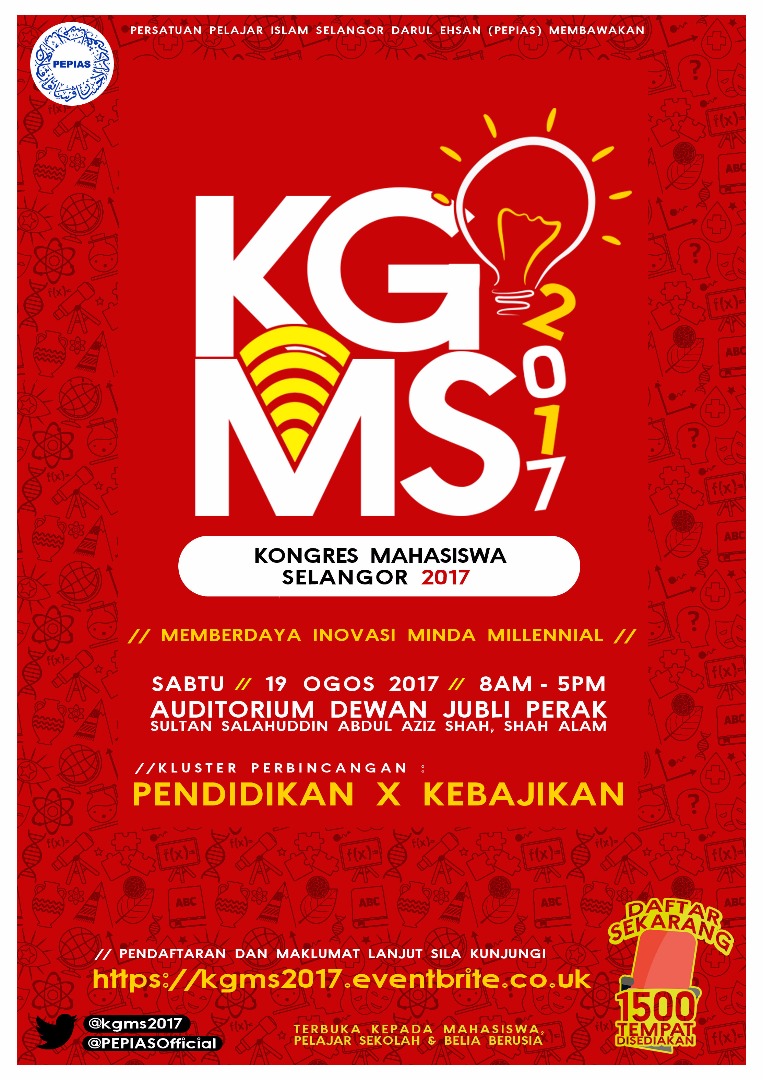 Kongres Mahasiswa Selangor (KGMS) merupakan usaha memberdaya suatu generasi anak muda Selangor berketrampilan dan mempunyai daya pemikiran yang berkualiti serta inovatif. Sesungguhnya, dalam merencanakan corak masa depan negara, semestinya aspek keterbukaan idea itu perlu dititikberatkan.
Antara idea yang akan dibangkitkan melalui konvensyen ini adalah isu Pendidikan dan Kebajikan. Isu-isu harus dilihat sebagai isu fundamental bagi Generasi Muda Selangor kerana isu ini amat terasa dekat di hati anak-anak muda ini. Justeru, PEPIAS meyakini bahawa dengan adanya siri wacana seperti ini, minda Generasi Muda Selangor yang bakal mencorak masa depan negeri ini akan lebih terbuka dan bersifat inovatif.
"Memberdaya Inovasi Minda Millennial"
Info about KGMS 2017:
Kongres Mahasiswa Selangor (KGMS) 2017 or Selangor Students' Congress will gather 1,500 young leaders from all youth, students throughout the state of Selangor Darul Ehsan. This event will become the medium of inspirator towards the Millennials of Selangor Darul Ehsan to think about the new innovative idea in the mission of Selangor Darul Ehsan Development, parallel with the idea of SmartSelangor.
This event is coordinated in conjunction with the 26th Annual Grand Meeting of the Muslim Students' Association of Selangor Darul Ehsan (PEPIAS). There are two main clusters in this convention which are Education and Social Community.
"Empowering Millenials' Innovative Mind"

Kluster Pendidikan/Education
1) #SmartSelangor - Di ambang Pendidikan Pintar
#SmartSelangor – On the verge of Smart Education
2) Pendidikan Masa Hadapan - Memberdaya Inovasi Minda
Education in the Future – How to be innovative

3) Mendidik masyarakat sivil melalui Media Sosial
Educating Civil Society Through Social Media

4) Isu kadar pengangguran - Bagaimana untuk mengatasinya?
Issue of the unemployability rate – How to overcome it?
Kluster Kebajikan/Social Community
1) Inovasi Sosial
Social Innovation

2) Masalah Sosial Masyarakat - Misi Penyantunan bukan Kekecaman
Social Community Mission – Engagement Not Condemnation
3) PEPIAS & Fasilitator - Kenapa Sekolah?
PEPIAS & Facilitator - Why Schools?
4) Ledakan Impak Media Sosial dalam Advokasi Sosial
Raging the impact of Social Media in Social Advocacy
5) Kesukarelawanan Global- Membentuk Perspektif yang Meluas
Global Volunteerism – Liberating Our Perspectives

Terbuka kepada Belia, Mahasiswa & Pelajar Sekolah.
17 - 25 Tahun
Bepeluang mengikuti "Networking Session @ KGMS 2017" bagi yang terpilih.
Open to Youth, University Students & School Students
17 - 25 Years
Chance to join "Networking Session @ KGMS 2017" to the chosen ones.
Any questions, ask us through our Twitter also Facebook KGMS 2017 !
Tw: @kgms2017
Fb: https://www.facebook.com/events/1171360422970509/?ti=icl
For more detail, can contact our secretariat :-
1. Rafidah Shuhairi : 018 667 4562
2. Zirwatu Hannani : 011 1973 1656
#GPHU #KGMS2017
Date and Time
Location
Auditorium Dewan Jubli Perak
Bangunan Sultan Salahuddin Abdul Aziz Shah
Persiaran Sultan, Section 5, Selangor, Seksyen 5
Shah Alam, Selangor Darul Ehsan 40503
Malaysia