Refund policy
Contact the organiser to request a refund.
Eventbrite's fee is nonrefundable.
Sales Have Ended
Ticket sales have ended
Please ensure the "Attendee" information is that of the child you are registering for tuition. The "Buyer" information will be that of the adult who is making the purchase. You will be able to go back an edit the Attendee information via Eventbrite if you find that you need to amend anything.
KS3 Science tuition covering the entire science syllabus - 2 years worth of content covered in 9 months! In time for exams 2022.
About this event
Does your child need extra support to understand their Key Stage 3 (KS3) Science syllabus and be fully prepared for their end-of-year, school assessments in 2022?
What if there was an affordable and high quality package of science tuition that covered the entire KS3 science syllabus? That's 2 years of content covered in just 9 months; through interactive, online tuition delivered by medical doctors, dentists and medical students!
During 2020 and 2021, students all over the UK have faced unprecedented disruption to their education, as a result of the Covid-19 pandemic. The worst affected students are those from disadvantaged backgrounds. Student Success Formula is a social enterprise that is working to help level the playing field and we are doing our part to help overcome the barriers of educational inequality.
Our students need more than just academic training, they also need mental training to succeed. Understanding this need, our KS3 Science Saturday School package not only offers intense science tuition, but it also includes coaching, inspirational talks and mentorship to help raise the aspirations and improve the mental resilience of our students.
So what does the Science Saturday School package include?
Perfect for 11 to 13 year olds in Years 7 and 8.
Excellent supplement for students attending school or home-educated.
Every Saturday afternoon from 3pm to 5pm;
Two 45-minute tuition sessions with a break & coaching session in between;
Colourful, engaging, content covering the KS3 science syllabus;
Delivered by medical and dental professionals - DBS-checked tutors;
Medium-sized group tuition sessions with up to 15 students (much smaller than the average UK secondary school class size);
An inspiring 25-minute coaching session, with a talk by a special guest speaker, including a Q&A session for the students;
Each week the students will receive a link to the recording of their tuition sessions for their ongoing revision.
All of this is being provided for only £18 per 2-hour session per week! Thats equivalent to just £9 per hour.
To get a 15% discount, you can make an 8-session block booking here: Get 15% Discount with 8-session Block Booking
This intensive revision programme is unique and spaces are limited. Register your child now to join the Student Success Formula KS3 Science Saturday School which begins on Saturday 2nd October 2021. Also consider sponsoring a young person you know - a niece, nephew, neighbour or grandchild. Don't miss out!
Other tuition packages:
Our GCSE Science Saturday School can be booked here: Book GCSE Science Sunday school - Revision bootcamp
One-to-one tuition - starting from £40 per hour when 4-sessions are block-booked
Small group tuition - a group of two or three friends can book a tutor at a cost of £20 per student per hour
If you would like to make a booking for one of these more bespoke packages, please visit: https://studentsuccessformula.co.uk/
Alternatively, please email us with the subject "enquiry" to: hello@studentsuccessformula.co.uk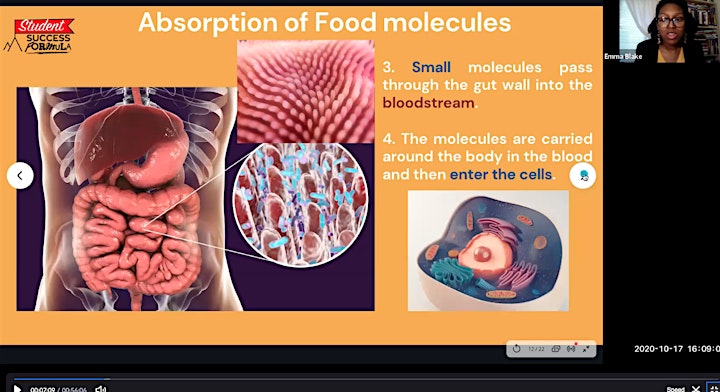 Testimonials:
"When my mother first told me that I was going to join the Student Success Formula, for science, I was vexed, especially as it was on a Saturday. However, when I joined the zoom lesson, I realised that I would enjoy it because Dr Emma is a very warm, knowledgeable and friendly person. Her style of teaching made the information understandable and I felt comfortable asking questions when I did not understand. At times I felt like I was getting help with my work from a big sister. She took time to find out about my interests and hobbies and tailored my homework accordingly. I learnt a lot and now I have more knowledge about the body and its functions. Thank you very much Dr Emma "
Esi - Student
"I began home educating my daughter, in earnest, at the start of September 2020. She would have gone into year 8 had she returned to school. Because of her experience at school she developed a dislike for science. I faced a challenge.
I was introduced to Student Success Formula by another mum. It was easy to arrange the first online lesson and I was encouraged when Dr. Blake sought background on my daughter.
My daughter was reluctant in having a science lesson and insisted I join too. Dr Blake was not didactic and it was clear within 15 minutes that I didn't need to be there. She exuded warmth and was very engaging. My daughter connected with these qualities and soon felt safe. In addition, the lesson was delivered in such a way that made it relevant to everyday life. From that moment on every lesson was a breeze and my daughter left elated, recalling with excitement what she had learned. She put much energy into her homework.
Thank you Dr Emma for helping in, undoing the damage that was done and introducing my daughter to the importance of science. "
Dawn Douglas - Parent
"Hiya, just to let you know that my daughter really enjoyed the Science lessons today and found Dr Emma very inspiring, cheerful and engaging. She mentioned how she found the breakout session about learning techniques and the recap/recall after each topic especially useful. I will definitely be hoping to book more sessions for her."
Shahana Ahmed - Parent
I want to thank you for taking the time out of your weekend to tutor our children and show them that through hard work they can achieve.
Marcel is very interested in mechanical engineering and it's really good you have lined up guest speakers! Marcel is enjoying and participating although at first he was not keen in giving up 2hrs on a Saturday, he also does Maths in the morning.
Alison Ratters - Parent
I would just like to say that as a parent I received exceptional feedback from Benjamin on the session you taught on organic chemistry on 8th May. So much so, that Benjamin gave me a lesson on Alkanes, which was excellent. He explained that this was the best lesson he had had with you so far.
Thank you for the handouts and access to the recorded lessons, they are exceptional and they enable my sons to get on with their independent study.
Student Succes Formula has definitely enhanced their learning. Thank you for your investment in the next generation.
The mentor sessions sandwiched nicely in between the science lessons are extremely inspirational on so many levels.
Thank you Emma and keep doing what you are doing.
Kind regards
Maxine
Maxine Gyasi - Parent
Dr Emma Blake - Founder of Student Success Formula
Dr Emma Blake MBBS BSc is a GP Registrar from South London. She obtained her medical degree from King's College London and also received a bachelors of science (BSc) in Regenerative Medicine and Innovation Technology. Along her educational journey, she has experienced being told "Emma, you have reached the top of your ability" when she was once underachieving. Her personal experience of overcoming the limiting beliefs of others has given Dr Emma a passion to help students fulfil their potential. Dr Emma has a special interest in demystifying science through interactive science tuition, mentoring and coaching.
She is the founder of the social enterprise, Student Success Formula, which offers high-quality, online, science tuition to students aged 11 - 16. Along with an accomplished team of qualified doctors, dentists and medical students, Dr Emma delivers a unique package for her students: science tuition coupled with access to relatable role-models. In addition, Student Success Formula runs free events to provide parents and students from disadvantaged backgrounds with the essential tools needed to excel within the UK education system.
Dr Emma is also a member of the British Caribbean Doctors and Dentists Association (BCDD) and leads its Health Promotion team with the aim of promoting health, raising awareness, and reducing morbidity and mortality within the Caribbean and Black British community.
Instagram: @dremmablake
Website: https://studentsuccessformula.co.uk/
Student Success Formula Refund & Cancellation Policy
A full refund for the price of the ticket (excluding Eventbrite's service fee) will be provided upon request if cancellation of a session is made more than 24 hours before the session is due to start.
If cancellation is made less than 24 hours before the session is due to start, £5 will be retained by Student Success Formula to cover staff and administration costs. The refund of the remaining ticket price will not include the service fee charged by Eventbrite.