Description
The Darzi Fellowship is back in KSS for a second year. We are inviting shortlisted Sponsors along with interested Fellows to this information and learning afternoon.
4 December event
We hope this event will give you a greater understanding of what is expected of you as both a Fellow and a Sponsor in the programme. It will go into greater detail about the academic commitment a Fellow has to make and hopefully provide an in-depth understanding of the role and responsibilities of a Sponsor. You will hear from past and present Sponsors and Fellows so you can gain a greater insight and ask them questions about their experience. But most of all we hope that you, as Sponsors, will use the opportunity to "sell" your project to eager prospective Fellows - and that you, as prospective Fellows, will use the opportunity to "wow" your potential Sponsor and ask the most insightful questions to give you good footing in the application.
Lunch will be provided.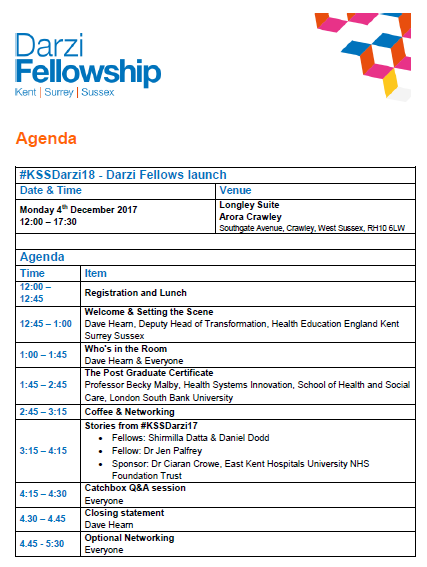 Background to the fellowship
Darzi Fellows come from multi-professional backgrounds, including: doctors; nurses and midwives; allied health professionals; paramedics; dentists; healthcare scientists; and pharmacists. It is aimed at those at a transition point in their career, or at the start of their leadership journey (e.g. ST4-6 or Band 7/8a) rather than those who are fully qualified. Darzi Fellows are supported by a bespoke leadership development programme with London South Bank University.
You can find out more on the website
The certificate
The programme is full-time for one year and the fellows are expected to undertake one main project for their sponsor in addition to completing their leadership development programme (PG Cert) which helps inform their ability to lead on their project.
Partners
This programme is led by the Kent Surrey and Sussex Leadership Collaborative on behalf of Health Education England. Programme partners are London South Bank University and Kent Surrey Sussex Academic Health Science Network.