Event Information
Refund policy
Contact the organiser to request a refund.
Eventbrite's fee is nonrefundable.
We're raising funds to help business recover after pandemic & build a new online cinema; these events are aimed at helping us reach our goal
About this event
#doingitforself #FundraisingCampaign #bethechangethatyouwanttosee #KushFilms
By Buying A Ticket You Are Also Supporting The 'Kush Online Cinema' Fundraising Campaign!
We're building a fantastic new one-of-a-kind online cinema which will be a new home for old, new and classic black films and will also feature fantastic world cinema and select mainstream films. We also will support short films, production of original content & educational content therefore supporting independent and aspiring young filmmakers. We're sure the film-loving public & filmmakers alike will love the all-new & unique Kush Online Cinema.
WE NEED YOUR SUPPORT!
This is our second fundraising screening and we are pleased to offer you a special UK premiere of a fantastic new British romantic-comedy independently made by actor and rising star filmmaker Fredi Nwaka.
Kush Films in Association with Fredi Nwaka Presents the UK Premiere of She's The One
The fantastic new romantic comedy from actor/director Fredi 'Kruger' Nwaka featuring a great cast of Black British comedy talent including Kane Brown, Judi Love & Slim. There's also a cameo from TV & radio personality Venessa Feltz.
Don't miss this exclusive one-off screening on:
Sunday 16th May 2021
(5.00pm – 8.00pm)
Followed by Q&A
with writer/director & star Fredi Nwaka along with 'Back To Love' book author, Psychotherapist & Inspiration Coach Denise James & comedian Slim.
Host: Quincy (The Cockney Prince)
Tickets: £5+
Tickets are £5 + we would like you to help us and choose to make a donation of your choice of another: £5, £10 or £15 to our fundraising campaign.
Join the event on the day at the all-new: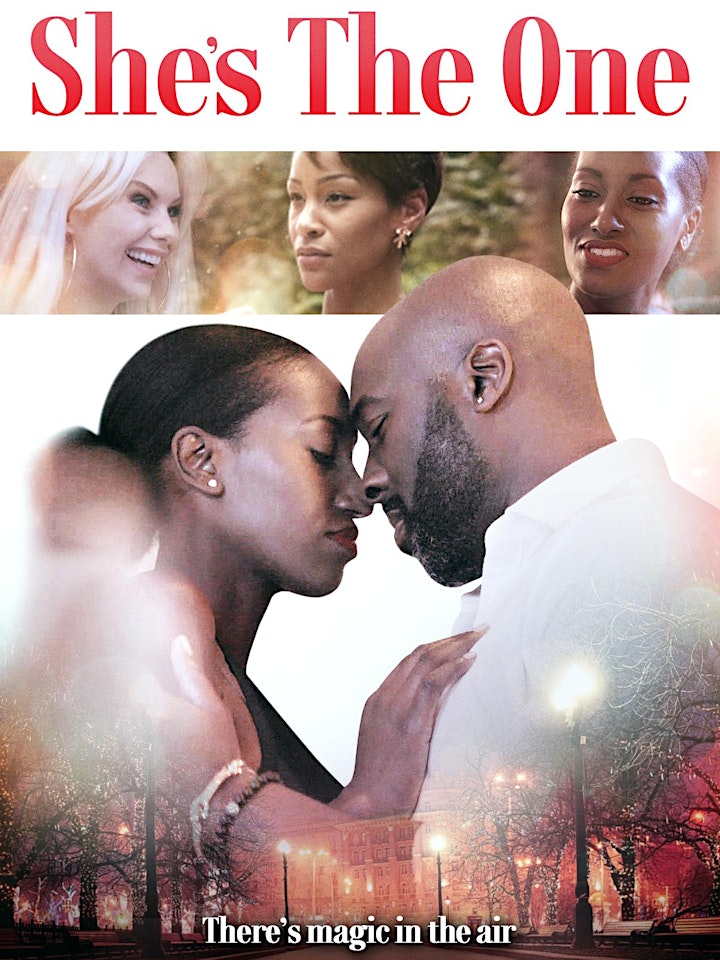 She's The One
Treyvon has everything, well almost everything. He's got the fast car, good city job, model looks - even a good sense of humour and yep - a body to die for. The only thing missing is that one special somebody.
To find out why he's never been lucky in love he seeks help from a psychic and things start to look up when he meets someone who could be....the one!
She's The One is a modern romantic comedy about finding love in the unlikeliest of places.
Cast: Kane Brown, Cindy Humphrey, Bradley Turner, Judi Love, Hakan Hassan, Verona Rose, Jessica Jane-Stafford, Fredi Nwaka, Justin Marosa & Vanessa Feltz.
Director: Fredi NwakaScreen Writers: Simon Battensby & Fredi NwakaUK / 2020 / 105 mins / 12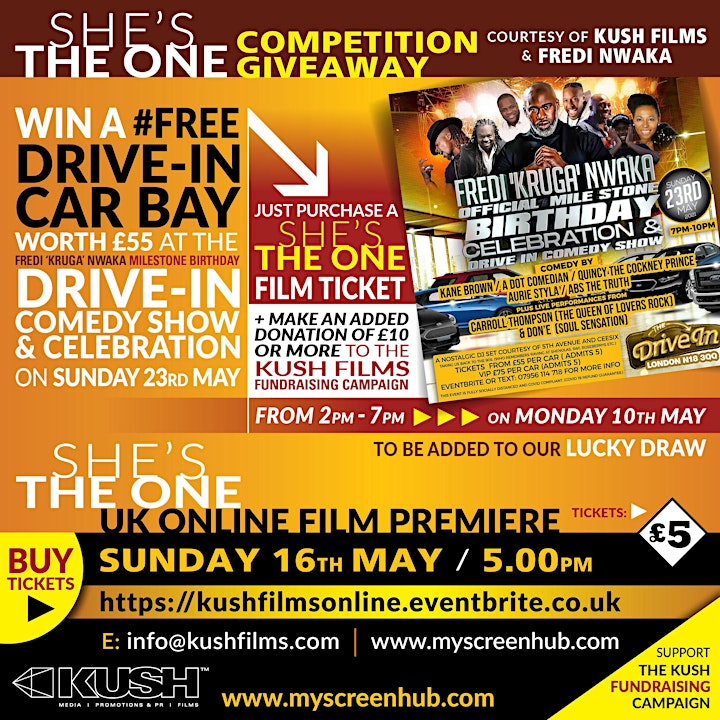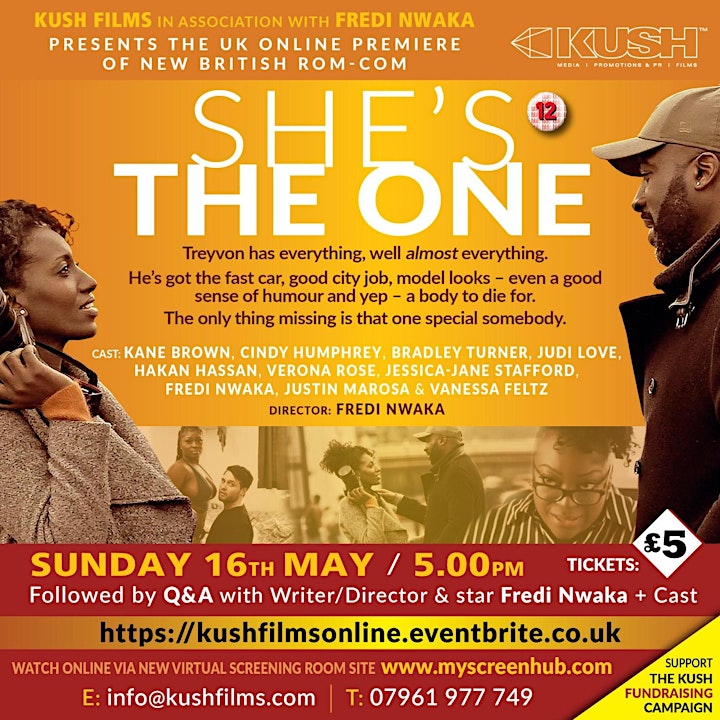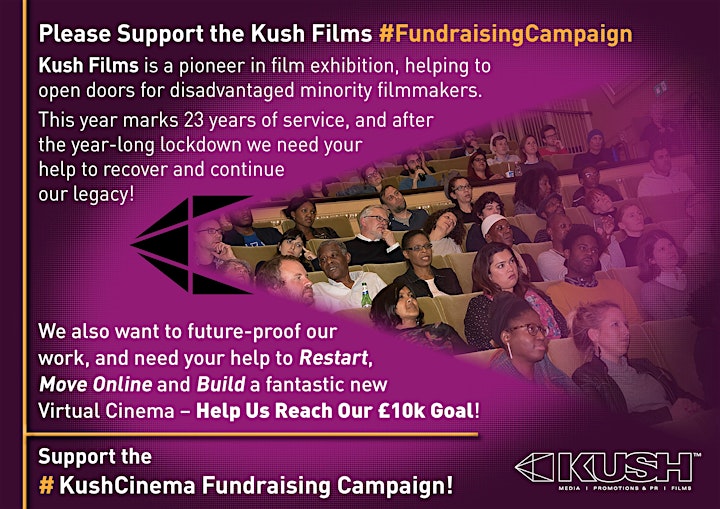 FUNDRAISING CAMPAIGN
Kush Films has bought the best of black film entertainment to UK audiences for 23 years this year. The Kush Film Boutique is the longest running film club showcasing the best black films in the UK and we have organised marketing/PR campaigns for many mainstream black film releases being first to bring these films to UK audiences.
This last year during this Coronavirus pandemic things have really been rough for us (as we appreciate everyone else) with the UK film industry also been totally shut down and us having no way of continuing to serve our community and make any form of income.
We now have decided to embrace the future and the new digital world and have taken a bold step and started building one of the first black owned virtual online cinema & VOD sites.
We need to raise just over £20k (£9000 for the virtual cinema alone) to meet marketing costs, acquisitions of content, administration, staff etc.
We have completed phase 1 of our initial transition online and built our brand new www.myscreenhub.com Screening Room website - where we will be hosting our film screening event on 26th March. It's also available for hire to anyone for private film events.
We have always been a very self-sufficient independent company which has allowed us to be flexible, nimble and resilient and will continue to be so; thus we are looking to independently raise the funds ourselves though our trusted supporters and the wider community that cares about community building, being self-sufficient or just proud to see progressive businesses.
We are asking you to please help us achieve our target goal by making a donation today- everything little or small we receive will help us get back on our feet and pay for the fantastic virtual cinema which we're sure you will love as we aim for this to be a one-stop platform for old, classic and new films with an emphasis on supporting black filmmakers and hopefully we'll be around for another 23 years.
Kush Cinema - Coming Soon!
For those that don't like making payments online you can also make a donation direct to us through our HSBC bank account using these details and use your name as a reference. You can then email us & let us know you've made a donation: info@kushfilms.com
Nu-Urban International Pictures Ltd
Sort code: 40.07.33 / Account No: 72492032
THANK YOU!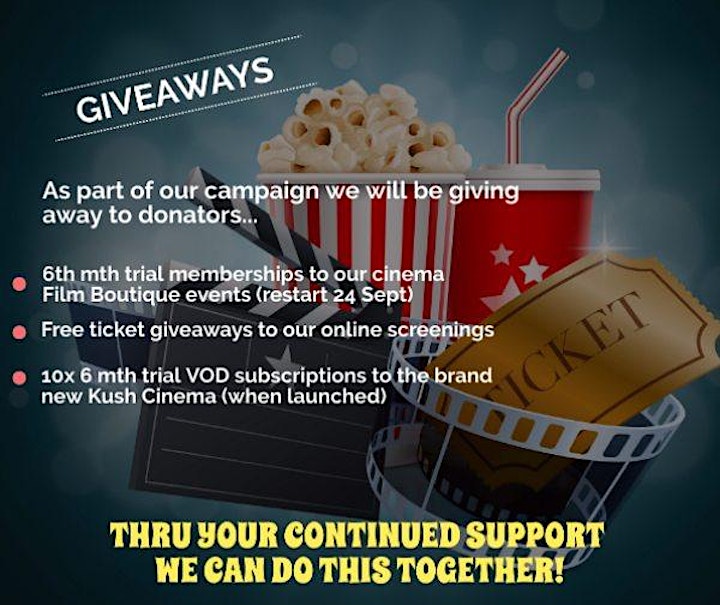 Date and time
Location
Refund policy
Contact the organiser to request a refund.
Eventbrite's fee is nonrefundable.
Organiser of Kush Films Presents The UK Premiere of She's The One - Special Fundraiser