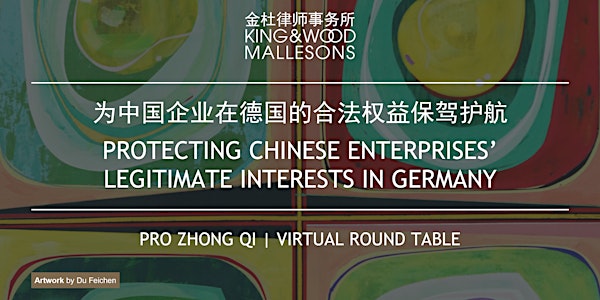 KWM | 第二讲 | SESSION 2 | 如何处理德国劳动法 | DEALING WITH GERMAN EMPLOYMENT LAW
SESSION 2 第二讲 DEALING WITH GERMAN EMPLOYMENT LAW 如何处理德国劳动法
About this event
Running a business in the West is an expedition with many loose ends. However, our experienced lawyers know how to connect the dots. We provide you with the guidance for a successful conquer of new lands or waters, even in stormy weather.
Many Chinese enterprises meet a similar set of challenges when entering the German or Western market.
KWM Germany advise on a wide variety of challenges and are able to share the lessons we've learnt.
We invite you to join us for a virtual round table, where we'll provide you with the compass you need to successfully discover and conquer a new legal landscape.
VIRTUAL ROUND TABLE
Every two months, a new virtual roundtable will be broadcasted and brought to you by KWM – for free.
Join us to learn how to deal with such challenges.
在西方投资或经营是一场充满挑战的探险
但我们实务经验丰富的团队明晰如何驶向目标
为您的征途照亮、在大风大浪中为您领航
中国企业在进入德国市场时面临许多相同的挑战
我们在执业过程中得到很多宝贵的经验
而分享这些经验会给您带来收益
我们将向您释明旅途中的常见疑难
祝您拓展新的法律视野、开疆扩土,我们隆重向您推出
在线圆桌会议
金杜每两月都将免费向您推出全新一期节目
欢迎您的加入,以便了解如何面对这些挑战