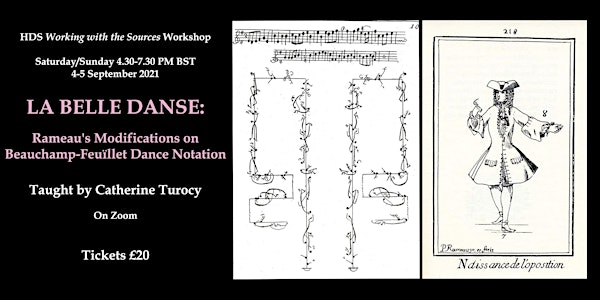 La Belle Danse: Rameau's Modifications on Beauchamp-Feuillet Dance Notation
Refund policy
Contact the organiser to request a refund.
Eventbrite's fee is nonrefundable.
La Belle Dance: Rameau's Modifications on Beauchamp-Feuïllet Dance Notation.
About this event
The Historical Dance Society is hosting a six-hour online workshop on Zoom over the weekend of 4-5 September 2021. This is the third workshop in the Working With the Sources series on baroque dance notation. It is a standalone workshop and does not require previous attendance at the other workshops. Catherine Turocy, leading choreographer and Director of The New York Baroque Dance Company, will guide you through the work of Dancing Master Pierre Rameau, focusing on his innovations to the Baroque dance notation system developed by Beauchamp & Feuïllet.
Saturday 4 September 2021, 16:30-19:30 BST - UK time (GMT+1)
Sunday 5 September 2021, 16:30-19:30 BST - UK time (GMT+1)
The workshop will be interactive, with a combination of presentation and dance instruction, giving you a chance to try out your own notation interpretation skills and join the ranks of the 'dance detectives'.
All levels of experience welcome. Basics will be covered at the beginning but, on Day 2, we will be tackling some difficult to read passages, to challenge more experienced dancers.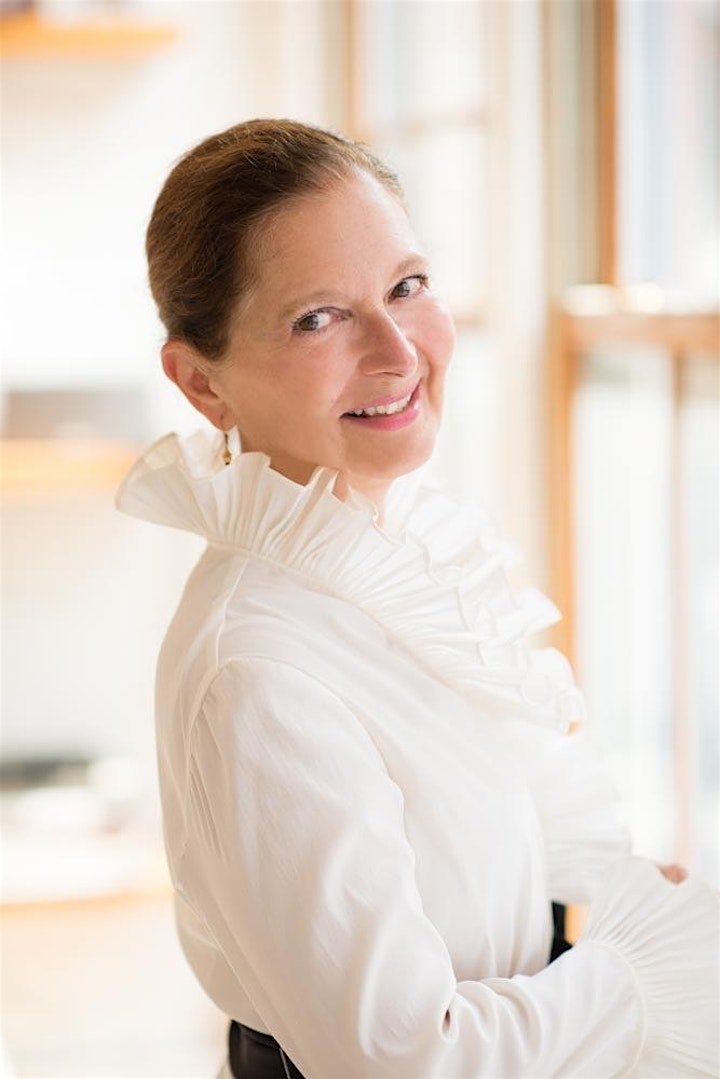 Catherine Turocy began her ballet training at five years of age with former circus artist Betsy Widmer. At 13 she joined the Ballet Guild of Cleveland (regional ballet company) directed by Sadler's Wells Ballet dancer Alex Martin and, a year later, she began training in the Erick Hawkins technique with Katherine Karipedes at Case Western Reserve. Her first professional job as a choreographer at age 17 was the musical, Little Mary Sunshine. After high school Catherine attended Ohio State University and studied Historical Dance with Shirley Wynne; in addition to the general liberal arts studies, she was introduced to Laban Notation, Historical Dance notations, Cunningham and Limon techniques, African Dance, Ethnic Dance forms and Composition.
Today she is recognised as a leading choreographer/stage director in Baroque period performance, with over 80 Baroque operas to her credit, and has been decorated by the French Republic as a Chevalier in the Order of Arts and Letters. After moving to NYC in 1976 she cofounded The New York Baroque Dance Company with Ann Jacoby.
In 2018-19 she was a recipient of the Center for Ballet and the Arts Fellowship for her work on Nijinsky's Bach ballet (1913). In 2018 Turocy received the IZZY Award in San Francisco for her stage direction/choreography of Le Temple de la Gloire by Rameau, which also won first prize in "Best of the Bay" under both stage direction and choreography. Other awards include the BESSIE Award in New York City, the Natalie Skelton Award and the Dance Film Association Award for "The Art of Dancing." NEA International Exchange Fellowships supported research in London and Paris.
As a writer she has contributed chapters to text books, articles to Opera News , Early Music America and Dance Magazine, many which have been translated into French, German, Japanese and Korean. A chapter in Janet Roseman's book, 'Dance Masters: Interviews with Legends of Dance', is dedicated to her work. Books in which Turocy has authored chapters include: 'Moving History/Dancing Cultures: A Dance History Reader'; 'Creating Dance: A Traveler's Guide' and 'Dance on its Own Terms: Histories and Methodologies', eds. Melanie Bales and Karen Eliot, published by Oxford.
Training NYBDC dancers is an important part of Ms. Turocy's work. Students include Ken Pierce, Thomas Baird, Paige Whitley Bauguess and Carlos Fittante, Patricia Beaman, Caroline Copeland, Sarah Edgar, Rachel List, Alexis Silver, Ani Udovicki and Julia Bengtsson.
Currently she is the director of Historical Dance at Play, an ongoing summer workshop investigating multi-era dance histories of European and Non-Western dance. The workshop also links influences of the past resonating in today's dance practices and society.