La Charrette – The Smallest Cinema in Wales. Available for private bookings in groups of up to 15 people – Subject to corona guidelines
About this Event
Bring your own DVD (Standard or Blu Ray) and enjoy a party for up to 15 people at our private cinema. The red carpet will be rolled out and you can also bring your own food & drinks.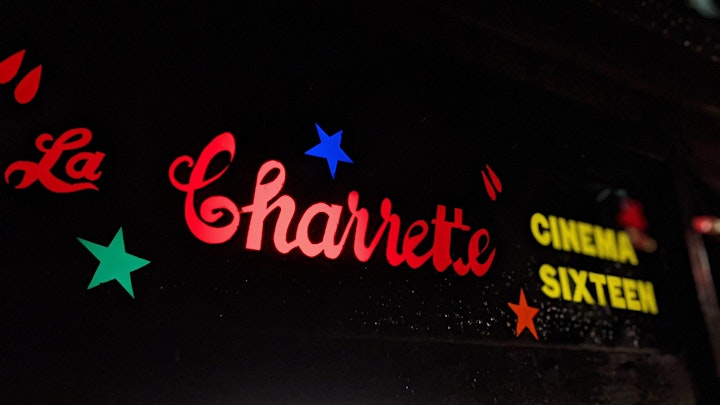 Recent History
La Charrette started out as a tiny, 23-seat venue, sited in a back garden in the town of Gorseinon, near Swansea. 'La Charrette' (French for 'the carriage') was built from a disused railway carriage by the late Gwyn Phillips, who fell in love with the silver screen while working in local cinemas as a teenager. He built La Charrette in his back garden and invited family and friends to screenings such as Gone With The Wind and The Sound of Music. After his death in 1996, his family allowed the 70 cinema members to screen films there The British Film Institute recognised La Charrette as the smallest cinema in Wales.
Made unsafe by the irreparable decay of its wood-and-steel structure, 'La Charrette' was originally expected to close in October 2007 after a screening of Ocean's 13.
However, a visit by film critic Mark Kermode for BBC2's The Culture Show resulted in the tiny venue being given a special send-off in February 2008.
The event consisted of a special premiere screening of the previously unseen Danny Boyle film Alien Love Triangle (2002), starring Kenneth Branagh, Courteney Cox and Heather Graham. For the screening, Branagh made a personal appearance, while Cox and Graham recorded special messages.
Relocation & Restoration
The carriage was sliced into six pieces and removed from the back garden of a house in Gorseinon, near Swansea. The pieces were transported to the Gower peninsula and welded together and La Charrette was fully restored to it's former glory as part of a restoration project funded by the Gower Heritage Centre.
Hire
La Charrette Cinema is now available to hire for birthday parties, private and corporate events. Why not host your own red carpet showing or Oscar themed showing.