Description
La Cocina Publica Community Feast
Saturday 21st July 1.30-3.30pm
Venue: London International Cruise Terminal, Ferry Road, Tilbury, Essex RM18 7NG
Kinetika is collaborating with Chilean arts organisation Teatro Container, on their UK Premier tour, to bring La Cocina Publica, their Public Kitchen, to Tilbury to be part of the Port Open Day.
Teatro Container will collaborate with local and diverse community groups prior to the event to devise a menu, drawing together local recipes and foods, stories and songs. The mobile kitchen is built inside a shipping container, it offers a place to share moments and memories and collectively discover, rediscover and appreciate food from around the world.
The Community Feast takes place after a fun walk from Tilbury Town to Port walk which you can book separately here. You don't have to complete the walk in order to join the feast, but you do need to reserve your place for the feast via this page.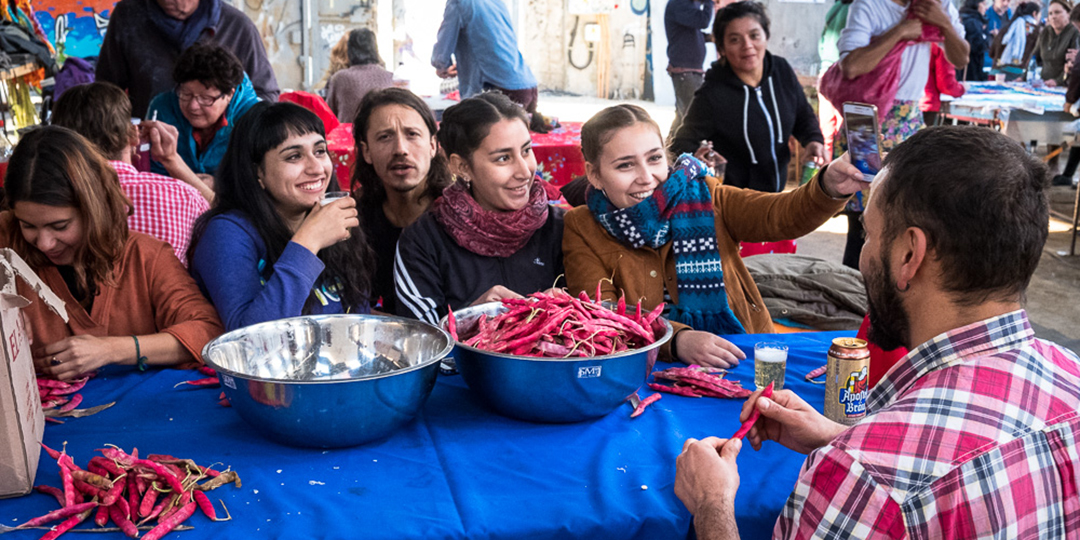 What is it? A way to meet other people, families and communities from the local area and share a afternoon of food and entertainment. If you have a song or recipe to share, a tale to tell, or would like to help to make bunting for the day we would love to hear from you, workshops for that happen 14-19 July, more info HERE
What happens? This is your community feast and we need you to help create it! When you arrive there will be fun ways to help, like preparing the tables, and helping with the food. It's all a lot of fun, which is directed by Teatro Container, who have been doing this in Chile for 10 years. There will also be a variety of entertainment too, but that will be under wraps until the day itself!
What to bring? The willingness to try something new and get involved! Together with Teatro Container we will be preparing the feast and we'd love it if you brought a dessert that can be shared picnic style without the need for refrigeration - but please don't feel obliged.
Is it really free? Yes! The feast is free to attend, and there will be free food available to share. All we ask is that you get involved somehow either beforehand (making bunting, sharing songs, devising a performance, sharing a recipe etc) or on the day itself. You won't be asked to do anything you're not comfortable with, and everyone is welcome.
Come and feast with us – reserve your place today!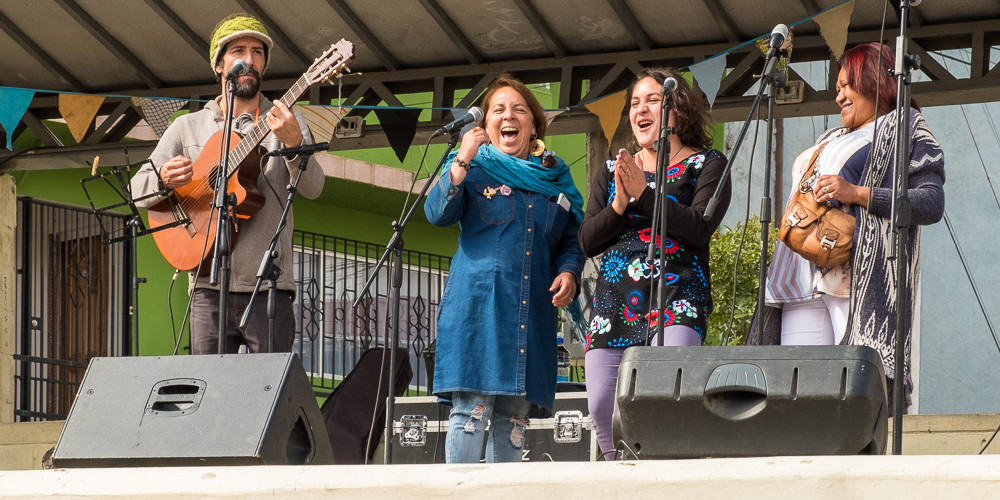 Travel
The nearest train station is C2C Tilbury Train Station, RM18 7BJ
Parking
There will be parking within a short walking distance of the Cruise Terminal.
Please note:
Due care has been exercised in organising this event however Kinetika, the funders and associated partners of the project cannot accept liability for loss, accident or injury caused to any person taking part.
Photos/ filming
We will be taking photographs and video of this event to promote and celebrate the project in print and online. If you do not give consent to be photographed or filmed, that's absolutely fine, please let a member of the Kinetika team know on the day.
Flyer
Download the flyer for Thurrock 100 Recipes 2018 here: Thurrock 100 Recipes 2018 flyer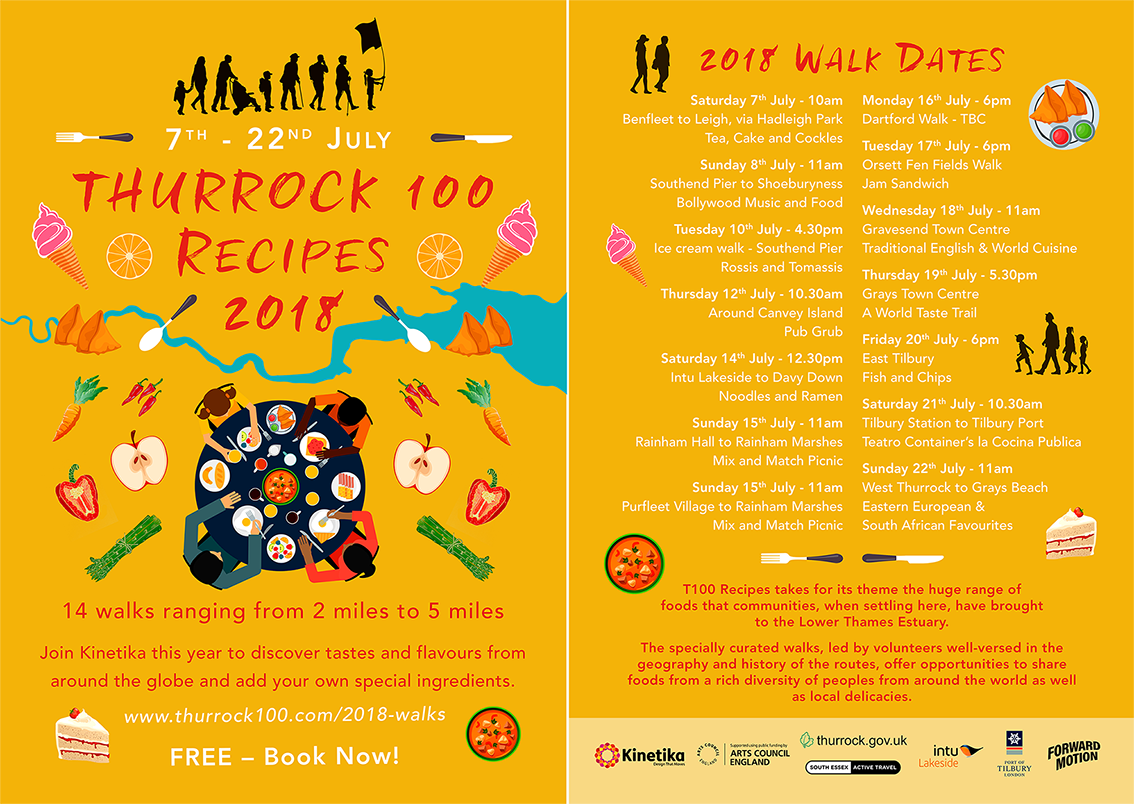 More info about all the walks on the Thurrock 100 website: thurrock100.com/2018-walks

Data Collection
Kinetika is funded by Arts Council England (ACE) and as a funding condition we are asked to collect participant data. The data we collect is anonymised and used for evaluation and monitoring purposes only, and will never be passed on to a third party. We will retain this data for no longer than 4 years.
We require your name and email address but only to communicate with you in connection with the event. We hate junk mail and would never sell your address or bombard you with emails. We don't want our data collection questions to feel intrusive so you are either not required to answer or we include a 'prefer not to say' option.