Description
Join us Tuesday 23rd July at 7pm in Arena Square, Wembley Park, for a completely FREE open-air screening of La La Land.
*Please note: limited deckchair seating is available, early arrival recommended. An event registration does not guarantee a deckchair reservation. Deckchair seating is on a first come, first served basis. Additional seating will be available on Arena Square.*
Before the Performance
Move over, Ryan Gosling, Rimski will be warming up the crowds for an extra special pre-show starting from 7pm. Riding a modified piano-bicycle, Rimski has toured around the globe, playing at The Royal Albert Hall, Dreamland, and even playing for crowds in New York & Los Angeles. Get ready for his marvellous piano riding through Arena Square, as he plays, sings, and performs acrobatic feats atop his piano, all while carrying a tune to original and classic songs.
About La La Land
A modern take on the Hollywood musical from director Damien Chazelle, starring Ryan Gosling as Sebastian, a jazz pianist, and Emma Stone as Mia. The two are drawn together by their common desire to do what they love, and make a name for themselves in Hollywood. But as success mounts they are faced with decisions that begin to fray the fragile fabric of their love affair, and the dreams they worked so hard to maintain in each other threaten to rip them apart.
PLEASE NOTE: An Eventbrite confirmation does not entitle you to a reserved seat, seating is first come, first served basis.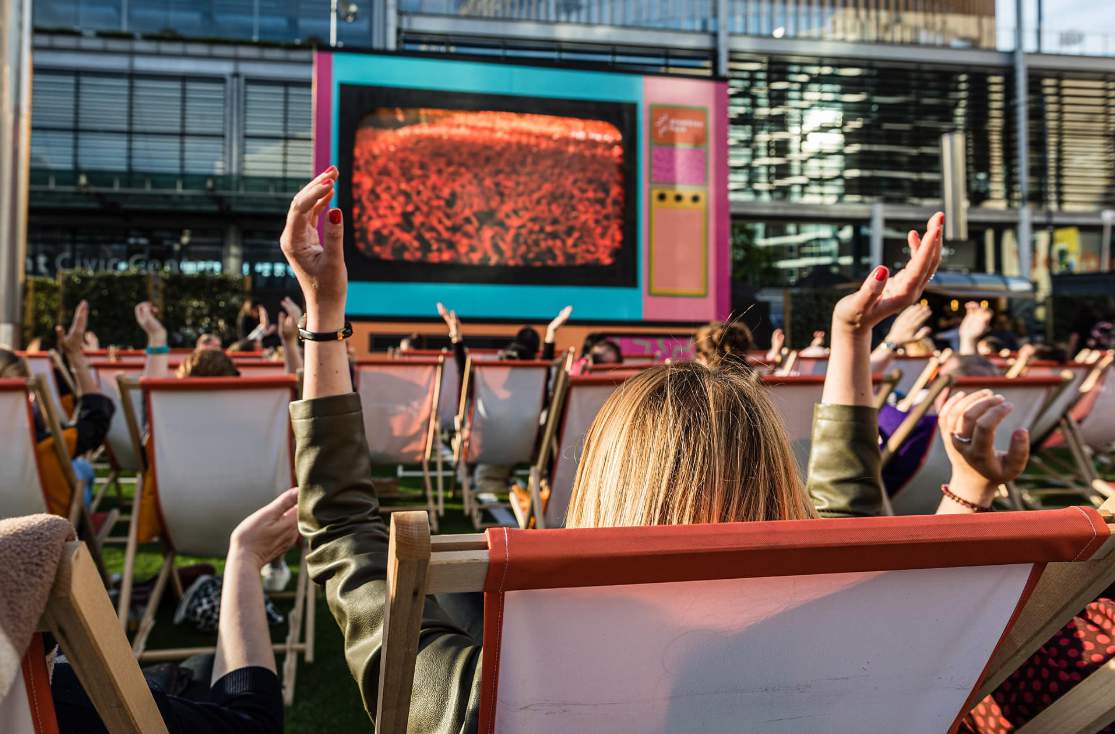 FAQ's
Is this event ticketed?
No, the event is absolutely free! There will be limited deck chair seating available, with plenty of other great viewing points in Arena Square. Please make sure you arrive early if you want to secure a deck chair seat, as these are usually quite popular.
Can I pre-book a ticket?
No need to print anything! Registration allows you to stay up to date leading up to the event. There will be no allocated tickets for this event.
Where are the screenings?
Summer on Screen is located in Arena Square in Wembley Park, directly adjacent to The SSE Arena, Wembley.
How can I get to Wembley Park?
Summer on Screen will a 7-minute walk from Wembley Park station (Metropolitan & Jubilee), and a 12-minute walk from Wembley Central (Bakerloo, London Overground).
Is parking available?
Yes, we have three car parks available (Yellow Car Park, Red Car Park, and Gold Car Park). Please note that event day rates may apply. Please check wembleyofficialparking.com ahead of your visit for rates.
Will there be seating available?
Yes, deck chairs and cushions are available, though there is no reservation as seating is first come first served.
Will there be food and drinks available?
Yes we will have a great selection of food/drinks on Arena Square, not to mention Boxpark Wembley and London Designer Outlet just around the corner.
Are these screenings family friendly?
Yes, all outdoor screenings at Wembley Park are suitable for all ages – bring your nan!
What about the famous London rain?
Unless in case of extreme weather, screenings will be rain or shine, so pack an umbrella! Please check our twitter @wembleypark for on the day updates.