Description
Book your place at La Serata
Wednesday 14th December - 7:30pm
Sasso Restaurant Harrogate
A booking reserves your place at this event and there is £27.95pp to be paid at the restaurant on the evening.
A warm Christmas welcome, authentic Italian dining and live entertainment await at Sasso Restaurant's La Serata event.
Indulge in our special festive menu whilst enjoying live music that will have you swaying in your seat, tapping you toes or maybe even getting up for a boogie.
Award winning singer, Richard Daniels, will be providing live music in the form of Swing classics to get carried away to.
Why not invite your friends or work colleagues, partners, suppliers and clients to get together for this perfect Christmas present of a night out – not to be missed!
This promises to be a night to remember!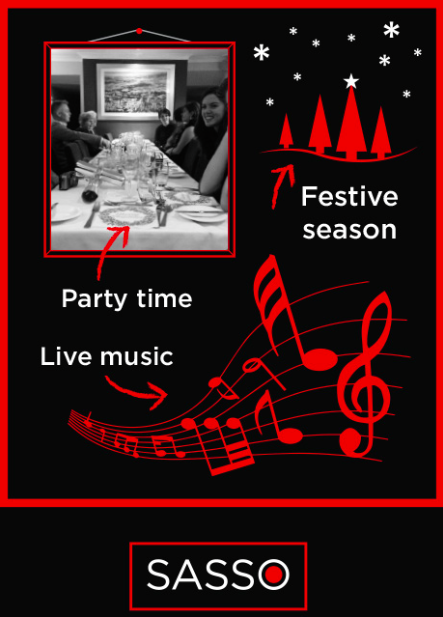 A hidden jewel in Harrogate's crown, Sasso Restaurant offers authentic Italian dining in a friendly and relaxed setting. Once you've visited, no other Italian restaurant will compare to the experience.
Owned and managed by Stafano Lancellotti and his wife Sara, the restaurant is named after Stafano's home town of Sasso Marconi. Nestled just outside of Bologna in the Emilia Romagna region of Italy, the town is famed for its exquisite fresh egg pasta.