Description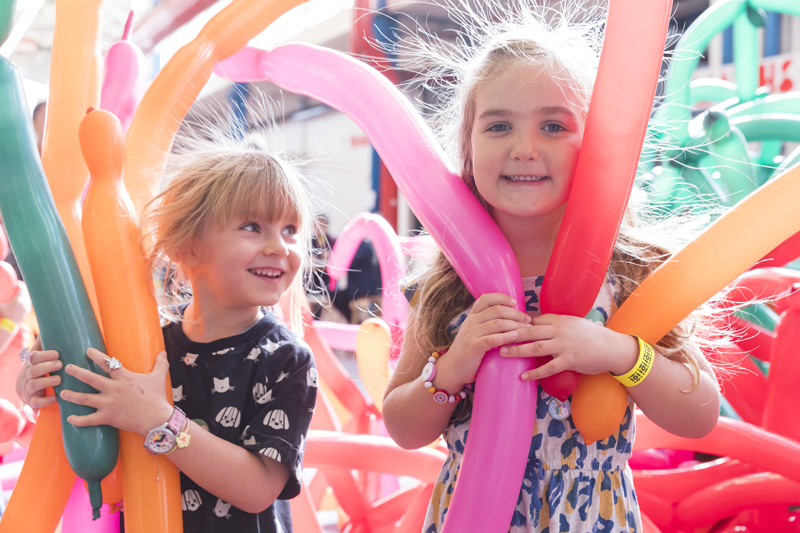 You're invited to…Lab Live: Curiosity with OKIDO
We've teamed up with OKIDO, the independent arts and science magazine for young children and their families, for another extra special Lab Live.
After a sell-out event in September, we've got another 2-day bumper Lab Live planned, for all the tinkering and experimenting you can handle – don't miss out!
We'll be heading into the unknown with activities that explore curiosity, where it can take us and what wonders can be discovered when curiosity is encouraged. It's an essential part of invention, imagination, learning and play.
Book now
What can I expect at Lab Live?
This Lab Live will inspire the next generation of innovators, scientists, makers and inventors by testing their curiosity, exploring new worlds and seeking out new ideas.
Have you ever wondered how we explore space? what nature looks like up close? Or how others feel and experience emotions?
We'll have 12 in-depth, hands-on activities from iOi, OKIDO and amazing partners including LEGO coding, building and design challenges, microscopic art activities and more.
We'll be announcing activities over the next few weeks, here's a few highlights to get you…curious!
Add to a Space Zoo with LEGO WeDo
Our planet is full of curious creatures. But what might life look like on other planets? Invent, design, build and code a Martian animal with LEGO Education WeDo kits.
ZoomArt
Get hands-on with a digital microscope to explore how things look up close. Your hair, your skin, a toy, fabric – you can explore the patterns, similarities and secrets everyday objects hold. Get inspired by these natural patterns to create artworks inspired by these micro-worlds.

The Firebird Lab
Experience the iOi's cultural residency, with movement and music workshops from Bittersuite, the multi-sensory music practitioners. The Firebird Lab is all about exploring and understanding the feelings of others, through sounds, taste, texture and more. Curiouser and curiouser!
Build Giant Marble Run
Create a collaborative marble run and see how long you can keep the ball rolling.
When is Lab Live?
Saturday 18 and Sunday 19 May.
There are morning and afternoon tickets available on each day. You can join us for 3 hours or 2 hours, select your ticket option when you book. You can attend on either day or both and you can buy tickets for the morning and afternoon sessions if you like! The same (or very similar) activities will run on both days.
There will be an hour break between 1-2:00pm between the morning and afternoon sessions. If you have a morning ticket you can stay for lunch until 2:00pm. If you have a 3-hour afternoon ticket, you can arrive at 1:00pm for lunch, but activities will not begin until 2:00pm.
Who is Lab Live for?
Ideal for children aged between 3-12 years old and their families, friends and carers. All children must be accompanied by an adult. Children under 3 are welcome, please register them for a free 'under 3' ticket. Activities are aimed at children 3+ so there will be limited activities for very young children to take part in.
How much does Lab Live cost?
£10 for 3 hours or £8 for 2 hours and you can attend in the morning or afternoon - select the ticket for the timeslot you want. All activities can be enjoyed as part of the ticket price, but some stalls and activities may include a take-home option, which is paid.
Do you take cash or card?
We prefer payments by card for food, drinks and at the Imagination Store and the OKIDO Store. We are able to take cash, but have limited change available.
Will there be food and drink?
There will be hot drinks available to purchase and a lunch break between 1-2:00pm, where a street market vendor will be on site selling food. As always, you can bring your own food, which can be eaten in the Imagination Lab.
Can't see the information you need here? Take a look at our frequently asked questions.
About OKIDO Magazine
OKIDO Magazine is an independent arts and science magazine for young children and their families. It was started by parents on a kitchen table in Brixton in 2007, designed to fire up imagination and understanding of art and science. Founders, scientist Dr Sophie Dauvois (PhD BSc PG Dip.) and artist Rachel Ortas are passionate about engaging young kids in the scientific world around them through play, art and fun.
Organiser of Lab Live: Curiosity with OKIDO