Laboratory Testing, Lyme & Associated Infections: Training Workshop with Dr...
Description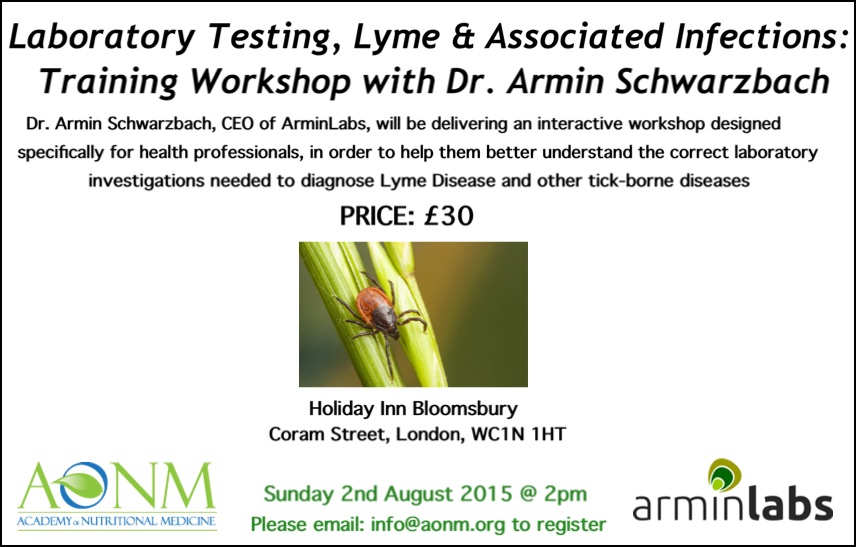 Laboratory Testing, Lyme & Associated Infections:
Training Workshop with Dr. Armin Schwarzbach
Venue

Holiday Inn Bloomsbury, Coram Street,
London, WC1N 1HT
This workshop is for Health Professionals
There are limited places available for this workshop
Early booking advised to avoid disappointment
Dr. Armin Schwarzbach, CEO of ArminLabs, will deliver an interactive workshop designed specifically for health professionals, in order to help them better understand the correct laboratory investigations needed to diagnose Lyme Disease and other tick-borne infections.

He will give an explanation of the clinical symptoms of Lyme and its co-infections, and will also show you how they can be applied to the new co-infection checklists, in order to determine differential diagnosis.
The aim of this workshop is to enable the health professional to have full confidence in ordering the correct tests for their patients.
Dr. Schwarzbach will explain in detail the huge benefits to your patients of using the co-infection checklists alongside the diagnostic tests.
Each attendee will be given a free set of checklists for use in their daily practice.
The event will be CPD Accredited
Teas & coffees, whole fruits & snacks, nuts, dried fruit and seeds available on arrival at registration and during breaks.
Please complete Eventbrite registration for the seminar or contact our dedicated event team for email application.
Please contact us if you have any questions: info@aonm.org
Organiser of Laboratory Testing, Lyme & Associated Infections: Training Workshop with Dr. Armin Schwarzbach