Ladders: Workshop six - Cost and Pricing Strategies for Creative & Digital...
Description

How to price a product or service, and price it right can seem a daunting challenge for any new creative business but taking into account the factors which influence price, which system of cost price versus value-based to use plus considering the impact of competition can all help determine the most effective pricing strategy. Pricing forms an integral part of the business plan and affects your profit margin as well as creating a perceived value to your target customers, this in turn affects your brand image and potential position within the market place. It's important to get right!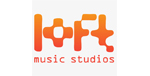 So for this session we will be at Loft Music Studios in Newcastle, a generous 2,500 sq. ft. commercial recording studio that produces local and international artists and composes soundtracks for global brands. The studio includes a professional mixing suite and two isolation booths, providing services from recording to mixing, voiceovers to music licensing. Andrew Archer, co-founder of Loft Music will be talking about how they have established their pricing parameters and the challenges faced and overcome, plus available to answer your pricing questions at the end too.
This workshop will cover:
- Costing & Pricing Planning
- How to price for a product & service with the creative and digital sectors, establishing pricing parameters.
- Overcoming barriers about pricing (placing a value on your time!)
- Discounting & its implications
- Testing the market, being competitive