About this Event
As female entrepreneurs, we have always looked up to the many capable women who have broken (and continue to break) every glass ceiling, floor, and chair, to pave the way forward. So, in honor of all the cool stuff this community has accomplished, we're introducing to you Ladies Night at our exhibition at Hoogstraat 143 during Art Rotterdam Week!
Join us to appreciate art works from two amazing artists, Magdalena Sevcik, a promising emerging artist from Czech Republic, and Kristína (Kika), a Slovak deaf-blind artist (from Majak, a deafblind residency operating in Slovakia), all the while getting to know other remarkable women. Magdalena's cool, intentional style and Kika's explosive, intuitive expression will provide a unforgettable atmosphere to inspiring stories, common challenges, and most importantly, a meaningful bond with each other.
To add the final cherry on top, Inès Gaston, mental mentor / amazing woman, together with everyone will discuss the unique challenges many women go through in their lives and tried and tested methods to overcome them.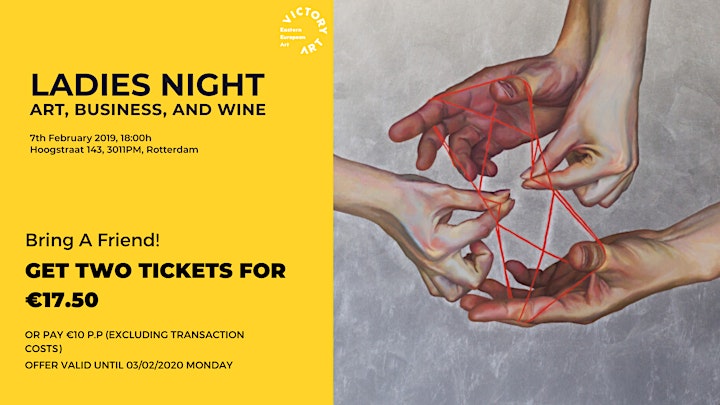 𝗘𝘃𝗲𝗿𝘆𝘁𝗵𝗶𝗻𝗴 𝗶𝘀 𝗯𝗲𝘁𝘁𝗲𝗿 𝘄𝗵𝗲𝗻 𝘀𝗵𝗮𝗿𝗲𝗱 𝘄𝗶𝘁𝗵 𝗮 𝗳𝗿𝗶𝗲𝗻𝗱
We know everything's better when shared with a friend. Not really into the idea of going alone to events like this? No worries! We have got you covered. We're offering two tickets for €𝟭𝟳.𝟱𝟬 𝗶𝗻𝘀𝘁𝗲𝗮𝗱 𝗼𝗳 €𝟮𝟬 (𝗲𝘅𝗰𝗹𝘂𝗱𝗶𝗻𝗴 𝘁𝗿𝗮𝗻𝘀𝗮𝗰𝘁𝗶𝗼𝗻 𝗰𝗼𝘀𝘁𝘀)
Only until 𝟯𝗿𝗱 𝗙𝗲𝗯𝗿𝘂𝗮𝗿𝘆 𝗠𝗼𝗻𝗱𝗮𝘆
𝗧𝗶𝗰𝗸𝗲𝘁𝘀 𝗮𝘁 𝘁𝗵𝗲 𝗱𝗼𝗼𝗿 𝘄𝗶𝗹𝗹 𝗯𝗲 €𝟭𝟯 𝗽𝗲𝗿 𝗽𝗲𝗿𝘀𝗼𝗻!

Join us on the opening night of Magdaléna Ševčík and The Deafblind Artists of Maják the night before on 6th February 2019.
Let us know you're coming by getting your ticket here.