You are cordially invited to join us this Rabbi Ul Awwal for a spectacular live online female gathering, praising the Beloved of God (pbuh)
About this event
You are cordially invited to join us this Rabbi Ul Awwal for a spectacular live online female gathering, praising the Beloved of God peace be upon him….
The Rabbani Project Presents:
Ladies of Light International: Honouring The Beloved (pbuh)
When: Saturday 24 October 2020
Time: 10am-9.30pm BST
Where: Online ( from the comfort of your own homes)
This will be the first time Ladies of Light is going International and we can't wait to bring this beautiful gathering to your homes inshaAllah. So get ready for a full day program with over 30 guest teachers, reciters, poets, singers and drummers from over 8 countries inshaAllah! If you are feeling sad about missing in person gatherings of praise this Rabbi Ul Awwal, due to lockdown restrictions in 2020 - this event is for you!If you want to connect to lovers of God and the Prophet peace be upon him from across the globe in a great sisterhood of spiritual song, this event is for you! If you are in need of a self care day for your soul, and want a day to be immersed in melodious Quran and Nasheed as well as deep reminders from Ustadhas, in the comfort of your own home, this event is for you! If you are not someone who usually attends such gatherings but are intrigued to see what happens, this event is for you! Our Guests include:
Teachers
Ustadha Ieasha Prime (USA)
Ustadha Noura Shamma (USA/Turkey)
Ustadha Rukayat Yakub (USA)
Ustadha Thameena (UK)
Ustadha Badriyyah (UK)
Ustadha Saara Sabbagh (Australia)
Quran Reciters
Ustadha Attiqah Suhaimi (Singapore)
Madinah Javed (Scotland)
Hafidha Nour (Australia)
Hafidha Suendous (Australia)
Mujesira Neimarlija (Bosnia)
Schaymae Yousfi (Morrocco)
Qari'a Aqsa (UK)
Performers:
Fatemah Ladak (UK)
Jumana Moon (UK)
Nismah - Majlis Burdah Nur Nabawiy (Singapore)
Nella Firdayaati (Indonesia)
Al Fadila Nasheed(UK/Morocco)
Supplicators Munshidāt (UK)
Zahratl Madinah (USA)
Hakim Sisters (UK)
Pearls of Islam (UK)
Nour Al Imaan (Australia)
Desert Echo Drums (UK/Australia)
Sukina Pilgrim (UK/Senegal)
Medina Tenour (Spain)
-------------
Tickets
We do not want to turn anyone away from such a gathering and hence have made tickets free so that everyone is able to benefit.
However, this event has been organised by a *very* small group of volunteers and at the generosity of many wonderful guests above. We would love to be able to cover the costs of running the event itself. If you are able to donate 10 pounds towards the event, please consider doing so.
For a slightly more generous donation of 20 pounds, you will receive exclusive access to the online recording of the *full* ZOOM event for the duration of Rabbi Ul Awwal inshaAllah. This is great if you cannot attend the full event live or you want to be uplifted through the songs of praise, melodious recitation and meaningful reminders through Rabbi Ul Awwal inshaAllah, or if you wish to gift someone the opportunity to watch the event.
-----------
Sponsors
This event has also been sponsored by a few generous businesses and organisations. Do you run a business or organisation and are interested in sponsoring the event as well?
Get in touch with us at therabbaniproject@hotmail.co.uk
-------------
Please do share this event with your female friends and family from across the world! Please note this is a LADIES ONLY EVENT.
We look forward to seeing and connecting with you all virtually and spiritually inshaAllah!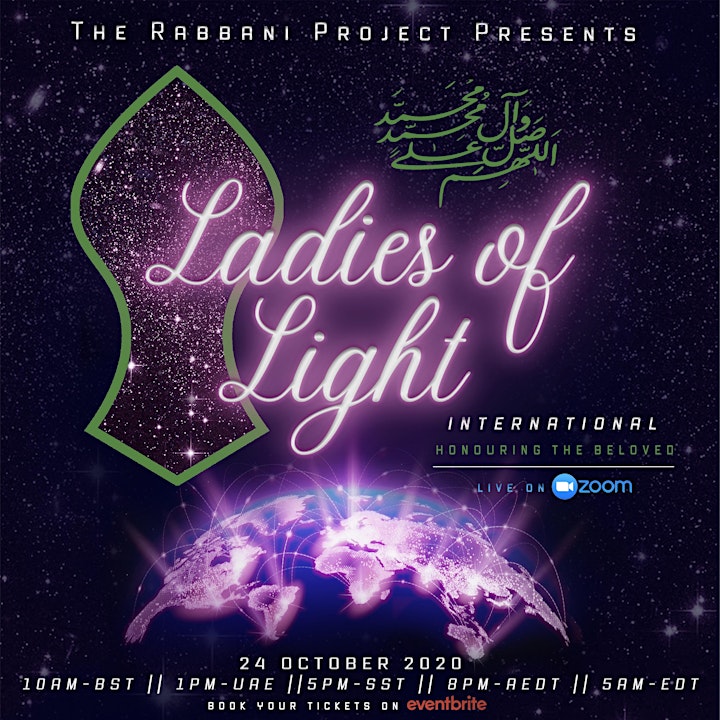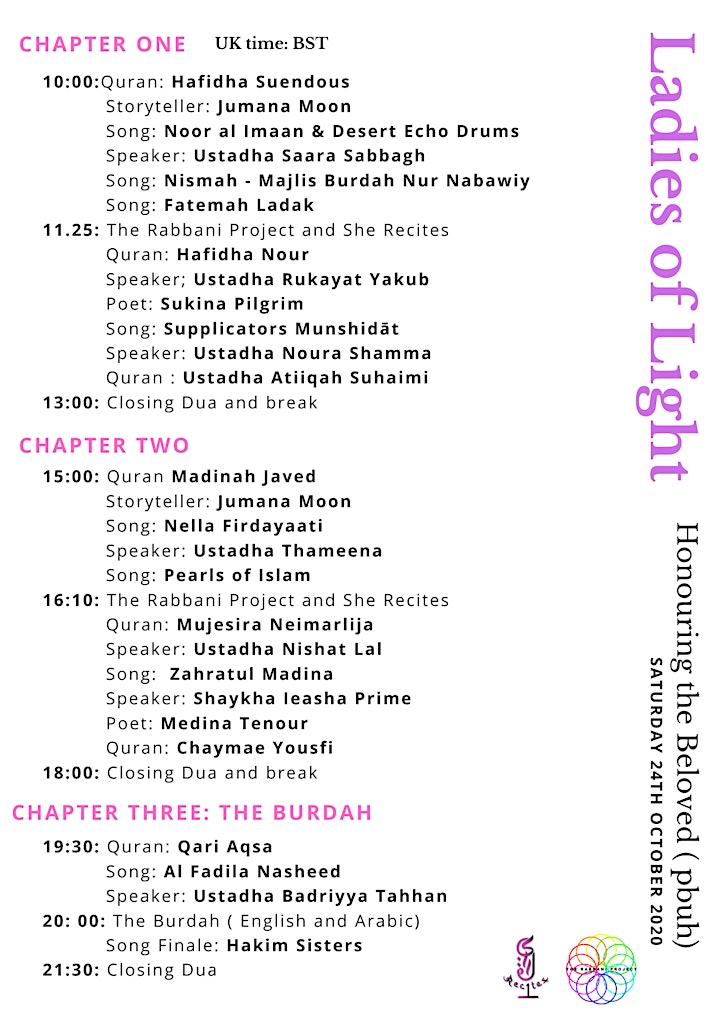 Date and time
Location
Refund policy
Organiser of Ladies of Light International: Honouring the Beloved ( pbuh)
﷽
‬
In the Name of the Divine the Most Merciful the Most Kind
The Rabbani Project
Spirituality.Peace.Creativity.Love.Joy.
The Rabbani Project is a newly formed collective dedicated to spiritual, creative expression and Love. We are united to bring about a change be it in out homes, families, communities or society. Through the use of creative means such as music, art and creative writing we seek to be the seekers of Love and those that yearn for truth.
Welcome.