Description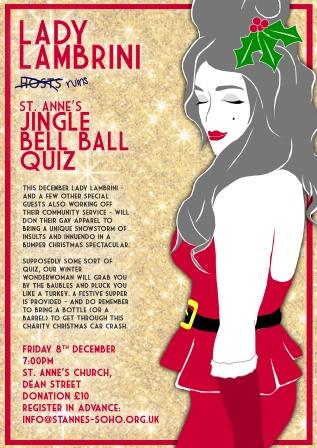 ---
Lady Lambrini's Jingle Bell Ball!
A Christmas Quiz night & supper hosted by St Anne Soho's very own Drag Queen,
This event raises money for St Anne's Homeless fund used to buy food for people in need.
Lady Lambrini, the love child of Dolly Parton & Prince Charles is known for her forthright comments & fabulous shoes and outfit changes!
Ticket price includes Quiz, Entertainment & Supper (and Eventbrite fees)
BRING YOUR OWN BOOZE
(There will be some alcohol available to purchase on the night!)
The evening ends with a raffle at about 10pm. These evenings raise around £350 + towards our work supporting people who turn to St Anne's for help in times of hardship.
#Quiz #Soho #DragQueen #Christmas #charity #homeless #DeanStreet #Festive #BYO #Community #London