Ladywood District - Supporting Children's Communication & Language
Strategies and resources - come along and meet your District Language Champions, including your LIVERLEY Champion.
About this Event
Ladywood is one of the first districts to be offered WellComm, LIVERLEY and ELKLAN training.
This network meeting will be an opportunity for you to meet your District Language Champions, including your LIVERLEY Champion.
Champions will provide a brief update and be able to answer any questions you may have.
There will also be an opportunity to have a look at the Ladywood District profile data, focusing on Communication and language outcomes within each Ladywood ward.
This meeting will include a discussion around local needs and priorities. How can we continue to build relationships, work together and support one another; particularly with the ongoing challenges that we are presented with.
Please Note: This event will take place via Microsoft Teams, so this will need to have been downloaded onto your computer/tablet/phone prior to the event for you to access it.
If you have any questions about this event please email info@birminghamearlyyearsnetworks.org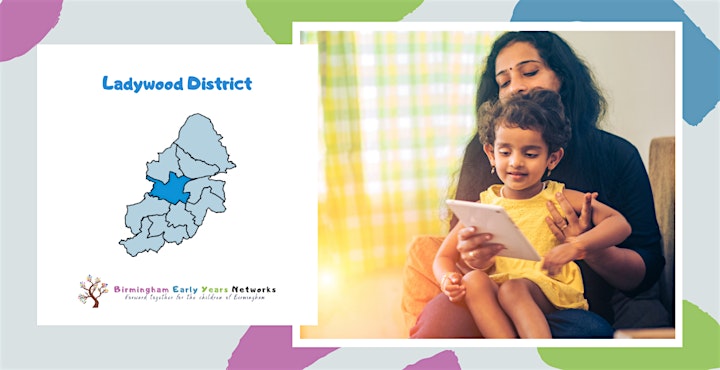 What is a Steering Group?
Ladywood district covers the wards of Aston, parts of Bordesley and Highgate, Bordesley Green, parts of Holyhead, Ladywood, Lozells, Nechells, Newtown, parts of North Edgbaston, and Soho and Jewellery Quarter.
Each district is run by a Steering Group, that meets at least three times a year. The Steering Group is made up of representatives from across the Early Years community and childcare provision in the district who work together to support contact, communication, collaboration, and engagement across the sector.
Steering Group representatives use the District Data Profiles, alongside any other local information, to develop an action plan that is focused on the children in the district.
More information about Steering Groups and how they are run can be found here.
Keep up to date!
Whether you're new to the area or keen to hear about the district's key stats, including education outcomes and more, sign up to our mailing list for district-specific news and events, as well as city-wide updates from Birmingham Early Years Networks: Sign up