Location
St Anne's Church
55 Dean Street
London
W1D 6AF
United Kingdom
Tokunbo's Kitchen is back with another exciting West African inspired pop up dining experience!
About this event
Join us on Saturday, May 28th, for a family friendly dining experience inspired by some of the rich, soulful and complex culinary delights to emerge from Nigeria.
As is the Tokunbo's Kitchen tradition, we will feast on sharing platters of some of my childhood favourites, as I did growing up in Lagos as a child. Whether you are a fan of Fela's Afrobeat or Wizkid's Afrobeats, we will turn up Lagos style cos "ain't no party like a Lagos party" is a permanent mood at my dining experiences.
Come with friends if you can but don't worry if you are coming alone as there is a table full of new people to meet!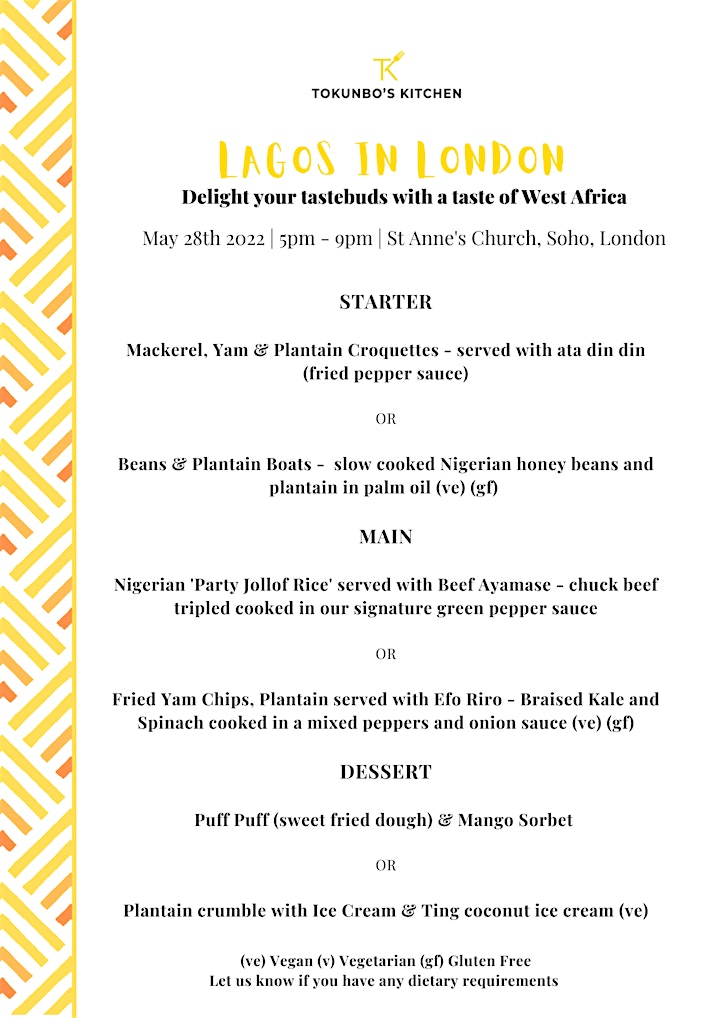 Cancellation Policy:
We apologise that due to costs including ordering of fresh produce and advance preparation time, Tokunbo's Kitchen is unable to offer a transfer to a different date with less than 7 days' notice.
You may nominate someone else (over 18) to attend the event in your place at any time without charge.
In the event that you are unwell we ask you to send someone in your place. Please notify us of the details for the new person attending in your place.
To request to book an alternative date email at least 7 days before your scheduled event date. You will receive an email confirming receipt of your cancellation. Unless you have received a written acknowledgement from us that we have received your request you cannot consider your request delivered, and it would be advisable to call us to check that the email did not get lost / was not sent.
In case an event is cancelled by Tokunbo's Kitchen, a full refund will be arranged, or an alternative date offered.
Terms & Conditions
This event will be photographed and filmed for social media.
By purchasing this ticket, you agree to these terms and conditions.