Description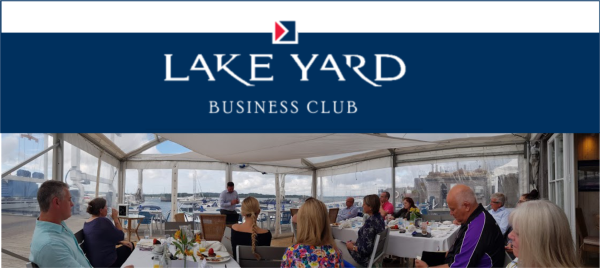 Join us for the next Lake Yard Business Breakfast at the Lake Yard Waterfront Club at Dorset Lake Yard in Poole, for a good breakfast, guest speaker and the oh-so-essential networking at a lovely venue.
Guest Speaker

Our guest speaker this month will be Alan Coote of Monogram Media. Alan, from Bournemouth is a Digital and Behavioural Transformation Consultant, Lean Startup Coach & Presenter of an Award Winning Business Radio Show
Agenda
08:00
Tea, coffee, Registration, introductions & networking
08:30
English or continental breakfast, tea, coffee fresh juice.
Round-table discussion
Guest speaker, discussions and Q&A
Club news, AOB
10:00
End of meeting
Optional networking, follow-ups and 1-2-1's
Tickets
£10.00 for First-time visitors who want to check us out
£12.50 for Lake Yard Club Members
£15.00 for Non-Members or Guests
£20.00 for members who bring a guest, "2 for £20 "
When booking, please choose your choice of breakfast, either English or Continental (Fresh Fruit, Yoghurt and Granola and Pastries)
Please remember to add any allergies, dietary requirements, etc
Please note: Booking ends at 1200 Monday so that Lake Yard can prepare
Membership
You are welcome to come along as a guest before joining the club. There are membership forms at the club, Just speak with or email Anita if you want to join the club or renew your membership.
About the Club
The Club, which has been here since 1990, meets on the first Tuesday of each month and is about catching up with contacts, making new connections, sharing news and identifying new business opportunities. The atmosphere is informal and friendly and we welcome people from a wide range of businesses and professions.
At most meetings, we have a guest speaker, who delivers a short and informative talk on topics related to business, management, marketing, etc.