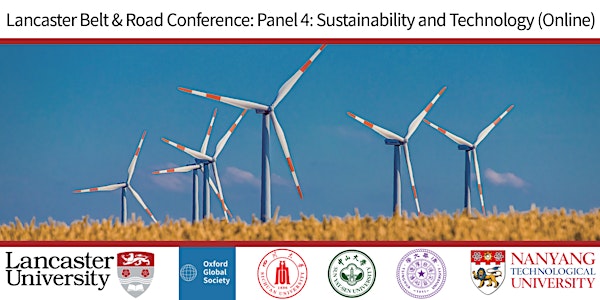 Lancaster Belt & Road Conference Panel 4: Sustainability& Technology Online
The BRI conference focuses on the most noteworthy topics and areas emerging from the Belt and Road Initiative.
About this event
Co-organizer:
Institute of Belt and Road Strategy at Tsinghua University
Supported By: Belt and Road Information and Communication Technology Discourse Studies Center at Xidian University
Academic Partners: Oxford Global Society;
The Centre for European Studies at Sichuan University;
Institute of European Studies at Sun Yat-sen University; and,
Lien Research Programme on Belt & Road Initiative, Nanyang Technological University Singapore
The Second Lancaster Interdisciplinary Conference on Belt and Road Initiative brings together academic experts, practitioners, government officials and businesses to harness ideas, generate knowledge and provide relevant insights to a diverse range of stakeholders.
The second Lancaster Interdisciplinary Conference on the Belt and Road Initiative will take place over three days, with the first day starting at 9:00am BST or 4.00pm CST on Wednesday 8 June.
The Panel 4 will be on the topic of Sustainability and Technology and will be from 1.35 pm to 3pm BST or 7.35pm to 9pm CST on Thursday 9 June.
For this panel we have invited the following experts in the relevant fields to provide and share the latest professional insights with the participants:
Panel Chair- Dr Lingxuan Liu Lecturer in Sustainability, Department of Management Science, Lancaster University
Speaker 1 - Dr. Zhi Shengke Director for Growth & Development at Wood Plc
Speaker 2 - Prof Richard Leaver Partner at Boundary Capital Partners LLP
Speaker 3 - Li Shelley Yu Vice President, ESG Climate Solutions, CFA
Speaker 4- Hao Xin Sheffield University
NOTE:
The conference is hybrid and free to attend.
This ticket link is only for the online Panel 4. We will send the online link to access the Panel 4 to all registrants for this panel on Monday 6th June and again on Thursday 9th June at 8.00am.
We would love to see you there!
If you have any questions or queries, please email: ci@lancaster.ac.uk